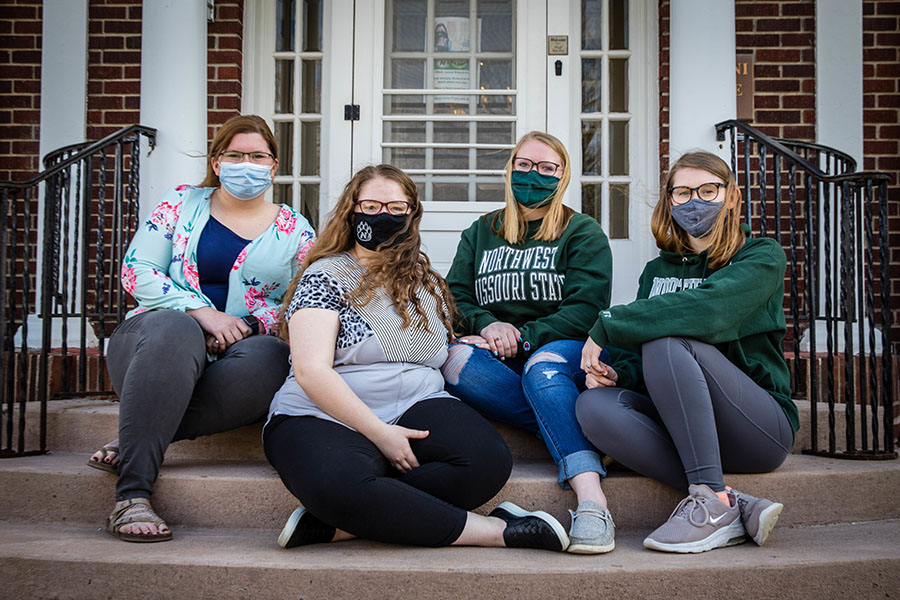 Left to right, Ashlyn Stout, Katie York, Bailey Frederick and Hannah Cline have led the way for Northwest's Bearcat Callers during the 2020-21 academic year. Each raised more than $10,000 in donations and pledges by making connections with Northwest alumni and friends. (Photos by Todd Weddle/Northwest Missouri State University)
March 31, 2021
By Kourtnie Stenwall, communication assistant
Four Northwest Missouri State University Bearcat Callers raised $10,000 or more during the 2020-2021 academic year, and they are getting recognition for their work.
Bearcat Callers are student employees who work in the Office of University Advancement to secure pledges and funding for the Northwest Foundation through phone calls to alumni and friends of Northwest.
For the 2020-21 academic year, Bearcat Callers raised nearly $109,000 for the University — which is $5,000 more than last year.
"In a time when many call centers at other universities are struggling, Northwest Bearcat Callers continue to perform above our peers when looking at fundraising performance," Dr. Bob Machovsky, the University's director of alumni relations and annual giving, said. "Our callers really do a good job connecting with our alumni and friends over the phone, and our results show that."
Additionally, callers who raise more than $10,000 in donations are inducted into the Presidential Club and earn a meeting with Northwest President Dr. John Jasinski for coffee and conversation. Hannah Cline, Bailey Frederick, Ashley Stout and Katie York earned the distinction this year.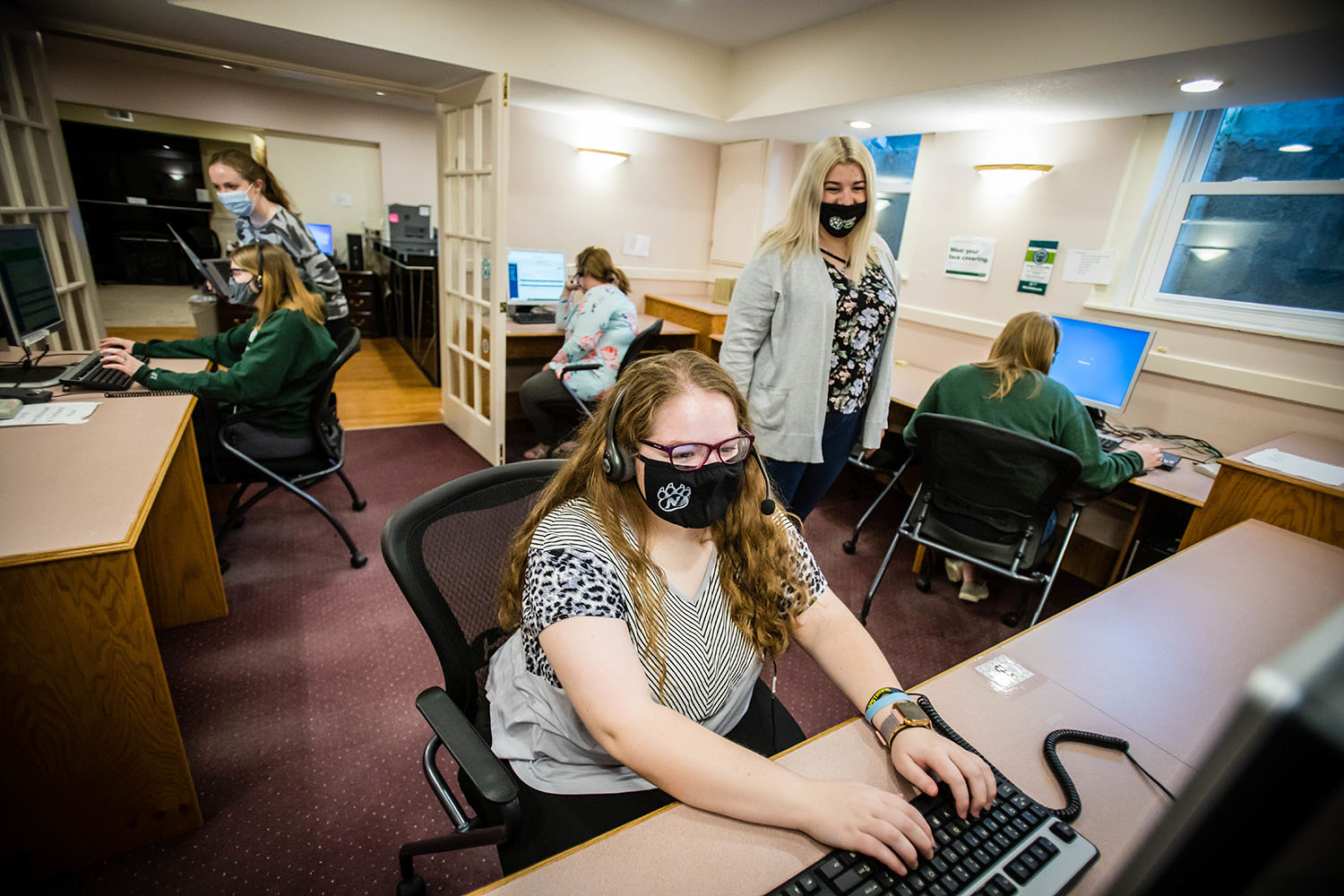 The Bearcat Callers are a group of student employees working in the Office of University Advancement to secure pledges and funding for the Northwest Foundation through phone calls to alumni and friends of the University.
Frederick, a freshman human services and psychology major from Murray, Iowa, says being a Bearcat Caller gave her an opportunity to become more engrained in the Northwest community and connect with other Bearcats.
"I enjoyed being a Bearcat Caller a lot," Frederick said. "Being a first-generation college student, as well as the first person in my family to come to Northwest, I was struggling to find my roots. Being on the phones a few nights a week and speaking with friends and alumni of the University really grounded me. It gave me an opportunity to gain knowledge about Northwest's history as well as an opportunity for me to gather advice from people who have been in my shoes."
Stout, a senior elementary education major from Unionville, Missouri, said she enjoyed being a Bearcat Caller because of the impact she could have on the University.
"It is very humbling knowing the amount I helped raise for the University," Stout said. "It is also wonderful to think about how this can help our University and all of the students we have here."
York, a senior elementary and special education major from Atlantic, Iowa, liked knowing the money she raised for the University will support initiatives to help students such as the textbook and laptop program, scholarships and building renovations. She also enjoyed building relationships with other staff and callers as well as alumni.
"I enjoyed hearing about how Northwest impacted alumni's lives and where they are now," York said. "I also enjoyed getting to hear from alumni about their transition from college into the workforce and where their path took them. I was able to talk to alumni who graduated recently as a couple months ago up until 65 years ago. This allowed me to see how your path changes and how Northwest can still have an impact on you even 65 years after you graduate."
Cline, a junior fine arts major from Smithville, Missouri, applied to be the student supervisor of the call center after only one semester as a caller because she wanted to challenge herself, and she said it paid off.
"I have worked many jobs that are roughly similar to that of being a Bearcat Caller in the past," Cline said. "As soon as I joined the team, I knew I would enjoy the job. Being able to reach out to alumni and hear their stories as well as knowing my job helps the University tremendously is an experience I will forever be grateful for."
Kala Dixon, Northwest's annual giving and alumni relations specialist who also supervises the call center, said she is proud of the student employees and their continuous hard work.
"My student employees are very good at what they do, and our statistics show that," Dixon said. "I love being able to make those connections with our alumni and friends while raising support for Northwest."
The Northwest Foundation, a 501(c)(3) not-for-profit corporation, develops and stewards philanthropic resources for the benefit of the Northwest Missouri State University and its students. It is governed by a 35-member volunteer board and staffed by members of Northwest's Office of University Advancement.
The Northwest Foundation is in the final stages of its Forever Green comprehensive campaign, which launched publicly in October 2019 with a goal of raising $45 million for University initiatives centered on academic excellence, scholarships, student life and other donor-directed gifts. To date, the Forever Green campaign has raised more than $53 million, and includes the completion of two major capital fundraising projects — the Carl and Cheryl Hughes Fieldhouse opened in 2018 and the Agricultural Learning Center, which is on pace to open this summer.
For more information about the Northwest Foundation or to make a gift to support Northwest, contact the Office of University Advancement at 660.562.1248 or visit www.nwmissouri.edu/GiveOnline.