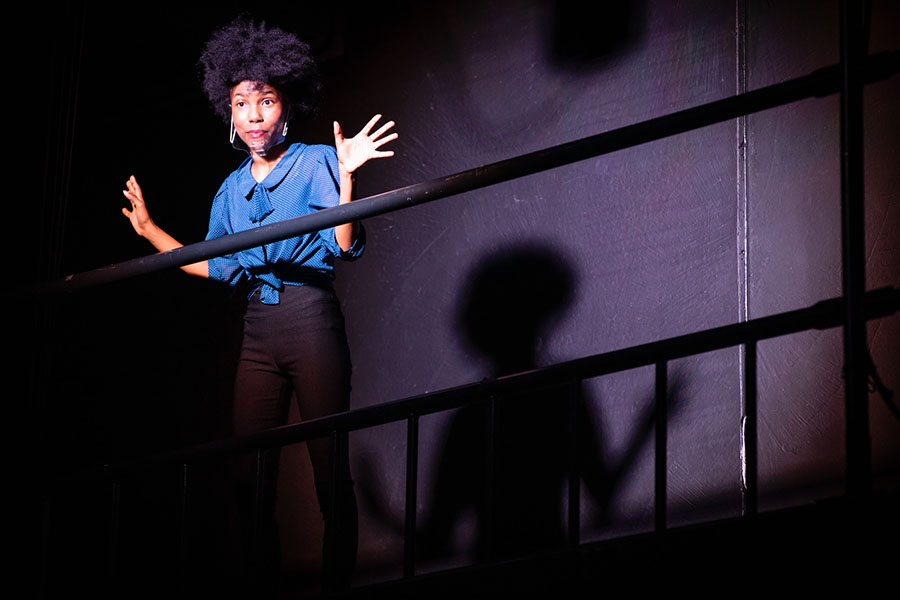 Christina Short, pictured performing in Northwest's Freshman/Transfer Showcase last fall, finished first in the Irene Ryan Acting Scholarship competition during the Region 5 Kennedy Center American College Theatre Festival in January. (Photos by Todd Weddle/Northwest Missouri State University)
Feb. 22, 2021
Northwest Missouri State University was represented well again during the annual Region 5 Kennedy Center American College Theatre Festival (KCACTF) in January, highlighted by the University's first-ever finalist in the prestigious Irene Ryan Acting Scholarship competition.
Christina Short, a sophomore theater performance major from Omaha, Nebraska, made Northwest history by finishing first in the regional Irene Ryan competition, the most visible and respected KCACTF event. The regional competition begins with more than 300 students and is narrowed to 16 regional finalists.
Short now has the opportunity to compete later this year with seven other regional winners from throughout the country at the Irene Ryan national competition in Washington, D.C. A small number of Northwest students have reached the regional finals in recent years, but none have advanced to the national competition for a chance at its $5,000 scholarship.
"Even reaching the finals for the Ryans is an incredible feat – one that many actors actually put on their professional résumé," Assistant Professor of Theatre Katheryn Bilbo said. "Usually young actors make no mention of their university roles or experience on their résumés once they are regularly working professionally. However, professional directors are familiar with this highly competitive national event and know that it is a good indicator not only of an actor's talent but also their commitment to the theatre."
Like KCACTF itself, the Irene Ryan competition adopted a virtual model this year. In prior years, competitors worked in pairs to act in two scenes and presented one monologue. This year's competition consisted of two monologues submitted online.
Short, who also competed for the regional scholarship last year, said she missed the experience of acting with a partner but appreciated the alternate challenge of perfecting and recording her monologues. She presented monologues from "Good Kids," produced at Northwest last fall, and "By the Way, Meet Vera Stark," a Lynn Nottage play, and all feedback was provided during Zoom sessions.
"It means a lot to me," Short said of winning the regional competition. "It means a lot that I feel like some of my work has paid off. I've worked so much for so long and part of that is actually come through. It feels amazing."
Short said she was attracted to Northwest, in part, by the profession-based experiences available to students in the Department of Fine and Performing Arts. In addition to performing in multiple Northwest productions during the last two years, she works in the theatre program's costume shop.
"They focus a lot on theater basics and theater fundamentals and making sure you have a good foundation," Short said. "I also really wanted a comprehensive program – a program that taught me tech and performance because as much as I do love performing I also really want to do everything else. I love being involved, whatever it is."
In addition to Short's success in the Irene Ryan competition, Theatre Northwest earned a Certificate of Merit for Ensemble Performance and Bilbo was recognized for Excellence in Directing, both for Northwest's fall production of "Good Kids."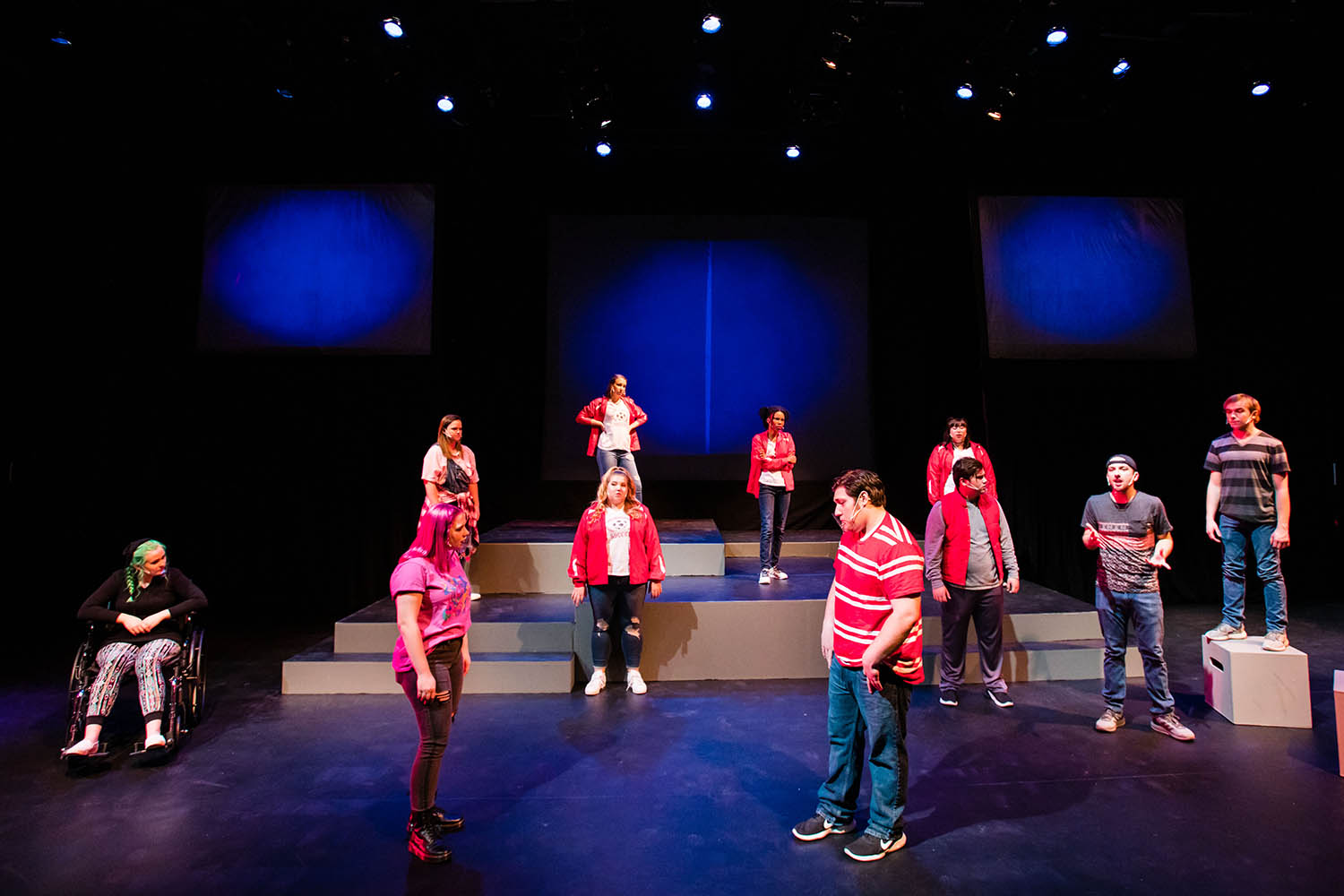 Northwest's fall production of "Good Kids" earned a Certificate of Merit for Ensemble Performance, and it's director, Katheryn Bilbo, was recognized for Excellence in Directing.
Northwest student lends voice, leads KCACTF diversity efforts

KCACTF is a week-long event with activities, workshops, performances, keynote speakers, auditions and interviews for professional work, and competitive events for scholarships and internship opportunities. Organizers transitioned nearly all of the festival's traditional events and activities to an online format this year and added virtual activities through social media platforms.
Northwest students annually do well at the festival with many earning scholarships, internships or summer work with professional companies in acting, technical theatre and stage management.
"Our KCACTF involvement is a profession-based learning activity critical in our students' development as professional actors and giving them the highest quality experience at Northwest," Bilbo said.
Taylor Holley, a senior theatre performance major from Cedar Hill, Missouri, has served as a member of the KCACTF Student Advisory Board (SAB), which provides a student voice in the festival planning.
Holley, who has attended KCACTF each of last three years and received the festival's award given to the Outstanding Director of a Ten-Minute Play in both 2019 and 2020, applied to serve on the student board for the 2020 festival with a desire to help maximize the opportunities available for attending students.
As a result of COVID-19 restrictions, the 2021 festival took advantage of virtual meeting and communication platforms, including Zoom and Discord, to provide students throughout the region with opportunities to share their work, attend workshops and engage in discussions. The festival was dedicated to celebrating the creativity and success of students in the COVID-19 pandemic environment.
"The SAB is a very collaborative team that ensures students are being heard and that the festival is something that leads to student success," Holley said. "It was unfortunate that we weren't able to meet in person this year to immerse ourselves in the festival. However, it was still possible to connect with students and professionals all over the region."
Additionally, Holley serves as co-chair of the SAB's diversity committee, called RED as an acronym for representation, equity and diversity. The group is focused on moving toward a more equal and diverse industry that represents all people and ensuring KCACTF activities are reflective that initiative.
"It's about envisioning and creating a world where the arts tell everyone's story and offer healing and empathy," Holley said. "KCACTF strives to create safe place where every story is honored. Sadly, racism and bigotry still exist in the industry. KCACTF is all about bringing people together and listening."