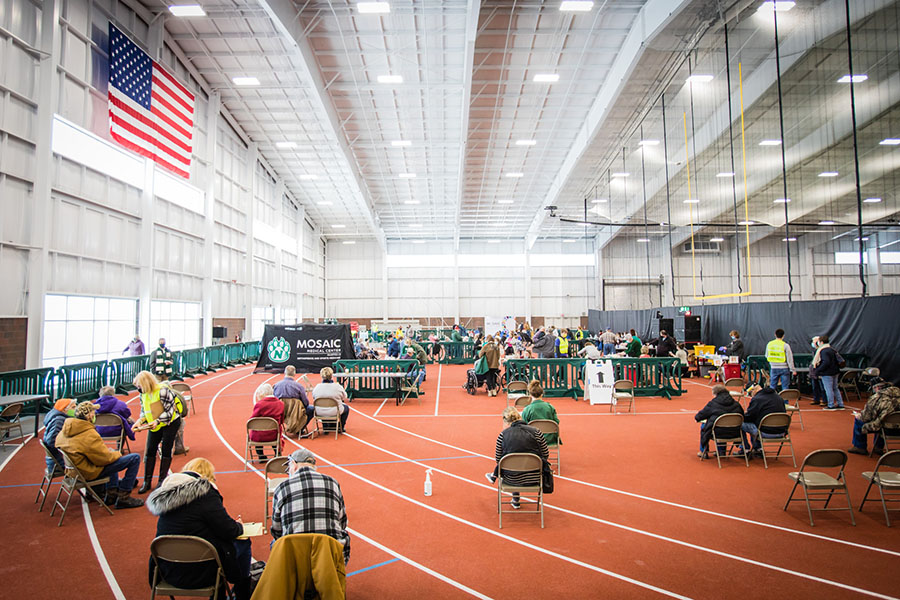 Community members await their vaccines Thursday morning during a clinic at the Hughes Fieldhouse. The weekly vaccination clinics have further proven the facility's value as a University and community asset. (Photos by Todd Weddle/Northwest Missouri State University)
Feb. 11, 2021
Inside the Carl and Cheryl Hughes Fieldhouse Thursday morning on the Northwest Missouri State University campus, students in a recreation class formed a circle on the field turf to begin an activity. A faculty member jogged the perimeter of the turf. And hundreds of people, coming from communities throughout the region, filed through the south doors of the spacious building to receive COVID-19 vaccinations.
Thursday's vaccination clinic was the third in a series organized by Mosaic Medical Center-Maryville, the Nodaway County Health Department and Northwest.
After volunteers checked temperatures and registrations, the vaccine candidates were ushered to a seating area on the south curve of the indoor track where they completed health forms and waited their turns to receive their shot. After the vaccination, individuals moved to another seating area, where volunteers observed them for 15 to 30 minutes for any signs of allergic reaction. From the time an individual enters the building, the entire process can take as little as 20 minutes or up to 40 minutes at peak times.
"Our No. 1 goal is to get as many vaccines in arms as fast as we possibly can," Nate Blackford, the president of Mosaic Medical Center-Maryville, said. "We have been blessed to receive an adequate supply of vaccine. For those in areas surrounding us, certainly in the state of Missouri, who are having a more difficult time accessing those vaccines, we can be a place for them to come and get the vaccine."
Among those receiving their vaccines Thursday morning was the couple whose names the building bears. Northwest alumni Carl and Cheryl Hughes reside in Platte County and are eligible to receive the vaccine within the state's Phase 1B, Tier 2, as individuals over the age of 65, but they had been unable to get an appointment at other locations. After learning about the opportunity to receive the vaccine in Maryville, they registered and secured appointments at the Hughes Fieldhouse.
"It's just fun to see the collaboration and coordination of this with all the different groups," Carl Hughes said after receiving his vaccine. "It's an uplifting kind of event to see people respond like this. A year ago, we all were not certain about where we're going to be, and here we are within 11 months (since the first positive COVID-19 case in Nodaway County). There's a solution and we're part of it."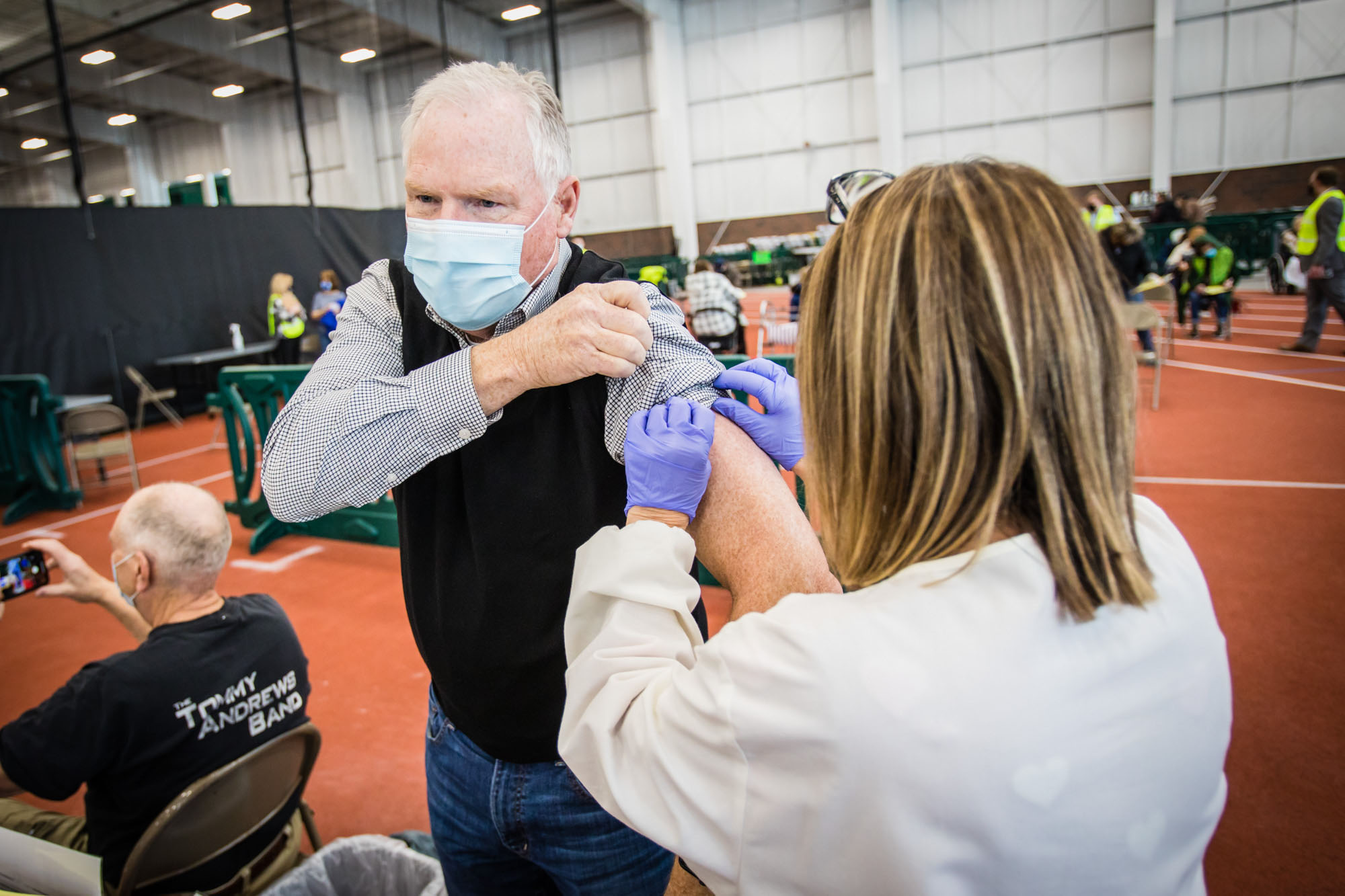 Northwest alumnus Carl Hughes received his COVID-19 vaccine during a clinic Thursday at the Hughes Fieldhouse.
After a year when the impacts of the COVID-19 pandemic have dampened the spirits of so many, the scene Thursday at the Hughes Fieldhouse was, as some described, festive – and it was yet another example of the facility fulfilling a vision the University and its community partners had when planning for it began almost a decade ago.  
From the outset, Northwest outlined four goals for the facility: promoting health, wellness and engaged programming for Northwest students, faculty and staff as well as the broader community; providing a competitive advantage relative to Northwest's intercollegiate athletics teams and overall programming; enhancing Northwest's ability to recruit, retain and engage students; and providing enhanced community partnership opportunities and economic development outcomes.
Carl and Cheryl Hughes provided major support through their Hughes Family Foundation with the Mel and Valorie Booth family, the city of Maryville and Nodaway Valley Bank working together as "team captains" of the Founding 50, a group of 75 donors contributing $50,000 or more to the project.
Opened in the fall of 2018 as a centerpiece of Northwest's Forever Green Campaign, the 137,250 square-foot, $21 million facility represents the single largest public-private partnership in Northwest's history and one of the largest such projects in the region ever.
"We always had a vision that it would be for supporting our athletic programs, supporting our academic programs, supporting our student engagement activities, but also other community endeavors, and this is a beautiful way for us to continue to help the community," Dr. Matt Baker, Northwest's vice president of student affairs, said at Thursday's clinic.
Blackford, who also is a Northwest alumnus, added, "It is so rewarding to see the partners come together. It's rewarding to see this facility used for other purposes. This facility has been the perfect place to do this. It provides ample parking. It provides ample access to the building. We could not ask for a better facility or a better partner in the University to help us with logistical support. It's been a total team effort."
In addition to successful vaccination clinics, the Hughes Fieldhouse has allowed Northwest to continue hosting a variety of activities during the COVID-19 pandemic. The space has allowed the University to meet mitigation requirements and still offer events such as its biannual Career Days and Student Organization Fairs.
The facility has hosted movie nights, Greek Life activities and a variety of recreational activities, including community walking hours each weekday morning. In coming weeks, more than 450 students are registered to participate in about 150 intramural flag football games from 7 p.m. to 1 a.m. on Mondays, Tuesday and Wednesdays.
Classes and University meetings continue in the building's classroom spaces. Bearcat athletics teams, as well as high school and Maryville Parks and Recreation teams, use the facility for practices. A number of collegiate, high school and open indoor track meets have taken place, too.
Carl Hughes enjoys hearing stories about the activities happening at the fieldhouse and knowing "it's doing what we all wanted it to do."
"I am a big community guy, and Maryville's community is nothing short of remarkable," he said. "It's very special."