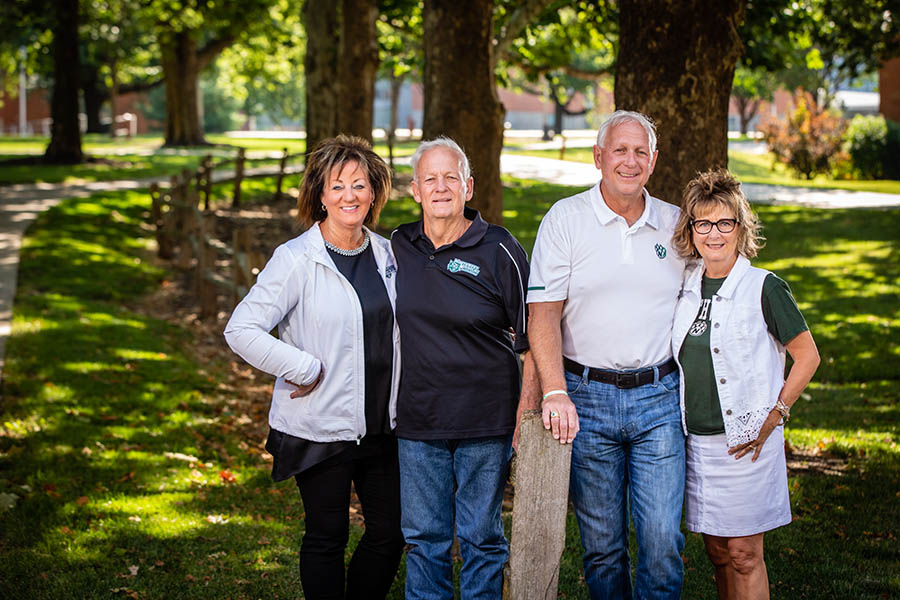 John Blackford, second from left with his wife, Jill Wolken Blackford, and Jim Blackford with his wife, Beverly, are paying tribute to the education experiences they gained at Northwest and their farming heritage with a gift supporting the University's Agricultural Learning Center. (Photo by Todd Weddle/Northwest Missouri State University)
Dec. 11, 2020
The foundational education John and Jim Blackford received at Northwest Missouri State University laid a path for their successful careers in farming and finance. Now, with the Agricultural Learning Center nearing completion, the brothers believe the new facility will further enhance the opportunities available not just to Northwest students but to the farming industry as an economic driver in the region.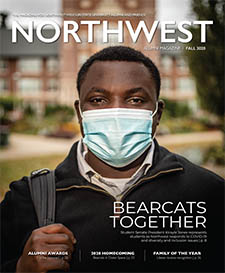 An excerpt of this story appears in the 2020 fall edition of the Northwest Alumni Magazine. To view the print version of the magazine, click here.
For those reasons – and as a tribute to their family's farming heritage – the brothers have provided a gift of $100,000 in support of the Agricultural Learning Center. Their gift, they say, is a meaningful and memorial one that recognizes their affinity to Northwest.
"Agriculture lies at the base and foundation of nearly everything that occurs, particularly in this area," Jim said. "As agriculture goes, the rest of our economy goes in a broad sense. This is an opportunity to support this major industry and its impact on the region served by Northwest."
Strong connections
Connections to Northwest span three generations of the Blackford family, beginning with their mother, Grace Walker Blackford, a 1944 alumna, who studied home economics and earned a teacher certification at the institution. She worked as a house keeper while their father, Ercille, served in the Army Air Forces during World War II. When he returned home from the war, his first purchase was the Burlington Junction, Missouri, farmland where the Blackford homestead remains today.
Through the years, the Blackford family has watched farming evolve from a time when most of the labor was manual and nearly every farm raised livestock to today's farms placing a greater focus on row crops. No matter the changes, growing up on a farm offers a unique lifestyle the Blackfords say they wouldn't trade.
"You learn so much being part of a farm family and an operating farm, not the least of which is early on you learn responsibility," Jim said. He recalled the assigned duties and chores and how children of farming families benefit from hands-on opportunities, like operating equipment, at an early age. "There is a work ethic that comes with the farm life, which pays huge dividends for any other career opportunities you're going to have. You learn to be part of a family unit and contribute to the welfare of the others in the family. At the same time, you're working with nature, you're seeing things grow, you're seeing life happen up close."
Though Grace did not pursue a teaching career and became a working farm wife, her decision and their farming lifestyle did not deter the Blackfords from valuing education. As John and Jim were coming of age, it was uncommon for youth working on farms to seek a college education. But Ercille and Grace were steadfast in seeing to it that their sons took advantage of educational opportunities – particularly with their farm's proximity to Northwest.
"Whatever road or path we took, we just knew that was part of our continuing education," John said.
John, after completing his bachelor's degree in agribusiness at Northwest in 1968, returned to the farm, where his education yielded additional opportunities and experiences in the ag industry, including involvement and investment in commodity organizations. He assisted his father in accumulating additional farmland while expanding the cattle and hog operations, although he has since ceased the livestock operation and those acres, along with additional farmland, are now used for crop production.
Jim earned a bachelor's of education degree in accounting at Northwest in 1972 and started his career in business administration at the University. He worked there for a few years before becoming co-owner and chief financial officer for LMP Steel and Wire Company in Maryville. Since 1992, he has served as senior vice president at Citizens Bank and Trust in Maryville.
In addition to John and Jim earning degrees at Northwest, their wives have strong connections to the University also. John's wife, Jill Wolken Blackford completed three degrees between 1983 and 2000 in elementary education, elementary and middle school administration and supervision, and secondary guidance and counseling; she retired in 2011 from the West Nodaway R-I School District, where she served as a fifth and sixth grade teacher and then as a secondary counselor until her retirement. Jim's wife, Beverly, was employed as an executive secretary in Northwest's admissions office from 1977 to 2006.
They also are proud their children chose to attend Northwest. John's children are Ben, a 1999 and 2001 graduate, who is an associate professor and the director of the University's Melvin D. and Valorie G. Booth School of Business, and Brooke, a 2002 graduate. Jim's children are Nate, a 1997 and 1999 graduate, and Tanner, who attended Northwest from 2001 to 2004.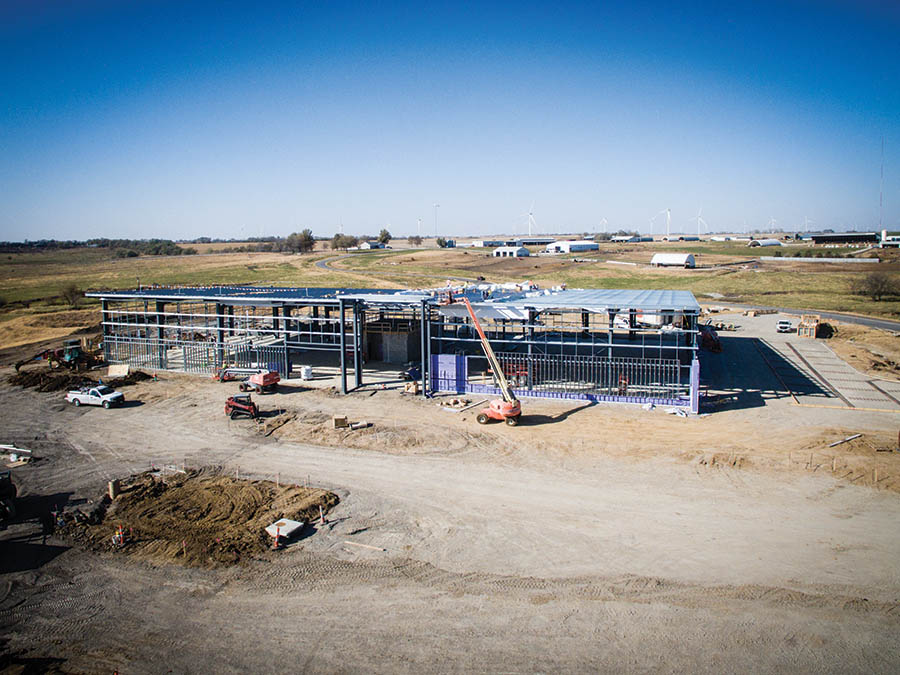 Northwest's 29,000-square-foot Agricultural Learning Center is being constructed at the R.T. Wright Farm and will enhance the School of Agricultural Sciences, as well as industry needs and partnerships, by providing laboratory, classroom, meeting and exposition space. (Photo by Brandon Bland/Northwest Missouri State University)
Increasing agriculture literacy
Through their own experiences and knowledge of the impacts agriculture has on quality of life, the Blackfords believe Northwest's Agricultural Learning Center will help students as well as consumers build awareness of food processes and increase their agricultural literacy.
While the R.T. Wright Farm already provides opportunities for Northwest students in ag science-related majors to gain profession-based experience with beef, swine, dairy and sheep enterprises as well as row and forage crops, the $11.4 million, 29,000-square-foot Agricultural Learning Center will add classrooms and laboratories to the property and further enhance the School of Agricultural Sciences' curriculum. It will allow for research and scholarly activities centered on crop, soil and livestock resources, and processing of agricultural products. It will include space for public and private functions, such as producer and agricultural industry meetings, workshops, shows and career development events.
"That awareness, I think, is very important to the ongoing potential development for agriculture and getting beyond the stereotypical understandings, looking to what agriculture really provides and what it really means to us as a society, what it would be like without having production agriculture with its efficiencies and its ability to feed the world, and just make people aware and appreciate it more," Jim said.
Workers within today's modern farming operation need technical skills and knowledge in a variety of areas – from technology to genetics, fertilizers and seeds. As the agriculture industry grows and becomes more sophisticated, the Blackfords understand the need to prepare Northwest students for such changes. 
"Production agriculture is so highly technical and scientific that a training facility such as this (Agricultural Learning Center) and preparing our young people to take on professional opportunities within that complicated and technical industry is so meaningful to support," Jim said. "The techniques and the technologies that are in play today will be replaced, so we have to be ahead of the curve. We have to have our Northwest graduates ready to step in and take on those new opportunities and challenges."
The Blackfords say the Agricultural Learning Center, when completed, has the potential to be a touchstone for recruiting students and growing Northwest's School of Agricultural Sciences.
"I think this could be a real draw for students," John said. "They can come here and this can be an experience for them, and they're going to offer a lot of training – maybe the hands-on-type personal training that some of the bigger schools maybe don't offer. I just think it's a great opportunity to work with the public and the community."
Added Jim, "The potential is, quite frankly, endless. A facility like this doesn't exist just everywhere in the Midwest. This could really have an impact that we probably can't even imagine."
Providing long-lasting impacts
For the Blackfords, their giving and that of others to support the Agricultural Learning Center is a chance to make a positive and long-lasting impact on the industry that has created so many opportunities for them. More personal to them, it's also a way to recognize the hard work and sacrifices of the people who came before them and helped clear a path for the kinds of career successes and fulfillment in farming that the Blackford family has enjoyed.
"It's not the size of the gift," Jim said of donor support for the Agricultural Learning Center. "It's the opportunity to be participating in something bigger than themselves and lasting. This is going to be here, this is going to be a long-term investment, and the results – I don't think anybody can quantify the outcomes that are going to come out of this."
While donors have fulfilled the Northwest Foundation's fundraising goal for the Agricultural Learning Center, support is still being sought. The University has committed more than $2 million to the project, and any additional funds raised will allow the University to direct those funds to other campus needs. Furthermore, additional funds raised will assist with outfitting the facility's laboratories and classrooms with the most up-to-date equipment and technology.
For more information about the Agricultural Learning Center or to make a gift to support the project visit www.nwmissouri.edu/ag/agcenter, call 660.562.1248 or email advance@nwmissouri.edu.