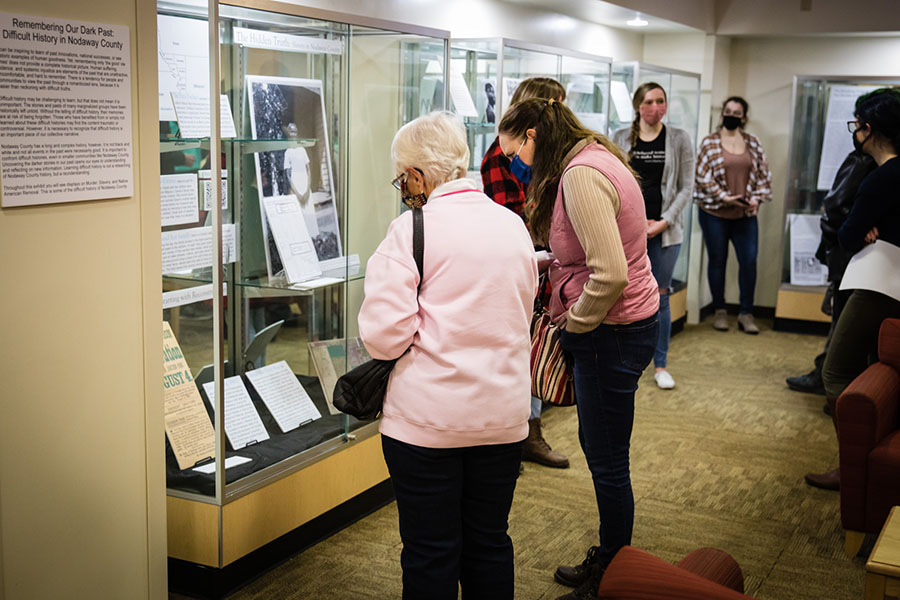 Visitors view a new exhibit at Valk Center that reviews some of Nodaway County's difficult history. (Photos by Brandon Bland/Northwest Missouri State University)
Dec. 5, 2020
Northwest Missouri State University public history students delved into some of the region's "difficult history" this fall and unveiled an exhibit Nov. 23 in Valk Center that shares some of what they learned.
"Remembering only 'the good 'ole times' does not provide a complete historical picture," reads an introductory panel at the display cases in the lower level of Valk Center. "Human suffering, violence and systemic injustice are elements of the past that are unattractive, uncomfortable, and hard to remember. There is a tendency for people and communities to view the past through a romanticized lens, because it is easier than reckoning with difficult truths. Difficult history may be challenging to learn, but that does not mean it is unimportant."
Through that context, visitors to the exhibit will learn about the presence of slavery and Native Americans in Nodaway County as well as a few controversial killings – the murder of Dr. Perry Hosher Talbott and the subsequent execution of his sons during the early 1880s, the lynching of Raymond Gunn in 1931 and the shooting of Ken Rex McElroy in 1981.
Students in the Local History Practicum course, under the guidance of Associate Professor of History Dr. Elyssa Ford, spent the semester learning about approaches to sharing difficult history in museums while researching local incidents in small groups and creating the campus exhibit. They also designed companion websites and developed lesson plans that are accessible at the exhibit through QR codes.
"The exhibits they have created and the websites they have created are 100 percent displays that are going to be incredibly important and useful for campus museums but also incredibly useful for them as a really important experience and résumé builder," Ford said. "What they have come out with is more than many students in graduate classes."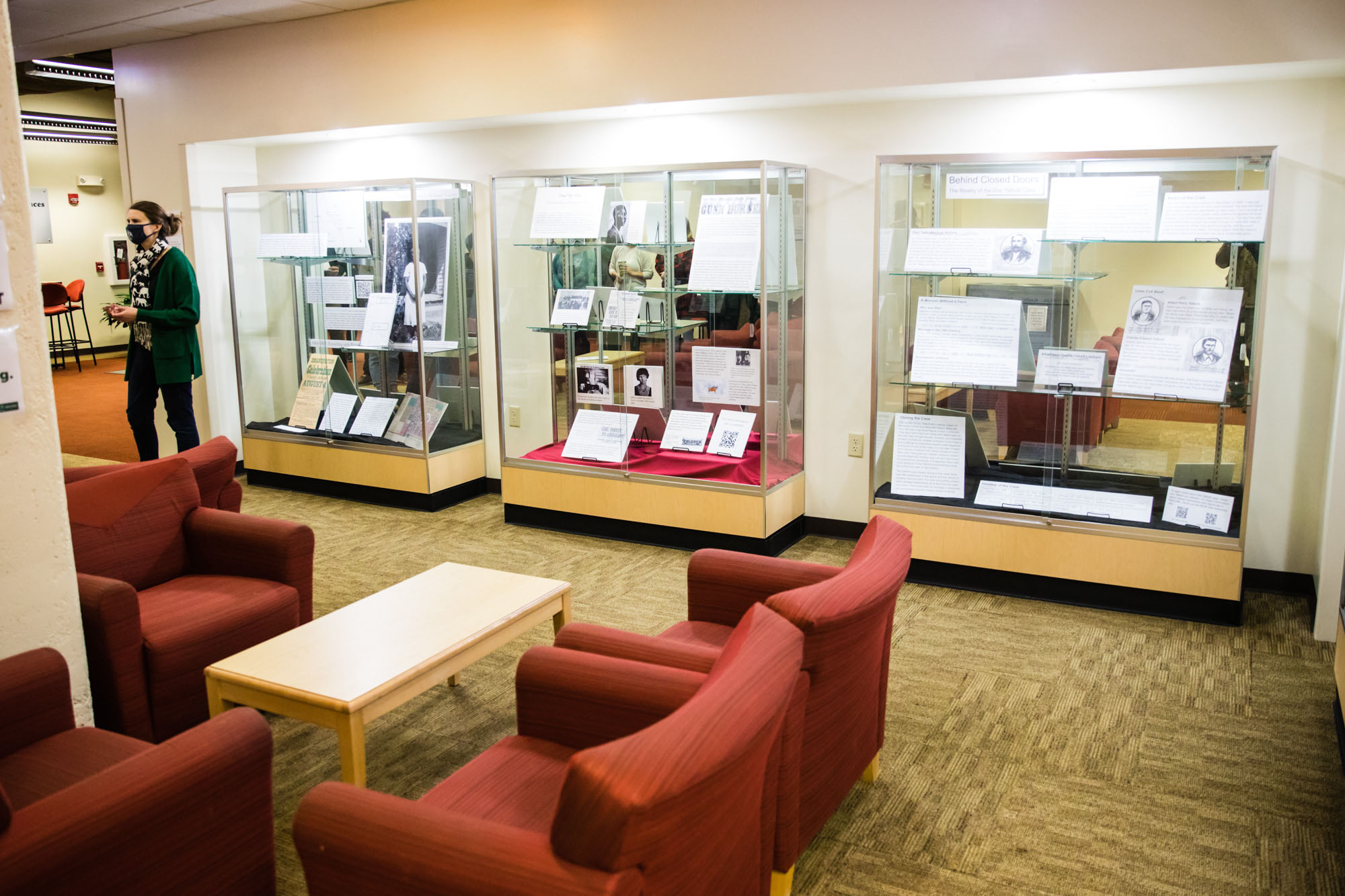 Northwest Associate Professor of History Dr. Elyssa Ford introduces the difficult history exhibit in the lower level of Valk Center during an opening event on Nov. 23.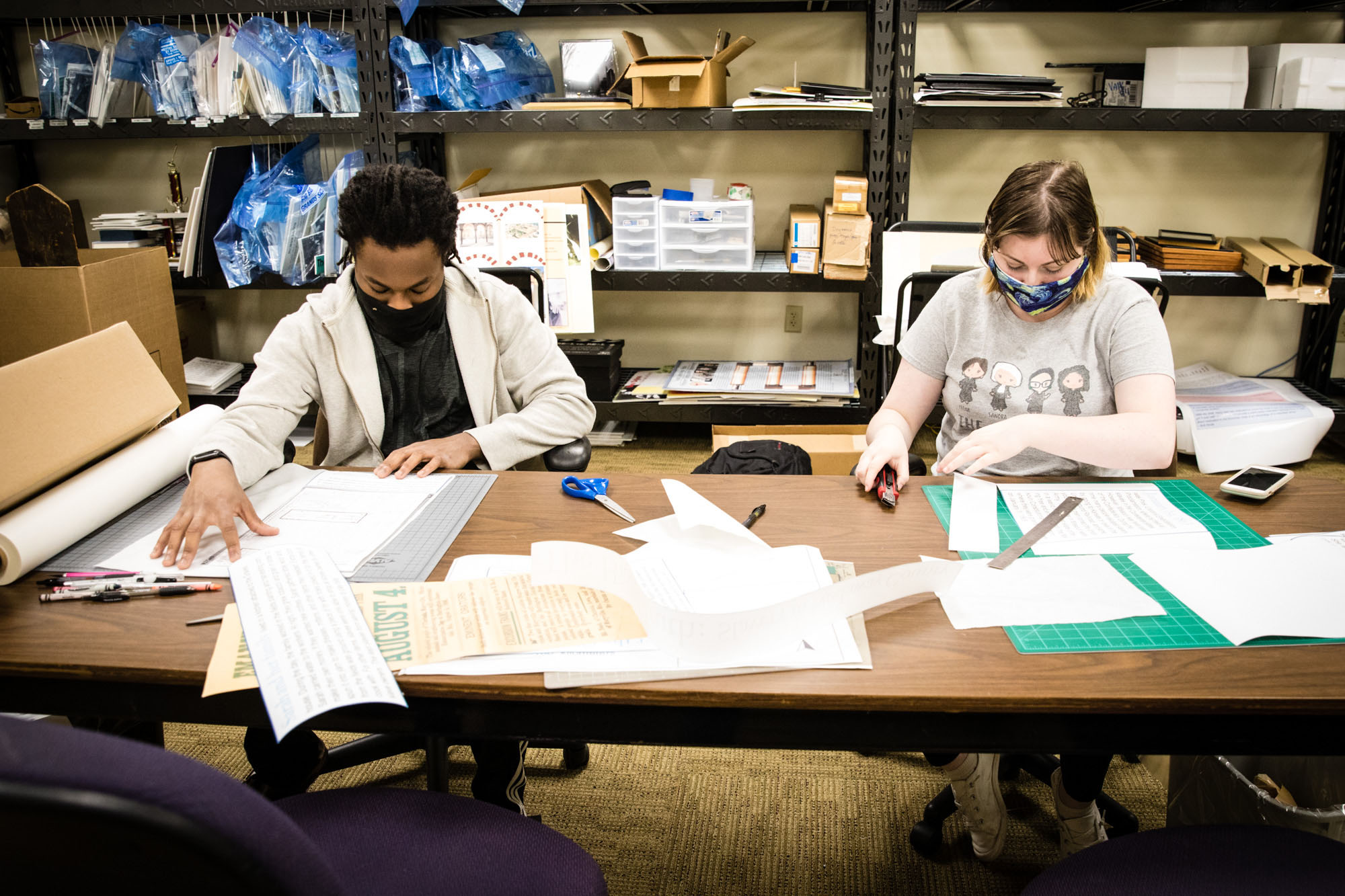 Local History Practicum students Koffi Lewis and Abigail Cottingham researched some of Nodaway County's difficult history and created an exhibit to display some of their findings.
For years, students in the practicum course, which is required for students studying minors in public history museum studies, and others taught by Ford have researched local history and created displays for the Nodaway County Historical Society Museum on a variety of topics from hometown teams to military veterans to folk music.
Past Northwest history students have studied elements of the cases highlighted in the difficult history exhibit, but Ford thought now was a time to have students research them more deeply. Students coming to Maryville from other communities, Ford noted, can more easily disassociate themselves from the stories in ways that longtime residents of Nodaway County may not.
"It may be hard for locals to have to think about that someone in their family could be a part of this, but it is history – and since it is history, it needs to be discussed," said Kelsey Evans, a native of Kansas City, Missouri, who graduates from Northwest this fall with her bachelor's degree in history.  
Evans and Madison Barben, a senior history major from Omaha, Nebraska, researched Gunn's lynching in Maryville. Gunn, a Black man, was accused of murdering a school teacher, Velma Coulter, on Dec. 16, 1930. After weeks of being moved to jails throughout the state because of threats on his life as he awaited trial, a mob took him from police custody on Jan. 12, 1931, chained him to schoolhouse and burned him to death.
By reading newspaper articles and books, Evans and Barben researched Gunn's life as well as Coulter's. They studied how media covered the case as well as Gunn's lynching in the context of others in the region and the United States.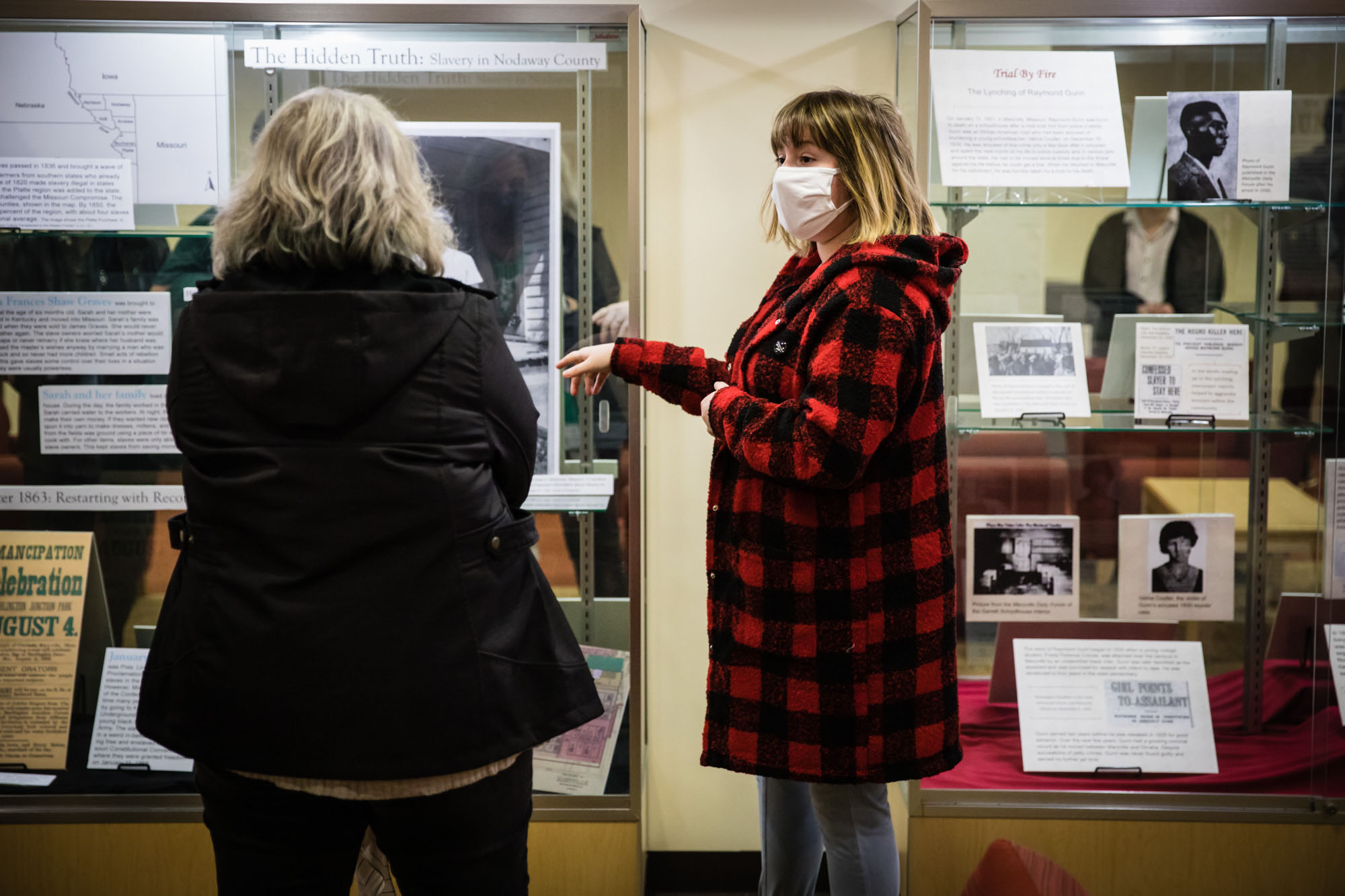 Northwest student Abigail Cottingham talks with a visitor about her research of slavery in Nodaway County. At right, a display case depicts details of Raymond Gunn's lynching in 1931.
Barben said one of the more interesting aspects of Gunn's case for her was "not just the brutality of the murder but the mob mentality, and how so many people went to different jails and he was moved to different jails, and how much interest there was at the time. And after it happened, no one talked about it."
While Evans plans to further her education by pursuing a master's degree in museum studies, Barben plans to pursue a master's degree in history with hopes of becoming a history teacher.
"This class is the best stepping stone toward what we want to do with our lives and how to do research, put it all together and then create a display out of it," Evans said.
Emily Happy, a junior Spanish major from Excelsior Springs, Missouri, researched the controversial Talbott murder. Talbott, a prominent doctor in Nodaway County, died in September 1880 after a bullet shot through a window of the family's home and struck his chest. Though little evidence existed, Talbott's sons, Albert and Charles, were convicted of the murder at the conclusion of a trial during which the prosecution argued the brothers were motivated by Talbott's abuse of their mother. Albert and Charles were executed in July 1881.  
Happy, who transferred to Northwest this fall because of the opportunities available in the University's public history program, enjoyed gaining the practical experience associated with the research, including the interpretation of information and translating it to an exhibit for the general public.
"One of the reasons I was really excited for this class was because a lot of it was going to be discussing how to interact with the public and how to address things that people might not necessarily feel comfortable with," said Happy, who wants to pursue a career in public librarianship. "I learned so much about how people tend to process difficult history."
Kara Severson, a junior creative writing and history major from Holland, Nebraska, studied the McElroy murder. In that case, years of bullying and harassment culminated with the shooting death of McElroy as he left a bar in Skidmore. More than 60 people reportedly witnessed the crime, but none came forward to name the shooter and the case was closed.
Severson read "In Broad Daylight," a New York Times best-seller about the case that was later adapted into a television film, and worked to sort facts from rumors. Her group also visited Skidmore to see and photograph some of the locations that are part of the McElroy story.
"It was exciting to see even on a small scale what museums themselves do and how they create displays," Severson said. "Being able to work like a museum curator, even on a small level, was really exciting because this is the kind of work I want to do as my career."
Ford said it is important for people to understand the topics and cases explored in the exhibit, while difficult to discuss or comprehend, happened locally. They also provide context for some of the political and racial tensions that still exist today.
"It's not something that happened far away," Ford said. "Slavery happened here. Lynchings aren't just happening in Mississippi. They were happening here. There are photographs of someone being burned alive on the roof and hundreds of white Maryville people watching this. That's a thing to talk about.
"With Doc Talbott, people will talk about that, but the thing we don't think about is the domestic violence that happened. That still happens today. We live that history today. That history impacts our lives today."
The exhibit is being displayed first on the Northwest campus while the Nodaway County Historical Society is closed during the COVID-19 pandemic. The displays will remain in the lower level of Valk Center through the spring semester.