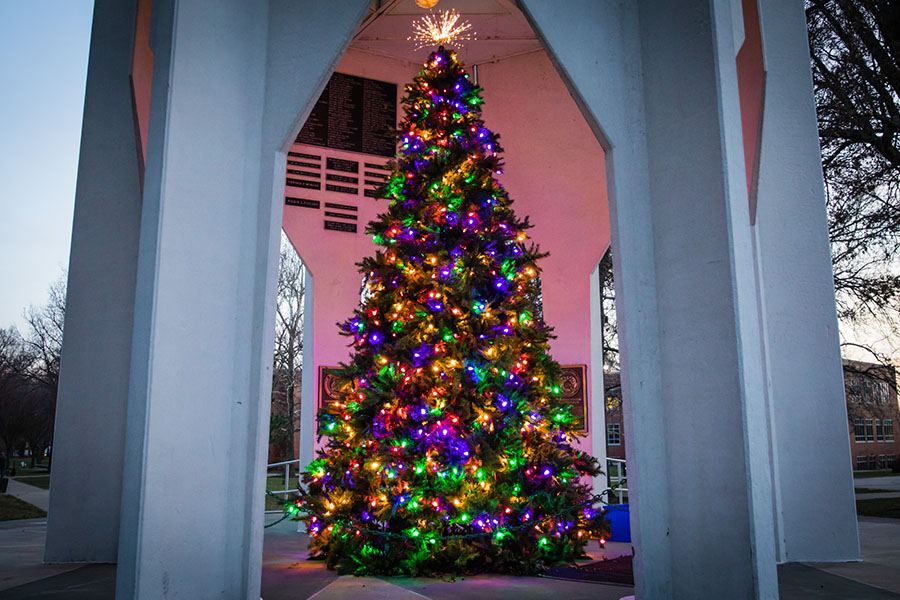 Northwest's Holiday Tree Lighting stands at the Memorial Bell Tower as a symbol of joy and calm during the holiday season. (Photos by Brandon Bland/Northwest Missouri State University)
Nov. 19, 2020
By Leah Newell, communication assistant
Northwest Missouri State University's holiday tree is standing at the Memorial Bell Tower again this year to provide hope and a bright light for the campus community as the holiday season approaches.
"My hope is when our community sees the tree, and other lit areas around campus, they feel a sense of joy," said Denise Jasinski, Northwest's first lady, who helps organize the holiday tree display each year. "And that joy brings them a sense of calm. And that calm, brings them to reach out to one another in peace and harmony."
Now in its 12th year, the University traditionally gathers each December for a tree lighting ceremony. Northwest will not host the ceremony this year, however, in alignment with COVID-19 mitigation measures.
The holiday tree is annually sponsored by the Jasinski family. Last year, it was moved to the Memorial Bell Tower after a Black Hills Spruce Tree outside the campus' historic Thomas Gaunt House served as the holiday tree throughout the previous decade.
Additionally, the Jasinski family annually selects a philanthropy in conjunction with the holiday tree display. This year, the Jasinski family is encouraging donations to the Bearcat Food Pantry, which provide a source of food and other necessities for Northwest students and employees.
Donations may be placed in bins located at the base of the holiday tree at the Memorial Bell Tower. Requested items include:
Protein items such as canned tuna and chicken
Fruit items such as fruit cups, canned fruit, jelly or jam
Grain items, including cereal, oatmeal, pasta, ramen noodles, cereal bars, granola bars, pancake mix (complete preferred) and syrup
Complete meals and mixes, including spaghetti sauce, chicken and tuna helpers
Non-perishable crackers, soup, fruit snacks, nuts, chips, cookies and powdered milk
Personal hygiene items, including toilet paper, facial tissue and toiletries such as shampoo, toothpaste, deodorant, tampons and razors
Community members may find needed items and provide donations to the Food Pantry throughout the year by visiting www.nwmissouri.edu/studentaffairs/foodpantry/.