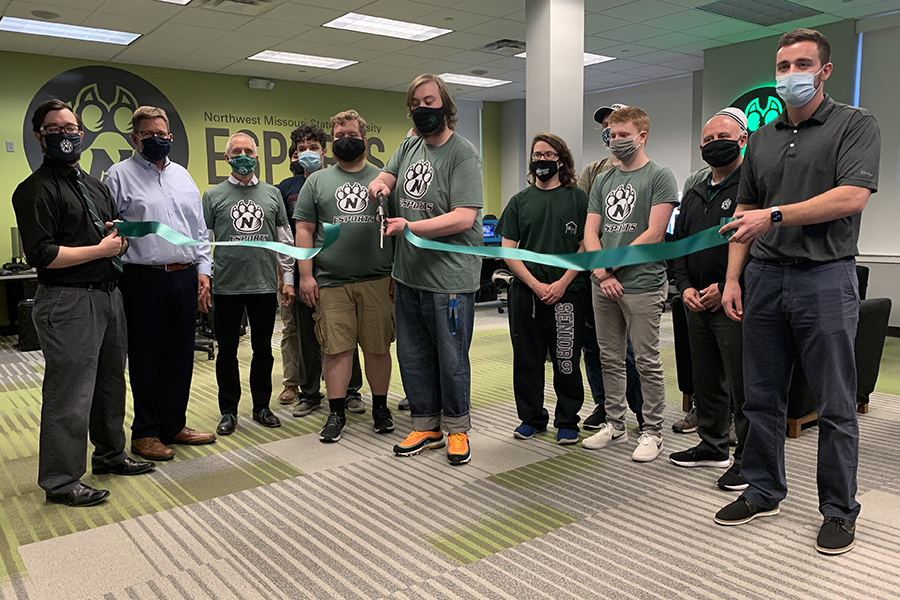 Vincent Sorrentino, the president of the Northwest Esports Club, cut a ribbon Monday to celebrate the opening of an esports room in the J.W. Jones Student Union. He is joined, at left, by Paul Bennett, coordinator of leadership and development; Dr. Matt Baker, vice president of student affairs; Northwest President Dr. John Jasinski; and members of the Northwest Esports Club. At right are Greg Hansen, assistant vice president of student affairs for campus recreation, and Jordan Mehl (holding ribbon), coordinator of sport clubs and competitive sports. (Northwest Missouri State University photos)
Nov. 3, 2020
Northwest Missouri State University ushered in a new level of student engagement Monday with a ribbon-cutting ceremony to celebrate the opening of its esports room in the J.W. Jones Student Union.
The room, cut from a portion of the Tower View Room on the third floor of the Student Union, now serves as the home of the Northwest Esports Club and is outfitted with gaming centers and furnishings with a backlit sign illuminating a Bearcat paw. It took root two years ago when students approached University administrators with a vision to bring competitive video gaming to Northwest.
"We pride ourselves on helping thousands of students get connected as Bearcats, and I am extremely impressed and thrilled to be able to be here for the ribbon-cutting because this is a new way for students to get engaged and be connected and continue their journey," Vice President of Student Affairs Dr. Matt Baker said.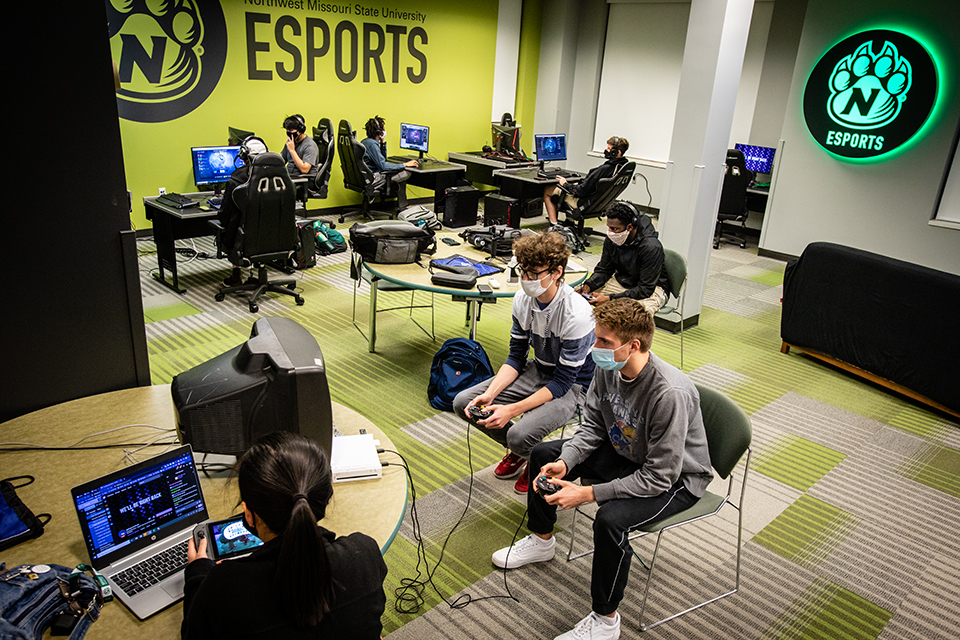 The esports room in the Student Union and the Northwest Esports Club is open to all students, from beginning gamers to advanced players.
After conversations with Baker and others in 2018, Paul Bennett, the coordinator of leadership and development in Northwest's Office of Residential Life, began recruiting students to form an esports club. That fall, the Fighting Games Club – a precursor to the Northwest Esports Club – organized, and a charity gaming event raised about $1,500 for Northwest's Pay It Forward Fund. Then, on March 21, 2019, Student Senate accepted the Northwest Esports Club as an officially recognized student organization.
During the 2019-20 academic year, the club competed in tournaments in Iowa and at The Ohio State University, and a second charity gaming event raised about $2,200 for the Pay It Forward Fund.
Today, more than 100 students compete in intramural gaming with the Northwest Esports Club. Bennett and Jordan Mehl, Northwest's coordinator of club sports, are teaching an esports course this fall – similar to other activity courses like racquetball and badminton. This weekend, the Northwest club will compete against Missouri Western State University and the University of Central Missouri in a "Rivalry Weekend Series," and the third annual charity gaming event is planned for Nov. 16.
"It's incredible to see how far we've come in two years from the emails and conversations to a full-fledged facility with teams competing against other colleges," Bennett, who serves as the club's advisor, said. "I cannot be more thankful for the amount of support and productivity surrounding esports at this institution."
During his remarks at Monday's opening, Baker cited the Esports Club's success as an example of Northwest's emphasis on engagement and offering opportunities for students to connect. While the University offers more than 150 student organizations, research shows students are more likely to succeed in college and complete their degrees when they are involved in campus programs and activities.
"We want students to become leaders and communicate and strategically plan and think and move forward," Baker said. "That's part of getting your degree – to have those activities and those experiences – and you'll take those with you into your career when you leave Northwest, no matter what field you land in," Baker said.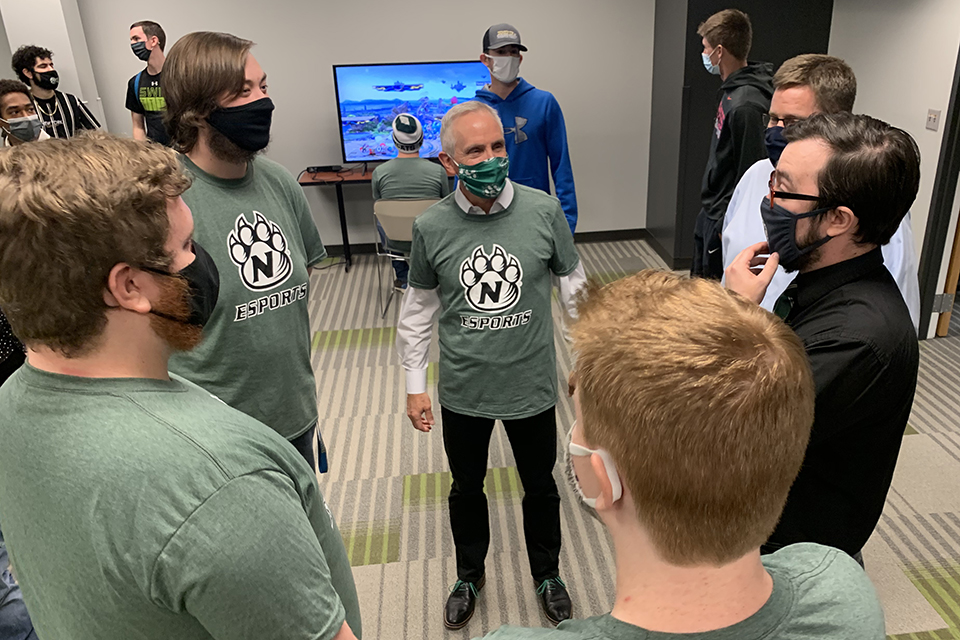 University President Dr. John Jasinski converses with members of the Northwest Esports Club Monday afternoon.
Further, a recent report noted paid esports jobs grew 111 percent last year. Adding esports to Northwest's interdisciplinary and co-curricular offerings supports STEM education as well as the University's emphasis on career readiness. Northwest boasts state-leading career placement rates with 96 percent of bachelor's degree earners and 99 percent of master's degree earners securing jobs or continuing their education within six months of graduating.
"This is really about a global industry, a global business; it's something that we can't just say is for adolescent play," Northwest President Dr. John Jasinski said, before accepting a Northwest Esports Club T-shirt from the organization. "We know that esports will offer teaming opportunities. Employers tell us, 'We need people to be parts of teams.' We need them to be marketable and career-ready."
While it competes against teams representing a variety of schools, large and small, the Northwest Esports Club's "League of Legends" team has a record of 11-7 this fall. Its "Rocket League" team is 2-3 as it embarks on a playoff series.
The club is open to all Northwest students, from beginning gamers to advanced players.
"We hope to grow and expand our community more with recruitment, scholarships and bring in new players to show Bearcats are strong and here to win," said Vincent Sorrentino, a junior computer science major from Excelsior Springs, Missouri, who is the club's president.