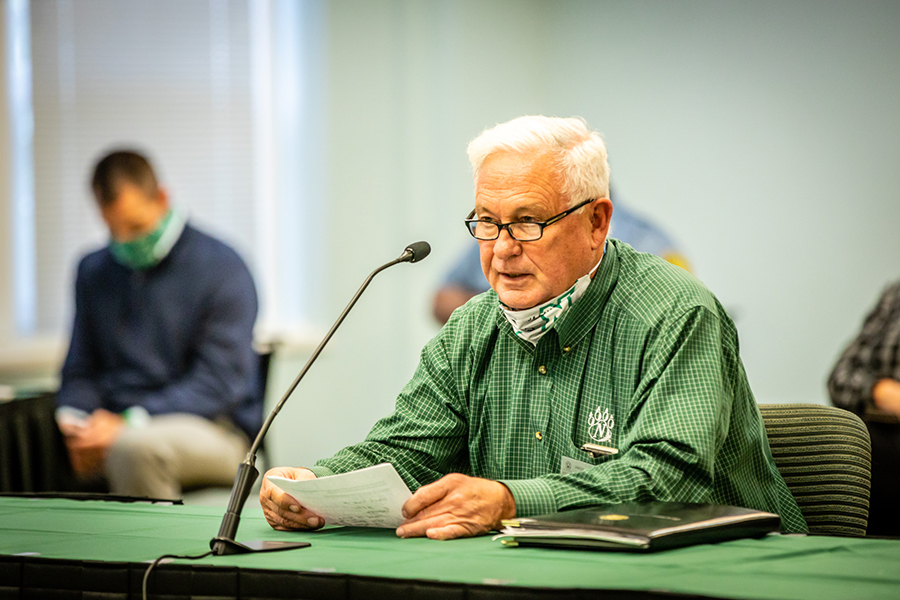 John Cline, delivered a report on Thursday afternoon to Northwest's Board of Regents regarding the Northwest Foundation's progress on its Forever Green fundraising campaign. He concluded the report with an announcement of his pledge to meet the remainder of the fundraising goal for the University's Agricultural Learning Center. (Photo by Todd Weddle/Northwest Missouri State University)
Oct. 23, 2020
With construction on Northwest Missouri State University's Agricultural Learning Center well underway, a loyal Northwest alumnus has pledged a six-figure gift to meet the remainder of the Northwest Foundation's $6.5 million fundraising goal for the $11.4 million facility.
John Cline, a member of the Northwest Foundation's Board of Directors and a 1975 alumnus, announced his gift Thursday in front of the University's Board of Regents as he concluded a report of the Foundation's progress on its Forever Green fundraising campaign. Pausing for a moment before announcing his commitment, Cline mentioned his parents and sister as well as former Northwest President Dr. Robert Foster and current President Dr. John Jasinski as motivating factors for his gift.
"Family is everything," Cline said, who received a standing ovation from the Northwest students, staff, faculty and Regents gathered in the J.W. Jones Student Union Boardroom. "I'm able to give, and I just thought it was a great thing to do."
Mitzi Marchant, director of donor engagement for Northwest, said, "We cannot thank John enough for his commitment to Northwest, our students, the Maryville community and the region. When John made his announcement at the Regents meeting, there were heartfelt expressions of joy, respect and gratefulness throughout the room. His generosity, and the generosity of all who supported the Agricultural Learning Center, will be felt for generations to come."
Cline, a Maryville native who lives in Leawood, Kansas, has deep roots in northwest Missouri and its farming community, having helped his parents with operations in Barnard and Maysville. In fact, his parents, for a short time, also owned the property on which Northwest's 448-acre R.T Wright Farm now resides and where the Agricultural Learning Center is being built; the Cline family sold that property to Northwest in 1971.
Cline's loyalty and commitment to Northwest stem from his experiences as an agriculture student and the way his education prepared him for a successful career. He earned his bachelor's degree in agricultural business while serving as president of the Sigma Tau Gamma fraternity. His close relationship with Foster, then the University president, left a mark on him, and he maintains relationships with his fraternity brothers.
He began his professional career with the Livestock Marketing Association of Kansas City in spring 1976 and traveled for the Association for three years out of Atlanta before transferring back to Kansas City. In 1984, he and a friend founded Cline Wood, which specializes in truck transportation and commercial agriculture insurance.
With the 29,000-square-foot Agricultural Learning Center becoming a reality, Cline believes the new facility has the potential to provide unlimited opportunities for students studying agricultural sciences and a variety of other areas.
"If we aren't already the leader in agriculture education, we soon will be," Cline said after accompanying Regents and Northwest leadership on a tour of the construction site earlier Thursday. "I had no idea it was that big a place. I'm really looking forward to the opening in the spring."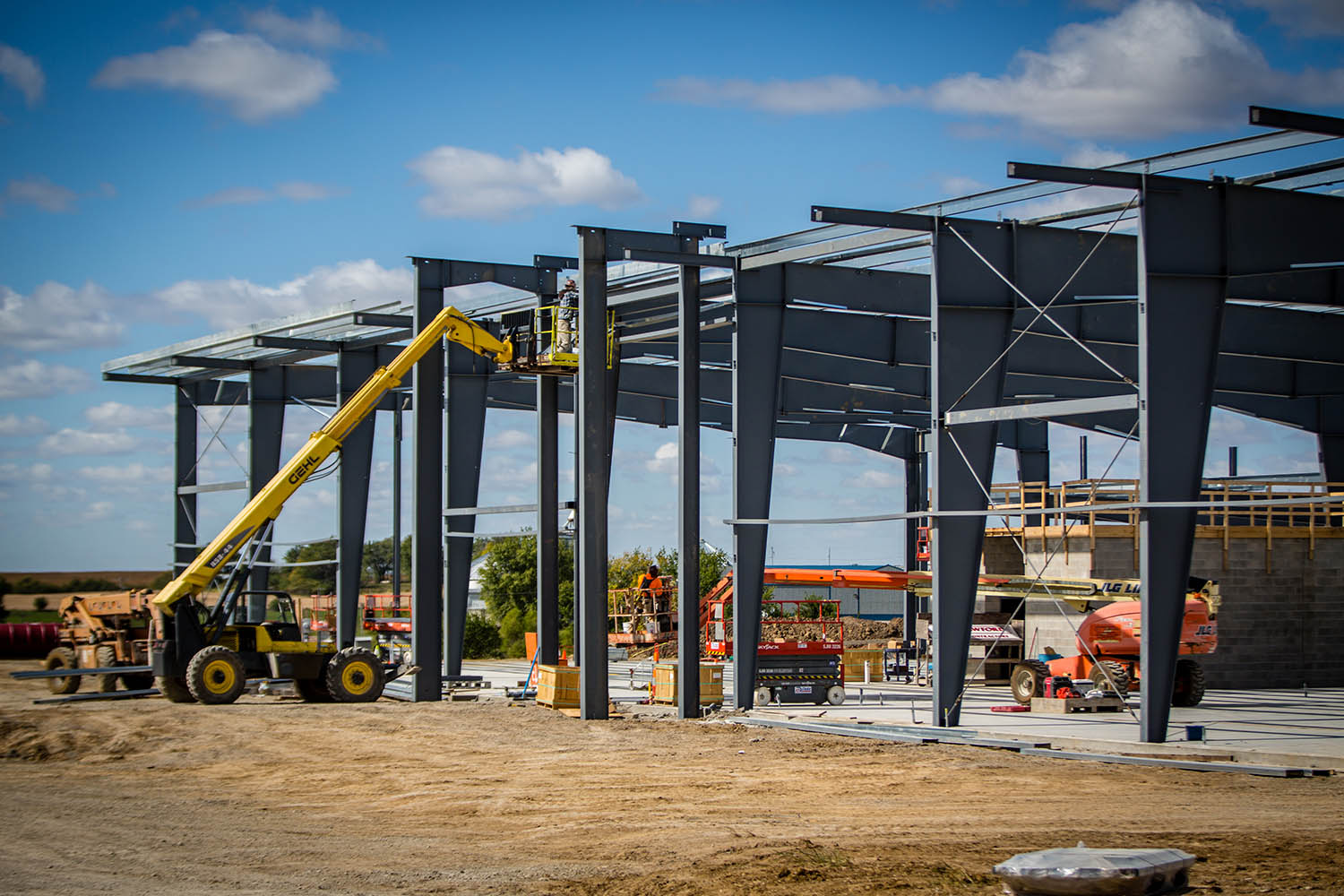 The 29,000-square-foot Agricultural Learning Center, on which Northwest broke ground in April, is being constructed at the R.T. Wright Farm. Its completion is projected in spring 2021. (Photo by Brandon Bland/Northwest Missouri State University)
While the Wright Farm already provides opportunities for Northwest students in ag science-related majors to gain profession-based experience with beef, swine, dairy and sheep enterprises as well as row and forage crops, the new multipurpose facility, with its classrooms and laboratories, will further enhance academic curriculum. It also will allow for research and scholarly activities centered on crop, soil and livestock resources as well as space for processing agricultural products. It will include space for public and private functions such as producer and agricultural industry meetings, workshops, shows and career development events, and the promotion of agricultural literacy.
"This brings it full circle," Dr. Rod Barr, the director of Northwest's School of Agricultural Sciences, said. "John's gift is a testament to how far we've come and where individuals see we're going. I can't express how appreciative the School of Agricultural Sciences and I are for the support of John and the Cline family."
Cline's latest gift to the Agricultural Learning Center, as well as past support he has provided for the facility, will be recognized with the naming of the Cline Family Farm Road, which connects the building to the heart of the Wright Farm.
While Cline's gift fulfilled the Northwest Foundation's fundraising goal for the project, support is still being sought. The University has committed more than $2 million to the project, and any additional funds raised will allow the University to direct those funds to other campus needs. Furthermore, additional funds raised will assist outfitting the facility's laboratories and classrooms with the most up-to-date equipment and technology.
"John's passion and support exemplify what it means to be a Bearcat – focusing on student success, contributing to and executing on a growth mindset and enhancing the communities we serve," Jasinski said. "John's gift yields serendipity, too, with the Cline family sale of the property being 50 years ago in 2021, the Northwest Foundation celebrating its 50th anniversary in 2021 and the Agricultural Learning Center opening in 2021. All of us traveling the Cline Family Farm Road will be driving to the heart of the farm – and the road will provide a vivid portrait of Bearcat and northwest Missouri hearts, including those of John, his family's and so many others."
For more information about the Agricultural Learning Center or to make a gift to support the project visit www.nwmissouri.edu/ag/agcenter, call 660.562.1248 or email advance@nwmissouri.edu.