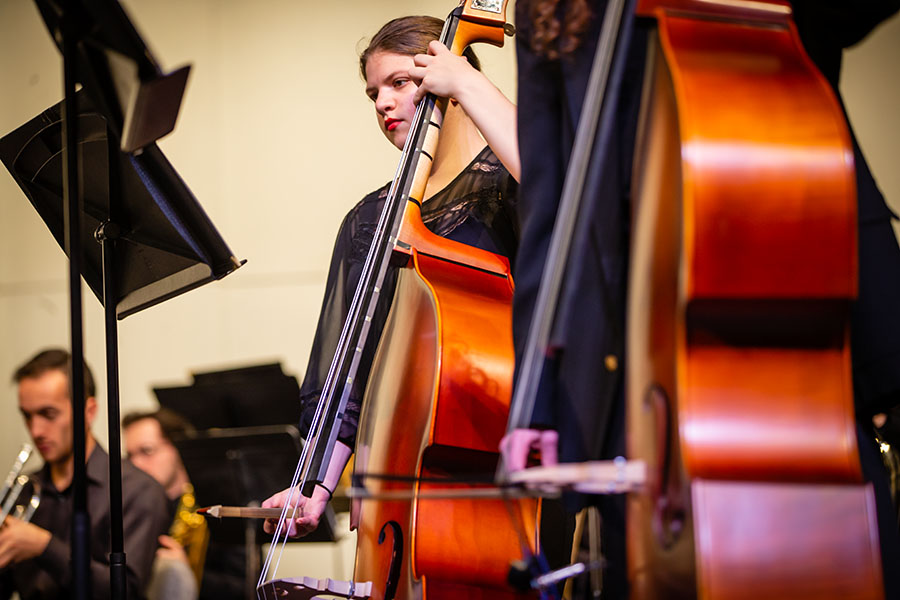 The Northwest Symphony Orchestra, pictured above during its 2019 fall concert, will provide an online concert Oct. 13. (Photo by Todd Weddle/Northwest Missouri State University)
The Northwest Missouri State University Symphony Orchestra will present its fall concert at 7:30 p.m. Tuesday, Oct. 13, and invites the University community to view the performance online.
Due to the COVID-19 pandemic, the concert venue will not be accessible to the public. Instead KNWT, Northwest's student-led television station, will broadcast the concert on YouTube.
The concert program will showcase the Symphony Orchestra's strings on Gustav Holst's "Brook Green Suite," the woodwinds on Richard Strauss's "Serenade, Op. 7," and brass and percussion on Anthony DiLorenzo's "A Little Russian Circus." The Symphony Orchestra also will perform Gustav Mahler's "Blumine."
The Northwest Symphony Orchestra is a full orchestra, consisting of woodwinds, brass, percussion and strings with a mission of contributing to the musical development of its members and the cultural life of Northwest, Maryville and surrounding communities. Dr. Robert Pippin, an assistant professor of music, conducts the ensemble.