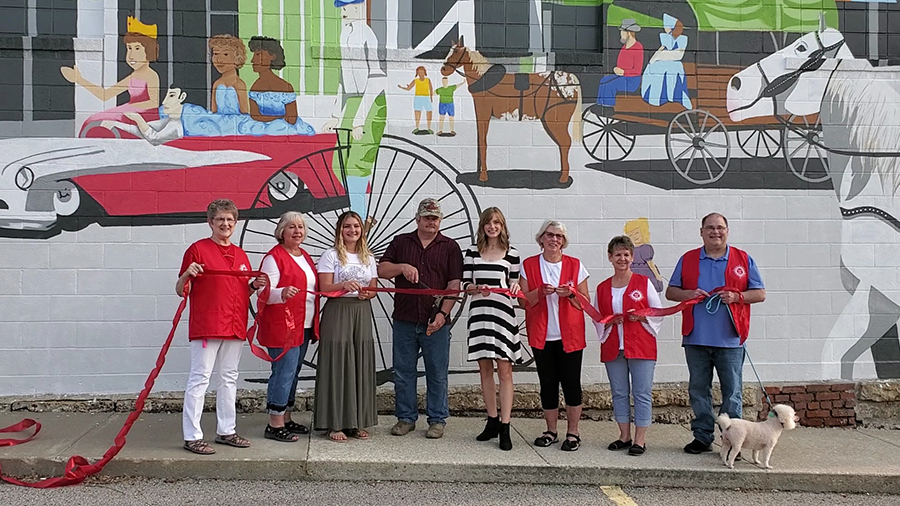 Sierra Scott (third from left) and Shelby Theis (fifth from left) joined community members in Oregon, Missouri, last month to cut a ribbon in celebration of a mural the Northwest art students completed on a downtown building. (Submitted photos)
Oct. 6, 2020
By Edidiong Idong-Bassey, communication assistant
Northwest Missouri State University students Shelby Theis and Sierra Scott spent their summer helping to enhance a Missouri town's landscape and commemorate its fall fair history by painting a downtown mural.
The 76-foot wide, 16-foot tall mural on an exterior wall of the South Holt Family Medical building in Oregon, Missouri, was commissioned Sept. 15. The mural is a compilation of meaningful scenes selected by the Community Activities Committee to celebrate the town's annual fall fair.
Billie Banks, president of Community Activities Committee, says the mural serves as a historical reminder of parades organized by the city of Oregon since 1950. The fair started with a horse-riding organization showcasing their horses and evolved into a four-day event that includes a parade showcasing community organizations and floats during the last day of the fair.
Banks said she was overwhelmed with the town's generosity, noting community members raised $17,000 to support the mural project.
"It was a great project because when COVID-19 shut down businesses and schools, people couldn't go for this year's fall fair," Banks said. "They saw (the painting) happen and believed it was so cool to see our community survive and progress."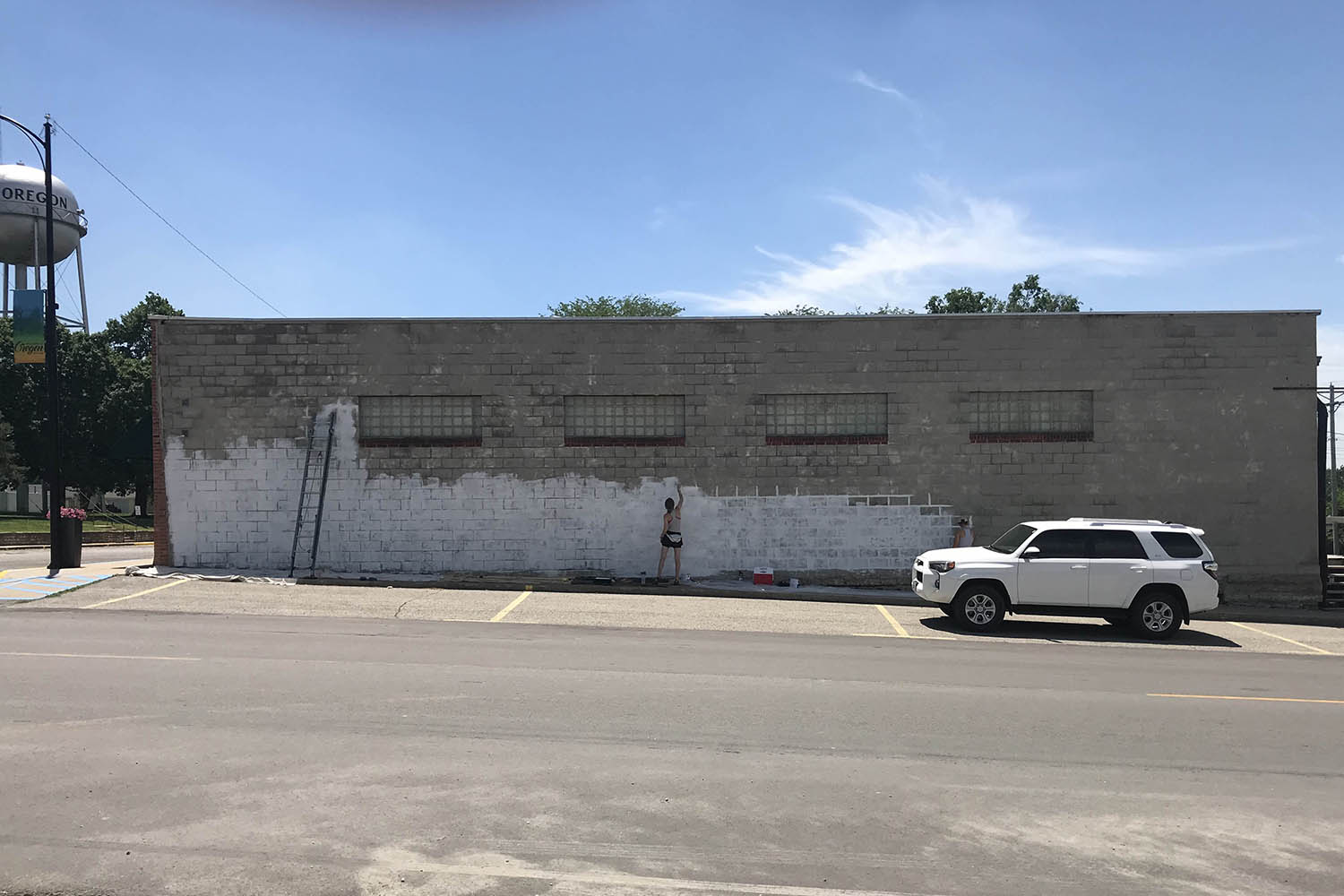 Northwest art students Shelby Theis and Sierra Scott began painting their mural on an exterior wall of the South Holt Family Medical building in Oregon, Missouri, in June ...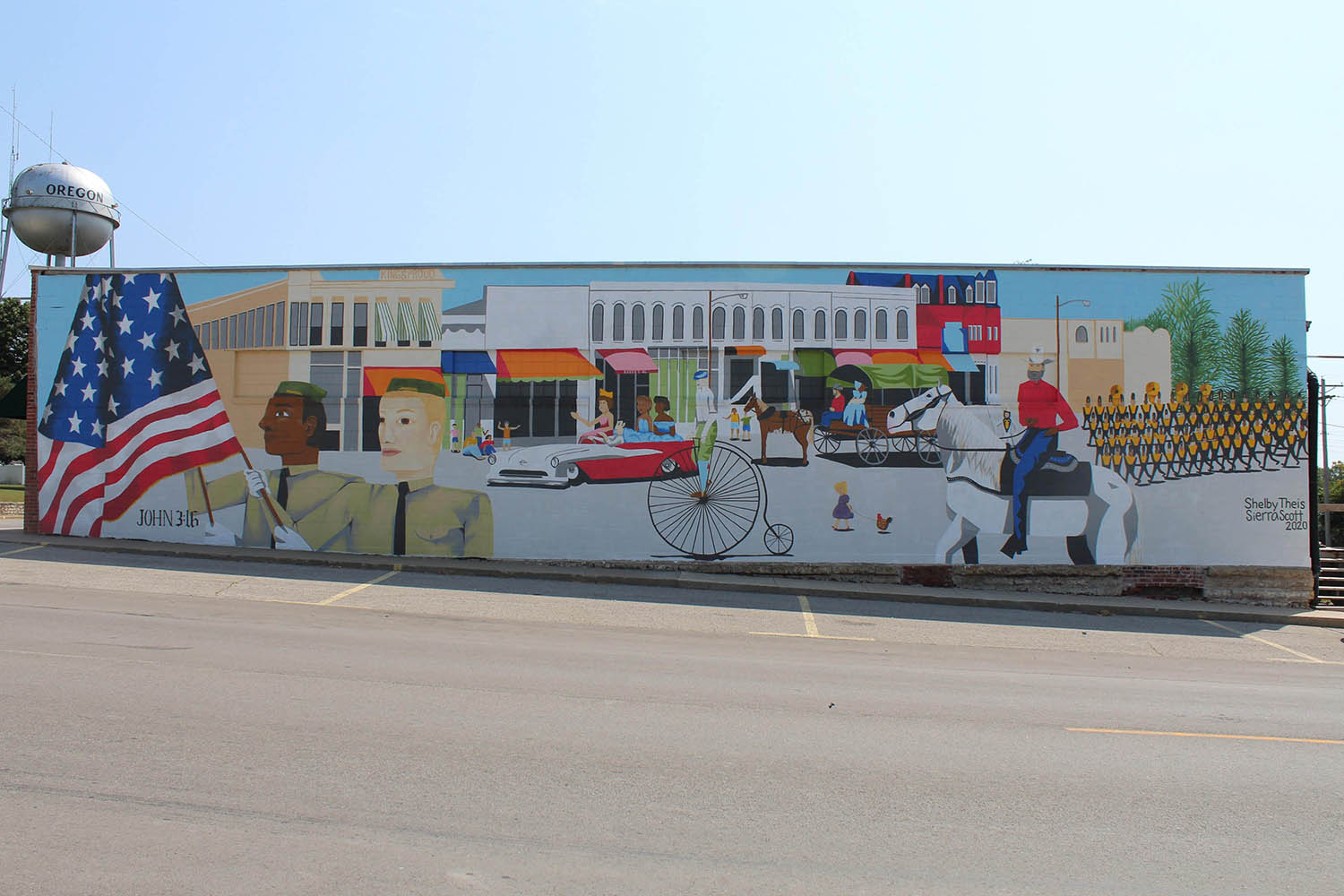 ... and completed the 76-foot wide, 16-foot tall mural in September.
Theis, a senior art studio major from Nevada, Missouri, learned of the opportunity to create the mural when she received an email about the project. It required two people, and Theis and Scott, a senior art education major from Parkville, Missouri, saw it as a perfect opportunity to work together. For three and a half months, they met in Oregon to plan and create the mural, completing it last month.
Prior to working on the mural, Theis and Scott had taken art classes together at Northwest for three years and built a friendship.
"Working with Shelby was great," Scott said. "I'm grateful that Northwest has small classes where I could build that connection with Shelby prior to the project."
The experience also provides a valuable addition to their résumés. Theis and Scott said they are grateful Northwest provides and prepares students to take on such projects through a variety of opportunities.    
"I was excited and glad that people liked it because it was hard work and there was so much support from everyone," Scott said. "It was like painting something on a T-shirt for someone and everyone being in awe of it."
Theis added, "I wouldn't have been able to sell myself as a muralist to the people hiring me without my teachers building confidence in me. Being in a sorority and meeting different people, I learned a lot about speaking professionally, especially speaking one-on-one."
This fall, Scott is student teaching in Kansas and owns an art studio in Sabetha, Kansas, where she teaches art in addition to creating and displaying her own work. After completing her bachelor's degree, she intends to become a full-time art teacher. 
Theis will graduate this fall and plans to pursue a master's degree in painting and teach art in a university setting.