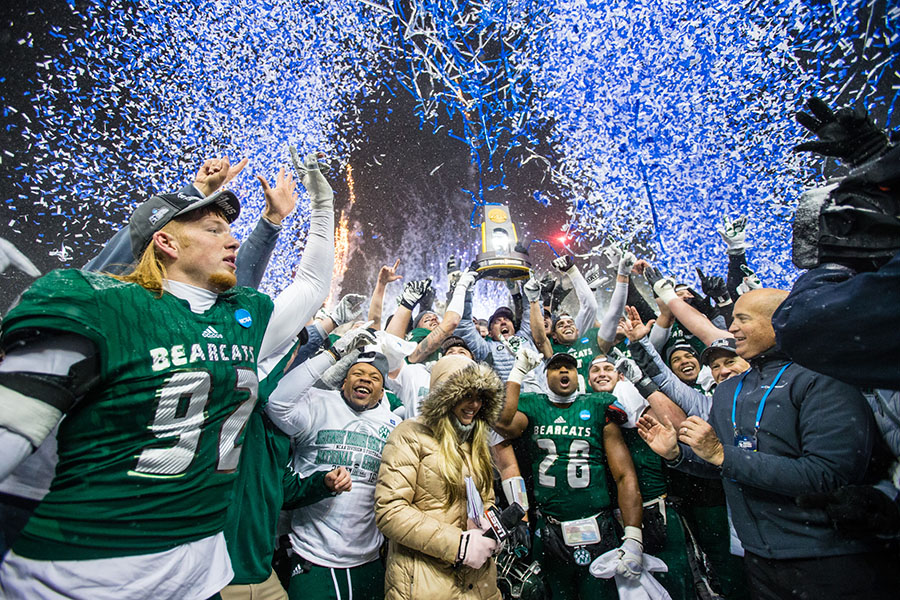 The Bearcat football team celebrated its sixth NCAA Division II national championship on Dec. 17, 2016, after a 29-3 victory over North Alabama at Children's Mercy Park in Kansas City, Kansas. KXCV-KRNW will rebroadcast the came this fall as part of its "Bearcat Classics" series. (Northwest Missouri State University photo)
Fans of the Northwest Missouri State University football team have the opportunity to relive some of the Bearcats' most memorable wins when KXCV-KRNW airs "Bearcat Classics" on Saturday afternoons this fall.
With the 2020 Bearcat football season postponed as a result of the COVID-19 pandemic, KXCV-KRNW, Northwest's award-winning National Public Radio affiliate and the flagship of the Bearcat Radio Network, will kick off the series Sept. 12. The station will broadcast games from 1 to 4 p.m. on KXCV 90.5 and KRNW 88.9 and follow a structure similar to live game broadcasts with pregame, halftime and postgame shows featuring interviews with former Bearcat student-athletes.
The first week features Northwest's 2010 win at the University of Central Missouri in Warrensburg when Todd Adolf kicked a game-winning field goal as time expired. The latter portion of the schedule airs five of Northwest's six NCAA Division II football national championships, culminating with Northwest's remarkable four-overtime victory against Carson-Newman in 1999.
"These are some of the greatest Bearcat football games from the last 20 years, including five national championship games, four double-digit comebacks and two overtime victories," said Matt Tritten, who teams with John Coffey on Bearcat Radio broadcasts and works with KXCV-KRNW as an underwriting sales associate. "The games include regular season nail-biters, record-setting playoff games and national titles."
The complete lineup for "Bearcat Classics" appears below.
About KXCV-KRNW and the Bearcat Radio Network
KXCV, the award-winning National Public Radio affiliate broadcasting from the Northwest campus, has served as the flagship station of the Bearcat Radio Network since its launch in 1999 and broadcasts all Bearcat football, men's basketball and women's basketball games. With 100,000 watts behind it, KXCV is the most powerful station in the region and reaches parts of four states – Missouri, Kansas, Nebraska and Iowa.
Signing on the air in 1971, KXCV was the first full-power public radio service in Missouri. In 1993, KRNW went on the air in Chillicothe, extending programming across northern Missouri.
"Bearcat Classics" schedule
Sept. 12: Northwest at Central Missouri, 2010 regular season game
Sept. 19: Northwest vs. Washburn, 2009 regular season game
Sept. 26: Northwest vs. Central Missouri, 2017 regular season game
Oct. 3: Northwest at Fort Hays State, 2019 regular season game
Oct. 10: Northwest at North Alabama, 2005 playoff game
Oct. 17: Northwest vs. Chadron State, 2006 playoff game
Oct. 24: Northwest vs. Grand Valley State, 2007 playoff game
Oct. 31: Northwest vs. Missouri Western, 2010 playoff game
Nov. 7: Northwest at Texas A&M-Kingsville, 2010 playoff game
Nov. 14: Northwest vs. Central Washington, 2009 playoff game
Nov. 21: Northwest vs. Grand Valley State, 2009 national championship
Nov. 28: Northwest vs. Lenoir-Rhyne, 2013 national championship
Dec. 5: Northwest vs. Shepherd, 2015 national championship
Dec. 12: Northwest vs. North Alabama, 2016 national championship
Dec. 19: Northwest vs. Carson-Newman, 1999 national championship