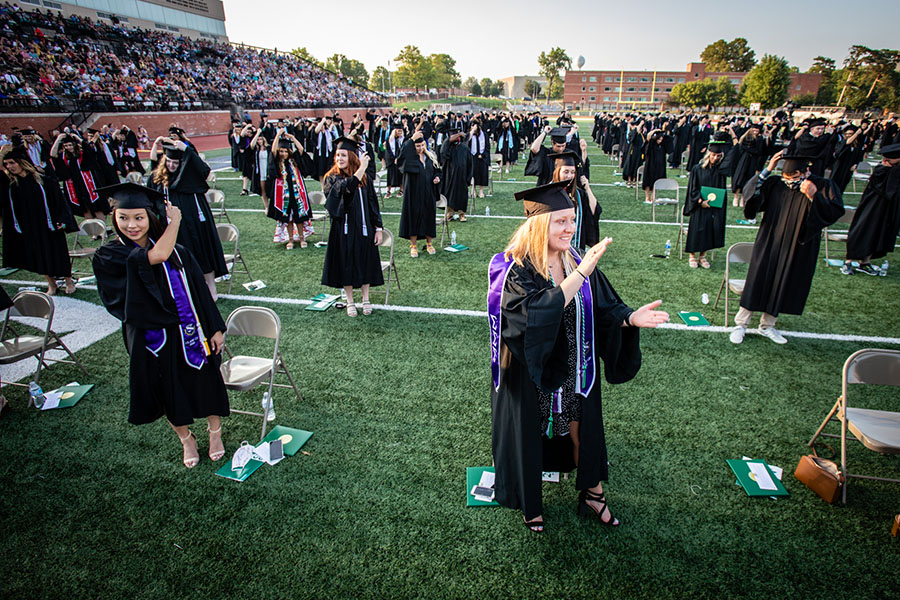 Bachelor's degree candidates turn their tassels after the conferral of their degrees during Northwest's spring commencement ceremony Saturday night at Bearcat Stadium. The celebration honored more than 1,200 students who completed degrees during the University's spring and summer terms. (Photos by Todd Weddle/Northwest Missouri State University)
Aug. 9, 2020
Northwest Missouri State University's spring graduates finally got the opportunity Saturday evening to celebrate their accomplishments at the University as it hosted its rescheduled spring commencement ceremony in Bearcat Stadium.
"I'd be lying if we said we had envisioned this kind of ceremony back in the fall semester or even in January of 2020," Jasinski said in his opening remarks referring to the COVID-19 environment that prompted Northwest to first postpone its spring commencement ceremony and then move it from its traditional setting in Bearcat Arena to the open air of Bearcat Stadium.
All individuals attending the ceremony were instructed to keep a safe distance from others outside of their family groups and to wear face coverings when that distance could not be maintained. A sheet of plexiglass was attached to the emcee's podium, and the brass ensemble played instruments outfitted with bell covers. Rather than processing into the stadium at once, graduates seated themselves prior to the ceremony in chairs that were spaced on the field turf.  
"You'll fondly remember this day," Jasinski told graduates. "You worked so hard for this. You went through a lot to get here, and we understand that. Your perseverance and your success are something that so few actually accomplish."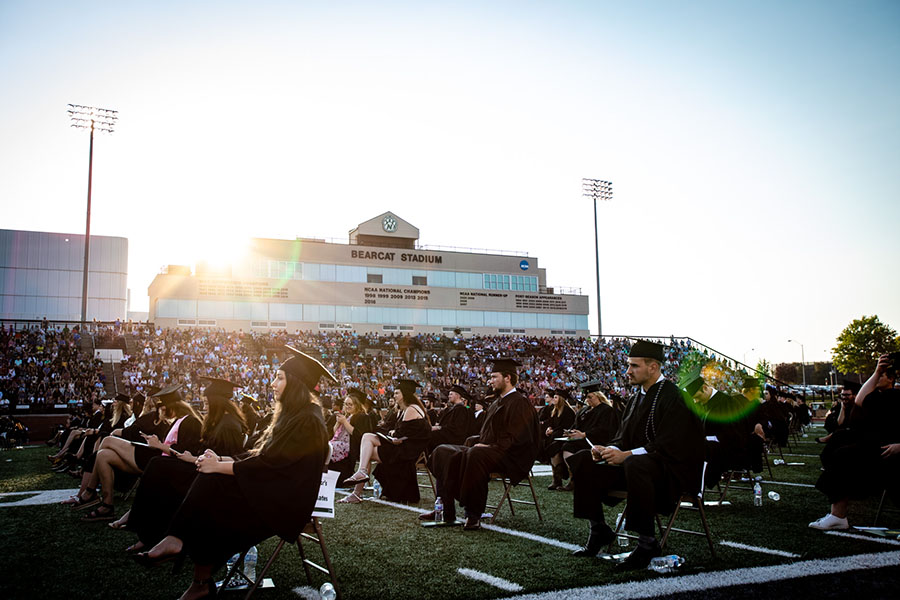 Northwest graduates participating in Saturday's commencement ceremony at Bearcat Stadium were seated farther apart than previous ceremonies as the University implemented COVID-19 mitigation measures.
Only about one third of the population earn a bachelor's degree or higher, Jasinski noted. Additionally, Northwest's graduate rate places the institution as a leader among its peers, and its career placement rate – which indicates that 97 percent of Northwest bachelor's degree earners and 99 percent of master's degree earners secure employment or continue their education within six months of graduation – is the best in the state.
Furthermore, Jasinski commended the graduates for the ways they engaged inside and out of classrooms at Northwest while forming valuable connections along the way. The graduates, he said, celebrated and respected differences, upholding the University's commitment to diversity and inclusion. He urged them to be active citizens and continue to model the traits they developed at Northwest.
"Make no mistake, we have much more work to do across the globe, nationally, across the state and region, and right here at home," Jasinski said. "I respectfully implore each of us to do our part in dismantling systemic racism, uplifting and celebrating diversity and inclusion of all individuals of all backgrounds."
In his concluding remarks, Jasinski encouraged the graduates to – no matter what path they choose – be future-focused and solution-oriented.  
"Your diploma is testament to your decision to live and work as an educated person," Jasinski said. "Our society needs you now more than ever. We need communicators of truth, business experts for a strong economy, ag specialists, scientific entrepreneurs, computer science leaders, health science practitioners, education ambassadors and so much more. Above all, we need learners, connectors, caring voices, diversity and inclusion agents and alumni spreading Bearcat pride worldwide. Go forth and make Northwest proud as you contribute to the societal good."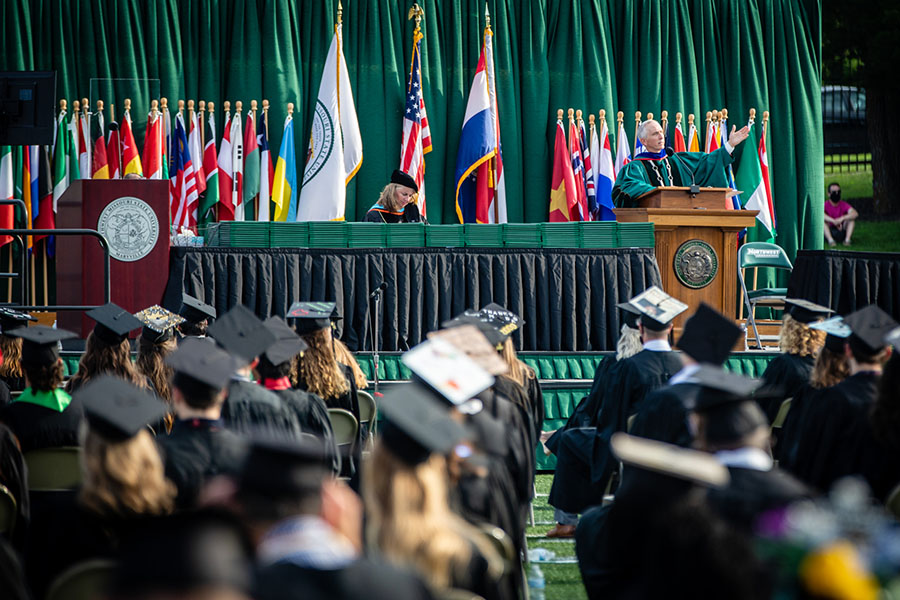 Northwest President Dr. John Jasinski address graduates and loved ones gathered at Bearcat Stadium for the University's spring commencement ceremony.
Northwest's spring graduating class totaled 929 students with 607 receiving bachelor's degrees, 315 receiving master's degrees and seven earning education specialist degrees. Elementary education was the most common bachelor's degree among the spring graduates, and applied computer science was the most common master's degree.
The University's summer graduating class totaled 349 students with 148 earning bachelor's degrees, 196 completing master's degrees and five receiving education specialist degrees. Business management was the most common bachelor's degree among summer graduates, and the most common master's degrees were curriculum and instruction and education leadership for K-12.
The graduates ranged in age from 20 to 60. They represented nine countries and 23 states, with 59 percent of all graduates coming from within the state of Missouri.