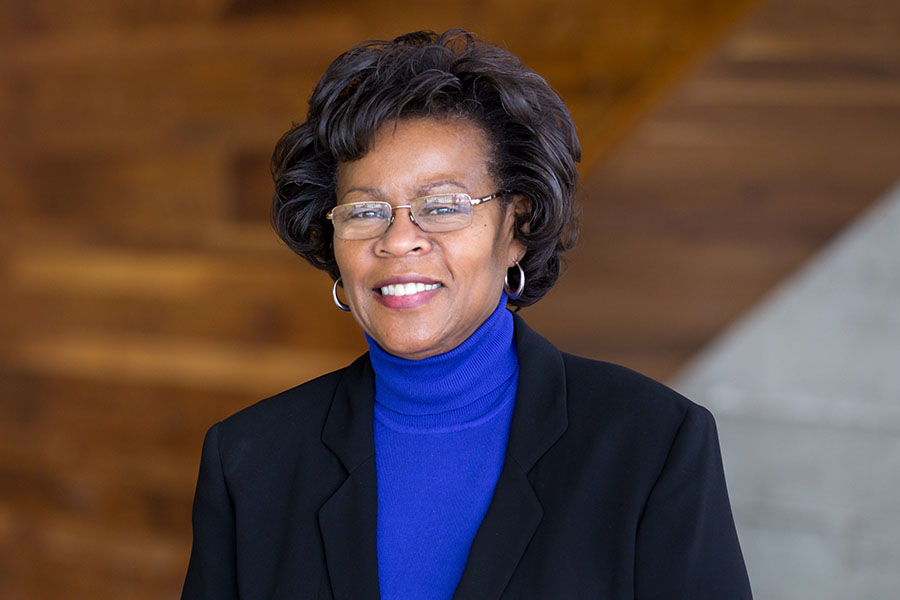 Karen Daniel, a 1980 alumna of Northwest, has established the Karen L. Daniel Legacy Fund, which will help Northwest establish a cultural center primarily for Black students, fund scholarships for Black students, and assist Northwest with its renewed focus on diversity and inclusion initiatives. (Submitted photo)
Aug. 7, 2020
Recalling her arrival as a freshman student at Northwest Missouri State University 44 years ago this fall, Karen Daniel remembers being excited about college and uncomfortably aware that being a minority had taken on new meaning. Her goal of achieving graduation would mean striving for excellence while overcoming adversity.
Daniel pushed through the adversity and soon developed a sense of belonging. It occurred through gatherings at the Harambee House that existed at the time for Black students on campus; mentoring from her academic advisor, Johnie Imes; and new friends from a cross-section of classmates. She believes her ultimate graduation and professional accomplishments are a testament to her family, which now includes two nieces who earned Northwest degrees – 1985 alumna Angela Guess and 1997 alumna Leslie Doyle – and a great niece who is a sophomore at the University.
Across our nation, efforts to address racial equality and social justice have reinforced Northwest's objective of enhancing Black student academic and social experiences to earn a college degree. With that in mind, Daniel, through the Northwest Foundation, has established the Karen L. Daniel Legacy Fund with a $1 million cash gift. Through her gift, Daniel desires to assist Black students in accomplishing their dreams to graduate and make a difference.
"I called it the Legacy Fund in honor of my parents, grandparents and ancestors who inspired me, gave me the strength and whose shoulders my generation stands on," Daniel said. "I also hope the Legacy Fund will support new generations of leaders in our family and Bearcat Nation."
For Daniel, who also has a master's degree in accounting from the University of Missouri-Kansas City, education is her North Star and part of her lineage.
"This is especially meaningful to me as I think about my great-great grandmother who, as a slave, lost six fingers because every time she was caught learning how to read she lost one, and it will stay with me forever," Daniel said. "It's with her voice, I offer this gift to Northwest as being part of the solution to increase the rate of Black graduates from the University."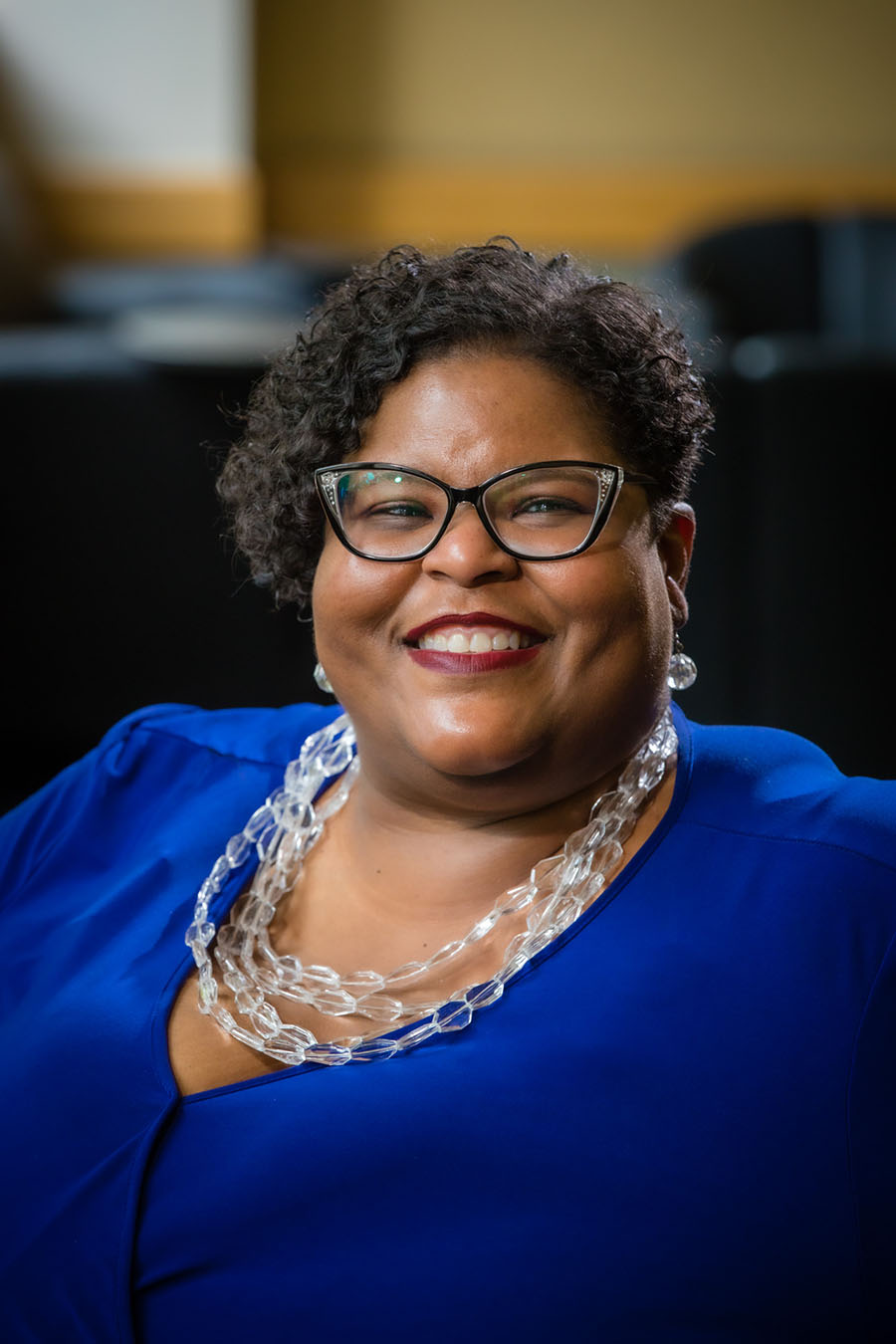 Dr. Leslie K. Doyle, a 1997 alumna of Northwest, is chief inclusion officer at Rockhurst University in Kansas City. Doyle is Karen Daniel's niece and routinely inspires her and the entire family, Daniel says. (Northwest Missouri State University photo)
A portion of Daniel's gift will be used to establish a cultural center primarily for Black students. Daniel has requested it be named in honor of her niece, Dr. Leslie K. Doyle. After earning her bachelor's degree from Northwest, Doyle furthered her education and last year was named the inaugural chief inclusion officer at Rockhurst University in Kansas City.  Daniel says Doyle routinely inspires her and the entire family.
Like Daniel, Doyle found a place as a Northwest student and established long-lasting connections as a member of Northwest's Alliance of Black Collegians. Reflecting on her aunt's generosity, as well as her own experiences, Doyle said she hopes the resources at the center will help students build similar bonds while creating opportunities for educating others.
"I hope it creates an opportunity for students to share culture and have a gathering place, but also invites others to learn more about our community and to build pride in being a Bearcat," Doyle said. "I'm so excited about what it will do, and we hope it will help develop generations of African American families who are Bearcats."
Doyle continued, "We hope these opportunities and ideas open doors of access and allow students to be even more successful. We hope they are inspired to give back to the University and continue the cycle of learning, growing and giving back."
Additionally, Daniel's gift will fund scholarships for Black students and assist Northwest with its renewed focus on diversity and inclusion initiatives.
"Transformational and forward-thinking gifts like this remind us what we are doing truly does make a difference, and working with Karen to establish this gift has been a pleasure," Mitzi Marchant, Northwest's director of donor engagement, said. "One thing she's continued to express is her gift must make a difference, and I truly believe that's just what this gift will do. Our ultimate goal for her gift is to recruit Black students to Northwest, keep them at Northwest and to graduate them from Northwest."
Said Marchant to the Northwest Foundation Board of Directors immediately after Daniel's gift announcement, "She knows there's a lot of work to be done. Her wishes are for us to join her in supporting diversity efforts at Northwest. The impact of her gift, when coupled with other personal gifts, will be felt for generations to come."
Northwest President Dr. John Jasinski said, "It's a game changer for Northwest. Karen wants to impact and help the University. She wants to impact and help the community. She wants to impact and help Black students and our Black employees. I thank Karen personally, and I thank her entire family, because collectively as we say 'Bearcats together,' we're all in this together to help advance student success at Northwest."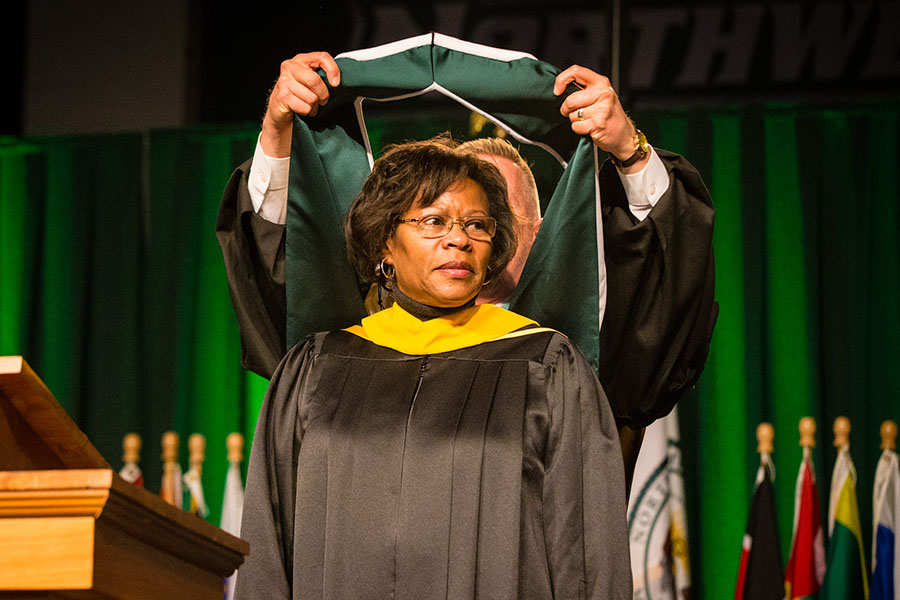 Karen Daniel receives a hood during Northwest's 2017 spring commencement ceremony, acknowledging her as a recipient of the honorary Doctor of Humane Letters degree. (Northwest Missouri State University photo)
A 1980 Northwest alumna, Daniel earned her bachelor's degree in accounting and has remained connected to the institution through her service and funding support. She served on the University's Board of Regents from 2003 to 2004. She served on the Northwest Foundation Board of Directors during the 1990s and rejoined it in 2014.
A recipient of the Northwest Alumni Association's Distinguished Alumni Award in 1998, Daniel addressed graduates at that year's spring commencement ceremony. She delivered the spring commencement address again in 2017 when the University also bestowed upon her an honorary Doctor of Humane Letters degree "for her enduring commitment to Northwest, stellar leadership and her unwavering dedication to improving communities."
Most recently, Daniel has joined other Northwest Foundation Board members, in collaboration with the University, to form an ad hoc committee to study and recommend ways Northwest can help eliminate barriers Black students confront in their desires to earn a college degree.
Daniel said she is a grateful to have a part in elevating the conversation at Northwest, which will place an emphasis on recruiting, retaining and graduating more Black students.
"Our collective efforts are centered on creating a culture that instinctively embraces inclusion," she said.
In conversations with Northwest and its Black students and alumni, the ad hoc committee heard of the students' desire for a center that could help them develop a stronger sense of belonging on the University campus. Additionally, Daniel recognizes the need for scholarship money to help students persist to degree completion.
"We want to, over time, attract more Black students, students of all underrepresented groups to our University," she said. "But, ultimately, our goal is graduation because graduation is what becomes the game changer. It helps academically and prepares graduates for rewarding careers. Long-term, it gives students the opportunity to create their own legacies."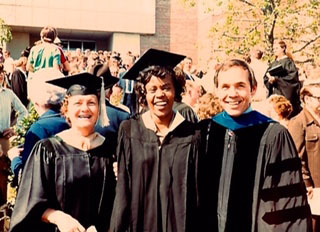 Karen Daniel poses for a photo with faculty mentors Johnie Imes (left) and Edward Browning (right) at her Northwest graduation ceremony in 1980. (Submitted photo)
Interestingly, Northwest was not Daniel's first choice when the time came for her to select a college to attend. Those who know and work with Daniel have heard the story before. Wearing a smile, she describes how her mother – "an incredible woman, trailblazer, pioneer" – and grandmother, who was a school teacher, took a drive to Maryville to explore the Northwest campus. When they returned, they informed Daniel she was going to Northwest in the fall.
"And the ever-dutiful daughter said, 'Yes, ma'am,'" Daniel recalls. "It was life-altering for me, and it really changed my life and put my life on a path that allows me to sit here today and talk about helping Black students reach their dreams."
Daniel also shares the challenges she confronted as a Black woman attending the University. Her first roommate changed rooms because she didn't want a Black roommate.
"I could have let that send me back home, but there was no way on Earth I was going to face my mother and say I was not going to stay at Northwest," she said.
Instead, Daniel was reminded of the day Dr. Martin Luther King Jr. was assassinated and the advice her mother offered to Daniel and her four siblings.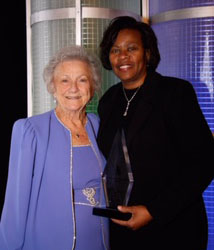 Karen Daniel brought Johnie Imes with her in 2010 as she received the Black Engineer of the Year Chairman's Award. Daniel and Imes remained close friends until Imes' passing in 2011. (Submitted photo)
"Our mother sat us down and talked to us about what MLK gave for us – the opportunity we have going to school, all the kinds of things that now shape what our society looks like," Daniel said. "She told us the night he was assassinated, 'If you ever have a chance to be kind, if you ever have an opportunity to advance, not only yourself but others around you, then you must seize that opportunity and work in a way to honor Dr. Martin Luther King.' So I took it on as a challenge to figure out how I could be part of his dream."
Daniel succeeded at Northwest, with the mentorship of faculty members like Johnie Imes, who remained a close friend of Daniel's until her passing in 2011.
Daniel retired in 2018 as the chief financial officer at Black & Veatch, a global engineering and construction company based in Overland Park, Kansas. She was named to the role in 1999, joined the company's Board of Directors in 2006 and served as president of the company's Global Finance and Technology Solutions Division.
Additionally, she serves on numerous public and philanthropic boards in Kansas City, Missouri, and beyond. In 2016, she was unanimously elected the first African-American chairwoman of the Greater Kansas City Chamber of Commerce by its Board of Directors. She also is a member of the Board of Directors of Snap-on Tools, Livongo Health and Commerce Bancshares, and she was vice chair of former President Barack Obama's Advisory Council on Doing Business in Africa.
For more information about supporting the Karen L. Daniel Legacy Fund, including scholarships to support Black students, or to learn more about making other contributions to the Northwest Foundation, contact the Office of University Advancement at 660.562.1248 or visit www.nwmissouri.edu/GiveOnline.