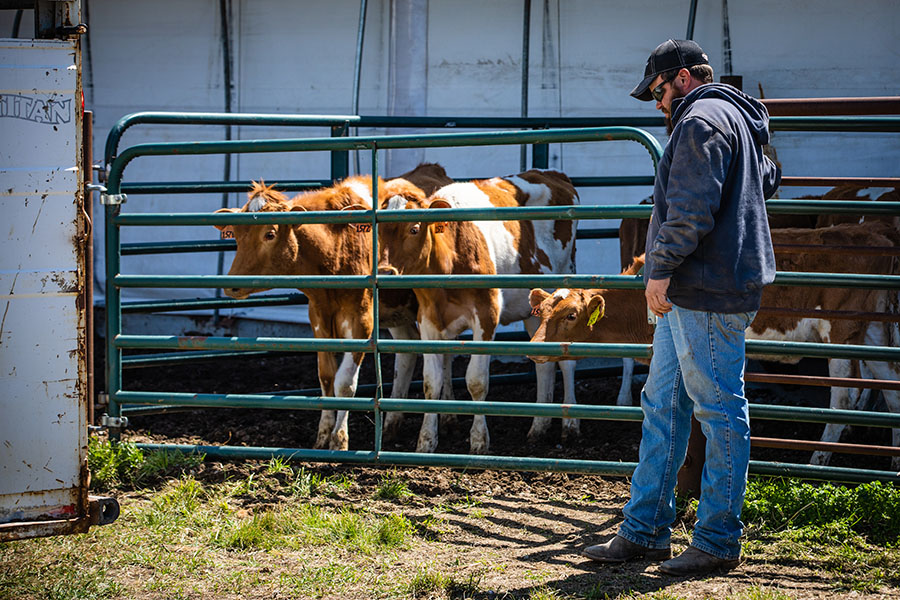 Dairy herdspersons helped the Foremost Guernsey herd, which the University acquired from the University of Missouri-Columbia, settle into a holding pen Tuesday at Northwest's R.T. Wright Farm. The herd will help enhance animal science programming and profession-based opportunities for students in the School of Agricultural Sciences. (Photos by Brandon Bland/Northwest Missouri State University)
April 23, 2020
Rod Barr, the director of Northwest Missouri State University's School of Agricultural Sciences, teared up Tuesday afternoon as he watched the University's newly acquired Guernsey herd settle into a holding pen at the R.T Wright Farm.
"This is something that we didn't know we'd ever see," Barr said. "We're grateful. It's a gain for us. It's going to enhance what we do."
Similarly, Ray Ashbaugh, a dairy herdsperson at Northwest for 37 years, couldn't contain his excitement.
"This is a chance of a lifetime," he said as he gazed at the herd. Ashbaugh estimated he has raised 16 generations of Holsteins, but his love affair with Guernseys began when he owned a herd about 30 years ago. "They're easy-going, gentle cows and patient. I've always just loved them."
The cattle, a famed one known as the Foremost Guernsey herd, made their way to Maryville from Columbia, Missouri, after the University of Missouri expressed a desire to transfer the herd, as a result of its shifting focus to Holstein cows. The University of Missouri subsequently granted Northwest's request to acquire the cattle.
The Foremost Guernsey herd, which had resided in Columbia for the last 70 years, is famous for being part of a donation to the University of Missouri from James Cash Penney, the businessman known for founding JCPenney Co. A Hamilton, Missouri, native Penney also had a legacy as a cattle breeder and donated a herd of his prize-winning Guernsey cows to the University of Missouri in the 1950s along with funding to purchase land for a dairy research center.
"Not very many people know that he was heavily interested in agriculture and improving the breed, especially Guernseys on the dairy side, Angus cattle on the beef side," Barr said. "Just the legacy that brings to us and him being from northwest Missouri, in a sense they're coming home."
Northwest received 30 Guernsey cows, consisting of heifers and calves across a range of ages with the youngest just three weeks old.
"We are pleased the University of Missouri's Foremost Guernseys have found a new home at Northwest Missouri State University," said Dr. Christopher Daubert, vice chancellor and dean of the College of Agriculture, Food and Natural Resources at the University of Missouri. "We are thrilled to partner with Northwest, which both keeps the Guernsey herd intact and provides an educational resource to their students. We wish the herd well at Northwest Missouri State University."
The acquisition is another boon for Northwest and its R.T. Wright Farm, which also are celebrating the groundbreaking this week for an Agricultural Learning Center. The new facility, which could open as soon as spring 2021, will span 29,500 square feet and feature classroom, laboratory and exposition spaces designed to further enhance and grow the University's ag programming.
The 448-acre Wright Farm provides opportunities for Northwest students in ag science-related majors to gain profession-based experience with beef, swine, dairy and sheep enterprises as well as row and forage crops. The Guernseys add to Northwest's dairy herd, which already includes Holstein, Jersey and Brown Swiss cows.
The Guernsey breed is known throughout the dairy industry for producing high-quality milk – something Northwest hopes to capitalize on. Among the many benefits of adding the Agricultural Learning Center, Barr envisions a micro creamery to process milk. A planned dairy fabrication processing area will include holding tanks, a clarifier/separator, pasteurizing equipment and milk bottling equipment.
"The one thing that we didn't have is Guernseys," Barr said. "We can show our students even more differences in milk quality. That's a big thing, especially where we're headed with the Ag Learning Center. It's important for us, from an educational standpoint, for our animal science students to be exposed to as much of the industry as we can, and I just think this helps strengthen that."
While Northwest and the University of Missouri maintain two of the largest agriculture programs in the state, Barr also expressed gratitude for the collaboration and cooperation the two institutions exhibited to transfer the herd.
"It's an addition that, without the donation, would have been difficult for us to do," Barr said. "We're very appreciative of the University of Missouri. I think it's a win-win situation for both institutions. It shows how two institutions can collaborate for the good of the industry."