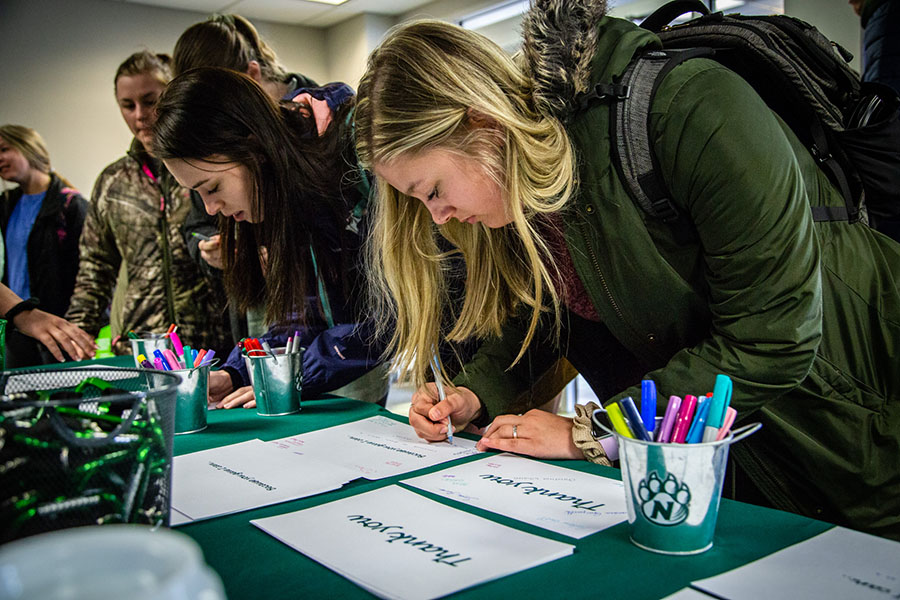 Northwest students signed postcards to thanks donors during the University's Thank a Donor Day last year. This year, Northwest is encouraging the Northwest community to share virtual expressions of their gratitude for donor support. (Photo by Brandon Bland/Northwest Missouri State University)
Northwest Missouri State University will celebrate the alumni and friends who contribute generously to the University in support of scholarships, campus facilities and the value of a college degree during its sixth annual "Thank a Donor Day."
Due to restrictions in place as a result of the COVID-19 pandemic, Northwest will host "Thank a Donor Day" activities online Thursday, April 23. Northwest students and employees will receive an email inviting them to provide virtual expressions of their gratitude for donor support during the week. The Northwest Alumni Association will share some of those messages on its social media channels. 
The annual event is designed to draw attention to the impact that alumni support has throughout the University and actively engage students in the stewardship of alumni donors.
Members of the Northwest community can provide messages of thanks online at www.nwmissouri.edu/alumni/ThankADonor/.
"Northwest's Thank a Donor Day is a tradition that invites the Northwest community to come together and thank our donors who support the University each year," Bob Machovsky, Northwest's director of alumni relations and annual giving, said. "The purpose of Northwest's Thank a Donor Day is to educate students about the impact private giving makes on their educational experiences and emphasize the importance of thanking donors for their generosity."
This year's "Thank a Donor Day" activities are taking place in the midst of Northwest's "Forever Green Campaign for Northwest," which launched publicly last October and has raised more than $45.7 million to date for University initiatives centered on academic excellence, scholarships, student life, and other donor-directed gifts.
Northwest Foundation Inc., the fundraising arm of Northwest, awarded its highest level of scholarship distributions and secured $5.3 million in donor funding during Fiscal Year 2019, a 15 percent increase over last year's total and adding to a record $22.5 million during the last three years. Additionally, while scholarship support remains a central mission of the Foundation, it awarded $1.06 million in financial assistance through 1,344 scholarships during FY19. Those numbers represent the highest dollar amount awarded in the history of the Foundation as well as the highest number of donor-funded scholarships awarded.
For more information about the event, contact Machovsky at rmachov@nwmissouri.edu or 660.562.1248.