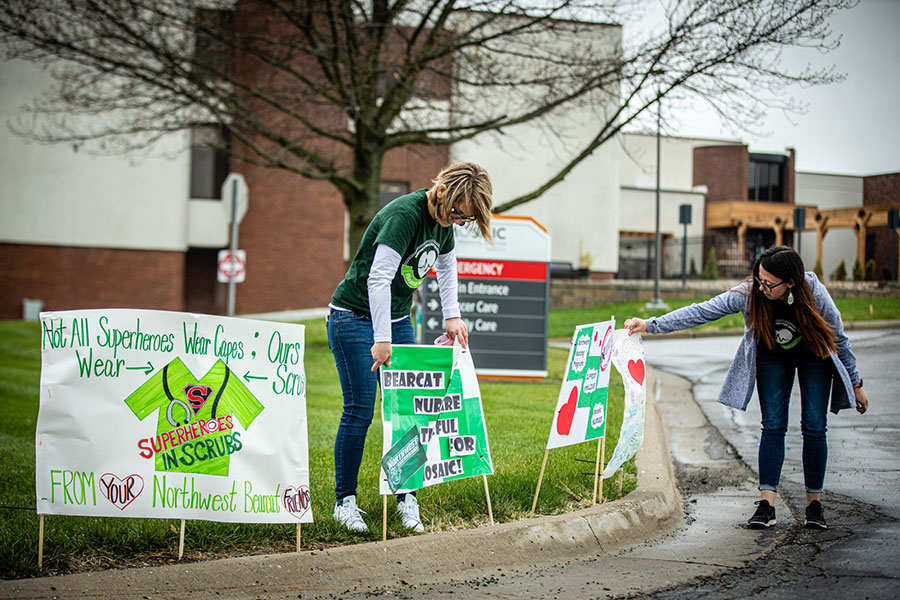 Brooke McAtee (left), the director of nursing at Northwest, and Darci Wray, a secretary for the nursing program, on Monday placed signs of support for local healthcare professionals along the entry road to Mosaic Medical Center in Maryville. (Photo by Todd Weddle/Northwest Missouri State University)
As a nurse and the director of Northwest Missouri State University's nursing program, Brooke McAtee knows the stress and anxiety healthcare professionals are feeling as the COVID-19 pandemic grips cities throughout the country. With that in mind, McAtee and nursing faculty at the University demonstrated their support for their peers this week by placing signs of encouragement outside Mosaic Medical Center in Maryville.
"While many think about the physical dangers that come from being a nurse during this time, the mental health effects on our healthcare professionals can be just as significant," McAtee said. "Nurses must show their support to one another. Seeing posters and hearing words of support and encouragement can provide a positive outlook when faced with the uncertainty this virus has had on our community." 
The medical center thanked the Northwest nursing program on its Facebook page. McAtee praised the hospital for the high level of care it provides.
Even while they are feeling anxious and stressed about the unknowns of COVID-19, nurses are still going to work and placing the needs of their patients ahead of their own, McAtee said. She encourages community members to show their support for healthcare workers long after the pandemic passes.
"I would advocate that people be mindful of the stress that has been added to those serving in healthcare," McAtee said. "Healthcare professionals do not want huge accolades. They would cherish a simple thank you or gesture that tells them that you are thinking about them and appreciate the work they do. Buy them a gift card, make them a poster, send them a note, call, or text. A simple gesture would go a long way during this difficult time."
About Northwest's nursing program
Northwest relaunched its RN-BSN program in 2018 as an online program that offers seven-week sessions, enabling students to complete the program in less than a year. The student-centered program is conducive to the working nurse's schedule.
A bachelor's degree in the nursing field provides opportunity for nurses to advance in their professional roles at a state, national and international level. Northwest's RN-BSN program emphasizes the importance of leadership skills in all service areas. Students enrolled in the RN-BSN program also have the opportunity to earn a nurse manager certificate offered through the Sigma Theta Tau International Honor Society of Nursing.
Next fall, Northwest will begin offering a Master of Science in Nursing (MSN), also as an online program. The 30-hour graduate program will allow registered nurses who have obtained a BSN to complete an MSN degree. The program will offer 15 hours of core classes with the remaining 15 hours completed in one of two tracks – nurse executive and administration, or nurse educator.
To learn more about Northwest's online nursing program visit https://online.nwmissouri.edu/programs/nursing-programs.aspx, call 660.562.1973 or email nwnursing@nwmissouri.edu.