April 1, 2020
Northwest Missouri State University this week announced its "Influential Women of Northwest" in commemoration of Women's History Month.
The Northwest community in February nominated female students, faculty and staff at Northwest who have positively influenced lives and made outstanding contributions to the University community. More than 60 nominations were submitted.
A Women's History Month advisory board of Northwest faculty, staff and students identified three outstanding nominations in each of the three categories – faculty, staff and student – before selecting a recipient for each award.
Jacquie Lamer, a senior instructor of mass media, received the faculty award, and Anna Summa, a report analyst in the Office of Institutional Research and Effectiveness, received the staff award. Natasha Samudzi, received the Lonnae Young Influential Student Award, which is named in remembrance of Lonnae Young, a Northwest student who died unexpectedly last year. The names of each of the outstanding nominees and their nominator's comments are provided below.
"We believe it is important to continually recognize the work of the many hard-working and often under-recognized women on the Northwest campus," Dr. Elyssa Ford, a Northwest associate professor of history who chairs the Women's History Month planning committee, said. "Even from the nominations this year, it is clear that Northwest women give a lot to this University and to our community."
In addition to Ford, Northwest's Women's History Month planning committee consisted of Dr. Joy Daggs, an associate professor of communication; Kenna Johnson, an advisor and academic coach in Academic Success and Retention; Joshua Wilmes, officer-in-charge of Northwest's Show-Me GOLD Program; and Bryana Jones, a junior international business major from Raytown, Missouri, who received the inaugural Lonnae Young Influential Student Award last year.
Women's History Month originated as a national celebration in 1981 when the U.S. Congress passed the first of several annual resolutions designating a week in March as "Women's History Week." National Women's History Month was founded in 1987 when Congress declared that it be celebrated each March. A presidential proclamation is issued annually to honor the achievements of American women.
Faculty award, outstanding nominees
Jacquie Lamer
Jacquie Lamer (award recipient) is a senior instructor of mass media in the School of Communication and Mass Media. Her nominator's comments included: "Jacquie Lamer creates opportunities for students and employees on and off campus to develop, contribute and lead through her classes, organizations and daily interactions. Her personal and professional relationships connect students, faculty, staff and Maryville community members with people and professionals outside the Northwest and Maryville communities. She facilitates positive connections for Northwest and represents Northwest in a positive manner. … Jacquie makes a difference within our campus community through inspiring and positively influencing others and contributing to the success of our students and University. She conceived of, developed, and leads the "We Gotchya" campaign, bringing cost-free feminine products to the Northwest campus and Haiti. Additionally, she's long been a strong and active advocate for female Northwest graduates in securing positions in media industries. Jacquie's in the vanguard of female empowerment, not just talking the talk but walking the walk."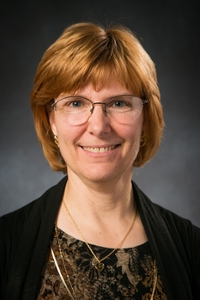 Dr. Christine Benson
Dr. Christine Benson (outstanding nominee) is a professor of mathematics and statistics and the chair of that department. Her nominator's comments included: "Christine goes above and beyond to make students and new members feel welcome at Northwest. Her and her family go to as many activities that fit into their schedules to support their students. You can see them at about every sporting event, yelling when the team does good and dancing to the band. She makes contributions to anything that will make Northwest a better place in such ways as giving to the annual donations and donating money when students are selling cookies or food. With being the chair, she is always willing to step in and do an overload to help with making a student's schedule work in the order they need to. … With her retirement this year, it is going to be hard to fill her shoes. Christine goes out of her way to make everyone at Northwest to feel welcome and bleeds green through and through."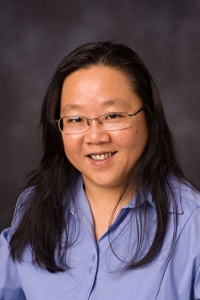 Dr. Chi Lo Lim
Dr. Chi Lo Lim (outstanding nominee) is a professor of management in the Melvin D. and Valorie G. Booth School of Business. Her nominator's comments included: "Her students have achieved impressive successes in their academic and professional lives with her help. She has successfully inspired junior faculty members to continuously grow in various areas like teaching, research and service, and she has meaningfully served our Northwest community as a whole in diverse ways. … Dr. Lim is an influential woman who has made outstanding and meaningful contributions to our Northwest community by developing students into future business leaders, nurturing junior faculty members into quality educators, and serving our community in diverse ways with the focus on student success."
Staff award, outstanding nominees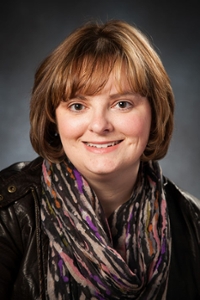 Anna Summa
Anna Summa (award recipient) is a report analyst in the Office of Institutional Research and Effectiveness. Her nominator's comments included: "Anna has contributed to three offices (Alumni Relations, Wellness Services, and Institutional Research and Effectiveness). She is an extremely bright young lady that goes above and beyond to do anything for anyone. She suffers from terminal cancer and yet if you met her walking down the sidewalk you would never know it. She invites students into her home for dinner and she makes them feel like part of the Northwest family. She is a fighter who hardly ever shows her weakness. She stays positive always and smiles. She comes to work when the going is really tough and when she sees others in need, she is there. No matter the battle she is dealing with, she is always there for others and she is always positive. She does so much for our students, for our offices and our community. She has helped in raising money for both the University and for cancer charities. She is an amazing woman. Anna is a vibrant beautiful soul."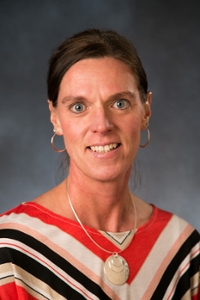 Lori Hopkins
Lori Hopkins (outstanding nominee) is a deputy athletics director. Her nominator's comments included: "She is highly qualified, a great communicator, professional, wields a great sense of humor, calm under pressure and real. She is a stellar example for our student athletes, in particular. Lori has taken on a great deal of responsibility as a long-standing administrator in athletics during a time of change and has done so with great skill and a calming presence. Her positive influence has reached beyond athletics into Staff Council, Extended Leadership Team and the multitude of campus areas that interact with athletics on a regular basis … Lori's high degree of capability, skill, kindness, calm presence, sense of humor and servant leadership is a stellar example for two groups in need of strong role models on every college campus: female student athletes and female administrators in male-dominated areas. In short, she is a great human being."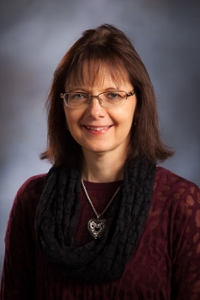 Marsha Martin
Marsha Martin (outstanding nominee) is a general project assistant at the Regional Professional Development Center. Her nominator's comments included: "Upon the death of her son in a car accident several years ago, Marsha began speaking to different groups and organizations as well as classes at Northwest about the dangers of drunk driving and the impact it can make on families. She also started a charity in honor of her son that serves a multitude of children in the northwest region, providing them with gifts for Christmas, clothing, shoes, school supplies and back-to-school outfits. She has provided food for children's families and also provides a Christmas gift to those in nursing homes who may be forgotten at this time of year. Many individuals would not be able to endure the tragedy that Marsha has experienced. She has taken a very tragic event and used it to build and support the community. Thinking of others beyond herself and the pain that her family experienced, Marsha has built a support network that many families depend upon. A variety of area school districts and churches depend on the charity she developed to benefit those in need during the holidays and beyond. In addition to the Northwest community, Marsha has assisted foster children in the St. Louis area."
Lonnae Young Influential Student Award, outstanding nominees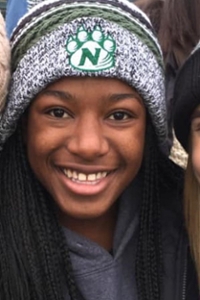 Natasha Samudzi
Natasha Samudzi (award recipient) is a senior human services major from Maryville, Missouri. Her nominator's comments included: "Natasha is a captain on the women's soccer team, a member of Blue Key and a staff member in the international office of the library. She is a well-known face all over campus. There is not one negative quality that Natasha has. She is spontaneous, outgoing, confident and a very respectful young woman. Natasha has impacted many, many lives throughout her time at Northwest. She is so inspirational and has touched many hearts. She is a leader day in and day out. She encourages people like no other, especially on the soccer field. She is constantly pushing people to be the best version of themselves and gives it her all in all aspects of life. She is a bundle of joy that can brighten up any person's day with a simple smile or encounter. Natasha puts other people before herself even when she is not having the best day. There needs to be more Natashas in the world. I have never met anyone like her, and if you were to ask anyone who knows her they would all say the same exact thing."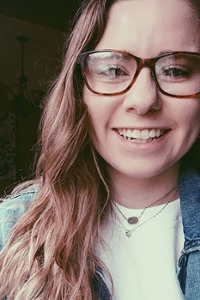 Bailey Christensen
Bailey Christensen (outstanding nominee) is a senior public relations major from St. Joseph, Missouri. Her nominator's comments included: "This woman has had a positive influence on the Northwest community in a multitude of ways. Through her involvement in Sigma Society, she has served fellow Bearcats and community members through countless hours of service and programs such as The Nodaway County Humane Society, Lettuce Dream and North Start Advocacy Center. On campus, Bailey is never found without a smile on her face and pep in her step. Her positive attitude and bubbly personality positively impact those on this campus daily. She embodies exactly what it means to be a Bearcat. Her character is absolutely outstanding. She greets everyone with a smile and is driven with the purpose of getting to know all people of all backgrounds. She thrives on knowing and getting to know new people. She gives her heart and soul to everything she does and everyone she meets. She is very active on campus and off campus through organizations and her full-time job at Mosaic Medical Center. She is always looking for ways to make positive impacts on campus and in the community."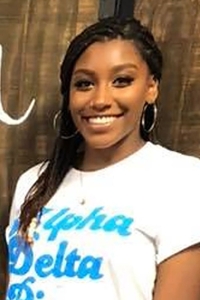 Cayla Vertreese
Cayla Vertreese
(outstanding nominee)
is a sophomore human services major from Lee's Summit, Missouri. Her nominator's comments included: "Cayla has brought Active Minds to our campus, a mental health awareness club, and has put so much into transforming the mental health scene on campus so students know the resources available to them. … Cayla has grown Active Minds from the ground up and encouraged more students to speak up about mental health and to provide resources to anyone who needs them. I feel honored not only to know Cayla Vertreese and call her one of my sorority sisters, but to work alongside her to change the mental health culture at Northwest."