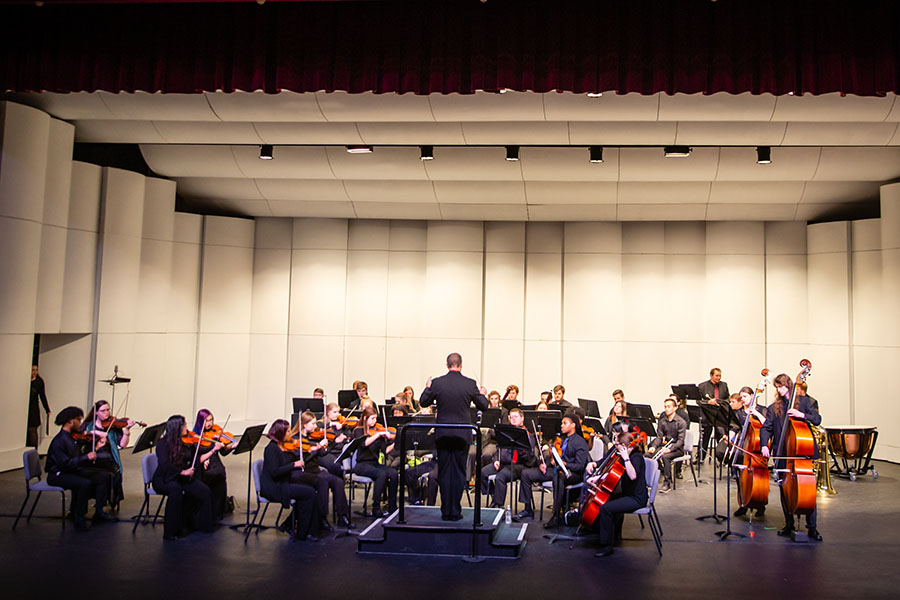 Northwest's Symphony Orchestra will perform its winter concert Feb. 25, in the Mary Linn Auditorium at the Ron Houston Center for the Performing Arts. (Photo by Todd Weddle/Northwest Missouri State University)
The Northwest Missouri State University Symphony Orchestra will perform George Walker's "Lilacs," among a diverse set of works, when it presents its winter concert at 7:30 p.m. Tuesday, Feb. 25, in the Ron Houston Center for the Performing Arts.
The concert is free and open to the public.
Walker's "Lilacs, for voice and orchestra" earned the Pulitzer Prize for Music in 1996. Cassandra Leon, a soprano who attended Northwest, will appear as a featured soloist.
Additionally, the program includes "Nimrod" from Enigma Variations by Edward Elgar, as well as "Rondino" for woodwind octet and "Three Equali" for trombone quartet in celebration of the 250th anniversary of Ludwig Van Beethoven's birth.
The Northwest Symphony Orchestra is a full orchestra, consisting of woodwinds, brass, percussion and strings. The ensemble, under the direction of Assistant Professor of Music Dr. Robert Pippin, performs four concerts a year. Its mission is to contribute to the musical development of its members and to the cultural life of Northwest, Maryville and surrounding areas.