Jan. 23, 2020
Northwest Missouri State University's Office of Diversity and Inclusion on Monday honored a staff and faculty member for their efforts to foster an inclusive environment on the campus and engage in activities that help eliminate barriers afflicting people of various identities on campus and within the community.
The diversity and inclusion office recognized Dr. Clarence Green, Northwest's vice president of culture and chief of the University Police Department, by presenting him with its Commitment to Diversity and Inclusion Award for staff. Sarah Creason, an instructor of psychology, received the Commitment to Diversity and Inclusion Award given to a faculty member.
Both were honored Monday at the conclusion of Northwest's annual Peace Brunch as part of the University's Martin Luther King Day activities.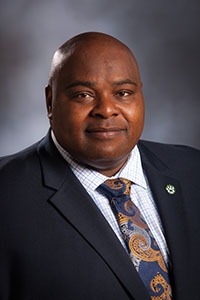 Dr, Clarence Green
Green, who joined the Northwest staff in 1996, was honored for his focus on embracing diversity and inclusion, personally and professionally. He works to advocate for diversity and inclusion at Northwest as well as at the local and state levels.
"Dr. Green has mentored students through formal and informal avenues," his nominator wrote. "He promotes and supports all student organizations, creates spaces and opportunities for our students to learn and develop, provides meals and financial assistance to our students, and continually supports numerous interactions between our students and our communities to increase their educational experiences and well-being."
As police chief, his nominator noted, Green prioritizes creating and maintaining a fair and impartial environment that offers students a safe space that fosters diversity and inclusion through law enforcement.
"His passion for assisting, collaborating with, and encouraging our underrepresented populations fosters relationships and personal growth amongst us all," his nominator added. "Dr. Green represents diversity and inclusion through modeling and leadership."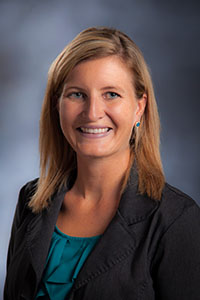 Sarah Creason
Creason, who joined the Northwest faculty in 2008, was honored for her work as an advocate for underrepresented and marginalized students.
"Her door is always open to students with any concern, whether it be academically or personally, and she will make the time and put forth effort into making sure students are secure, both inside the classroom and in their personal lives," her nominator wrote. "She is well-known across campus for having a general concern for the students she directly works with, as well as other students that happen to cross her path."
Creason also has played an active role in implementing diversity and inclusion initiatives at Northwest and supporting marginalized and underrepresented students.
"In times of adversity and celebration for our students at Northwest, you can almost always look to the crowd and spot her presence," her nominator added.
Northwest's Office of Diversity and Inclusion prepares students for lives and careers in a global economy while providing tools and strategies for personal and educational advancement. For more information about the Office of Diversity and Inclusion, visit www.nwmissouri.edu/diversity/.