Northwest Family of the Year
Important Notice
At this time, Family Weekend 2021 is being planned in accordance with University COVID-19 procedures. Changes to scheduled events may occur.
For more information about the University's response to COVID-19, visit www.nwmissouri.edu/alert/coronavirus, or send specific questions or inquiries regarding student involvement and campus activities to OSI@nwmissouri.edu.
Northwest's Family of the Year represents the best of Bearcat Nation and is recognized during Northwest's annual Family Weekend. Sponsored by Campus Dining, the Family of the Year recognition comes with a $750 scholarship as well as other gifts from the campus and community.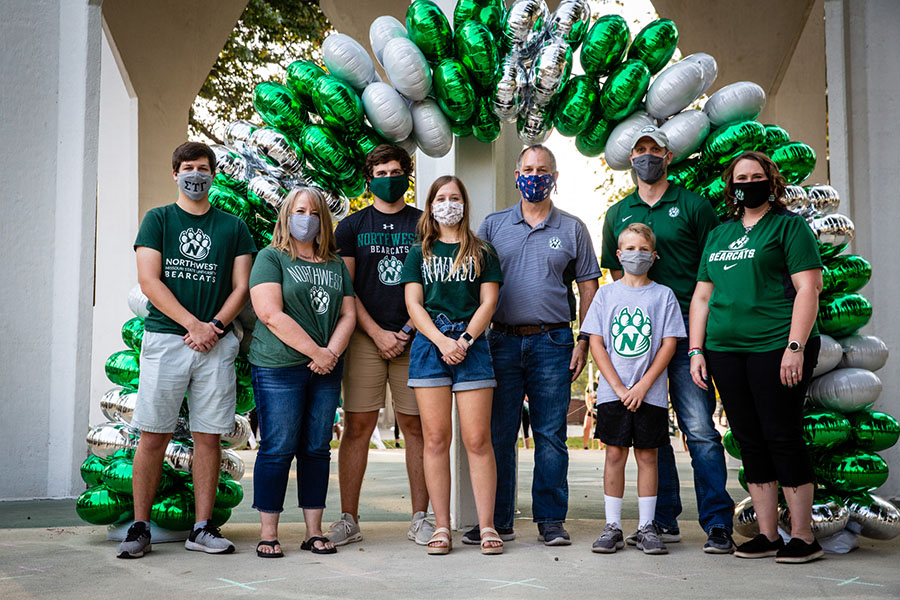 The Liles family of Maryville was recognized as Northwest's 2020 Family of the Year during Friday's Homecoming Showcase at the Memorial Bell Tower. Left to right are Caleb Liles, Kristi Rodeman Liles, Jacob Liles, McKenna Liles and Marty Liles, with Cody Kreifels and Allison Kahre Kreifels and their son, Carter Kreifels. (Photo by Todd Weddle/Northwest Missouri State University)
All eligible applicants must meet the following eligibility requirements:
Be classified as a full-time student maintaining a cumulative 3.00 Northwest grade-point average. No preference will be given to a specific major.
Be involved outside of the classroom in University-sponsored student organizations and community groups demonstrating a willingness to contribute to the improvement of the community.
The recipient must demonstrate the family's commitment to Northwest, a commitment to academic success at Northwest, and a commitment of service to Northwest.
The Family of the Year will be announced during pregame activities at the Bearcat football game. The family must be present to accept the award.