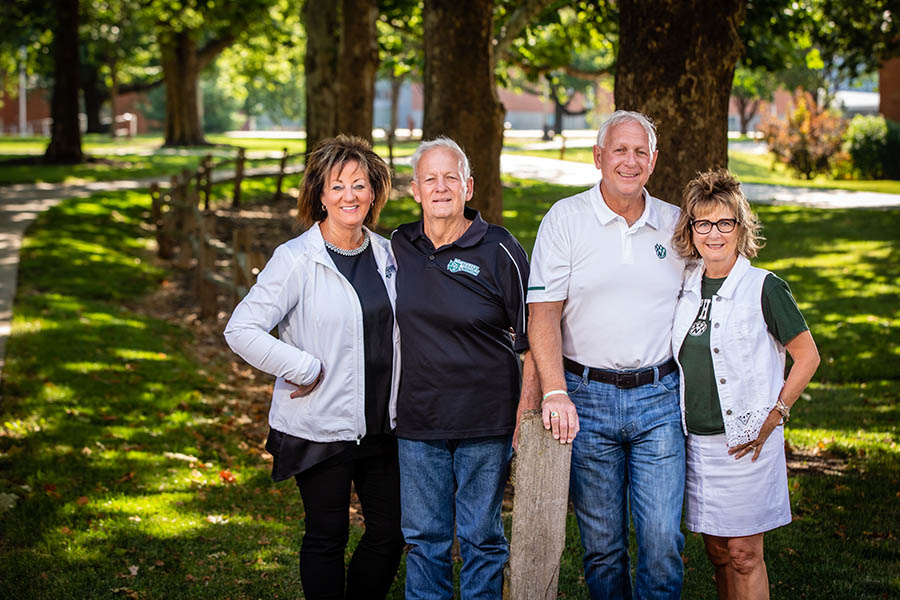 The foundational education John '68 and Jim '72 Blackford received at Northwest laid a path for their successful careers in farming and finance. Now, with the Agricultural Learning Center nearing completion, the brothers believe the new facility will further enhance the opportunities available not just to Northwest students but to the farming industry as an economic driver in the region.
For those reasons – and as a tribute to their family's farming heritage – the brothers are giving $100,000 in support of the Agricultural Learning Center. Their gift, they say, is a meaningful and memorializing one that recognizes their affinity to Northwest.
"Agriculture lies at the base and foundation of nearly everything that occurs, particularly in this area," Jim said. "As agriculture goes, the rest of our economy goes in a broad sense. This is an opportunity to support that major industry and its impact on the region served by Northwest."
Connections to Northwest span three generations of the Blackford family, beginning with their mother, Grace Walker Blackford '44, who studied home economics at Northwest and earned a teacher certification. She worked as a housekeeper while their father, Ercille, served in the Army Air Forces during World War II. When he returned home from the war, his first purchase was the Burlington Junction, Missouri, farmland where the Blackford homestead remains today.
John, after completing his bachelor's degree in agribusiness, returned to the farm, where his education yielded additional opportunities and experiences in the ag industry, including involvement and investment in commodity organizations. He assisted his father in accumulating additional farmland while expanding the cattle and hog operations, although he has since ceased the livestock operation and those acres, along with additional farmland, are now used for crop production.
Jim earned a bachelor's degree in accounting and started his career in business administration at Northwest, where he worked for a few years before becoming co-owner and chief financial officer for LMP Steel and Wire Company in Maryville. Since 1992, he has served as senior vice president at Citizens Bank and Trust in Maryville.
In addition to John and Jim earning degrees at Northwest, their wives have strong connections to Northwest also. John's wife, Jill Wolken Blackford '83, '93, '00, earned degrees in elementary education, elementary and middle school administration and supervision, and secondary guidance and counseling; she retired in 2011 from the West Nodaway R-I School District, where she served as a fifth and sixth grade teacher and then as a secondary counselor until her retirement. Jim's wife, Beverly, was employed as an executive secretary in Northwest's admissions office from 1977 to 2006.
They also are proud their children chose to attend Northwest. John's children are Ben '99, '01, who is an associate professor at Northwest and the director of its Melvin D. and Valorie G. Booth School of Business, and Brooke '02. Jim's children are Nate '97, '99, and Tanner, who attended Northwest from 2001 to 2004.
Through their own experiences and knowledge of the impacts agriculture has on quality of life, the Blackfords believe Northwest's Agricultural Learning Center will help students as well as consumers build awareness of food processes and increase their agriculture literacy.
As the agriculture industry grows and becomes more sophisticated, the Blackfords also understand the need to prepare Northwest students for such changes. 
"Production agriculture is so highly technical and scientific that a training facility such as this (Agricultural Learning Center) and preparing our young people to take on professional opportunities within that complicated and technical industry is so meaningful to support," Jim said. "The techniques and the technologies that are in play today will be replaced, so we have to be ahead of the curve. We have to have our Northwest graduates be ready to step in and take on those new opportunities and challenges.