Experiences, connections lead Cline to support Ag Learning Center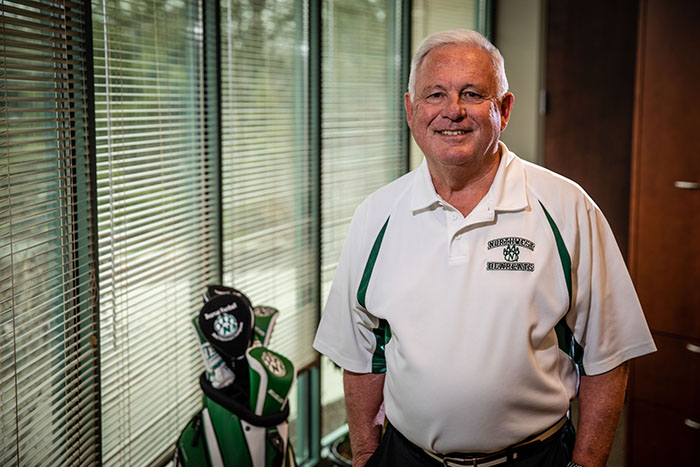 John Cline feels a loyalty to Northwest Missouri State University because of his experiences as an agriculture student and the way his education prepared him for a successful career. With that in mind, Cline has added his financial support to the University's plans for an Agricultural Learning Center at the R.T. Wright Farm.
"The agriculture department was very important to me and helped me land my first post-college job," he said. "I think my résumé with an agriculture background and degree very much assisted me. I went directly into livestock insurance sales and related to existing and new clients immediately."
As a Maryville native, agriculture has always been a part of Cline's life. Growing up, he and his family worked hard as weekend farmers, and he worked at a large livestock auction during his youth.
Cline earned his bachelor's degree in agriculture business in 1975 at Northwest, where he also was president of the Sigma Tau Gamma fraternity. He enjoyed a close relationship with former Northwest President Dr. Robert Foster, and he maintains relationships with his fraternity brothers.
Cline says he benefitted from memorable experiences at Northwest and believes agriculture is an important field for students to explore.
"As a student in the School of Agricultural Sciences, I learned a lot of interesting and different areas such as surveying, animal and plant growing, even though I had experience where I farmed, ranched crops and did livestock my whole life on my father's and uncle's farm," Cline said.
He began his professional career with the Livestock Marketing Association of Kansas City in spring 1976 and traveled for the Association for three years out of Atlanta, Georgia, before transferring back to Kansas City. In 1984, he and a friend founded Cline Wood, which specializes in truck transportation and commercial agriculture insurance and is based in Leawood, Kansas.
Now, giving back to Northwest is something Cline feels privileged to do. He joined the Northwest Foundation Board of Directors in 2014 and supported the Carl and Cheryl Hughes Fieldhouse as a member of its Founding 50.
"John sees the value in the agriculture program at Northwest Missouri State and has stepped up to the plate to help make the Agricultural Learning Center become a reality," Sam Mason, a development officer in Northwest's Office of University Advancement, said. "John truly understands that the proper educational facilities at the Wright Farm will make difference in the education we are providing to our students."
Cline said he is proud to support the Agriculture Learning Center to help students further enhance their learning.
"I have always been a very proud Bearcat, especially the last 10 years," he said. "Northwest has always been a wonderful school, but I feel under the direction of (President) Dr. Jasinski, the whole college atmosphere has become amazing. I've walked through campus with him and asked how he knows, shakes hands and hugs almost 7,000 students. I think that's part of what makes Northwest – it's caring. The academics are exceeding the standards, and athletics are doing great as well. Those things are very important to me. I feel it helps differentiate Northwest from every other school in Division II."