Letter from the President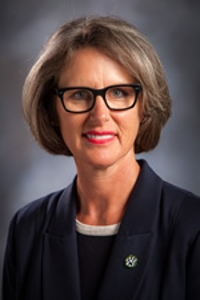 In 1971, Northwest President Robert P. Foster created the Northwest Missouri State College Educational Foundation Inc. It consisted of nine members and started with a fund of $5,352. Today the Northwest Foundation has more than $40 million of investments under its management, and we express our gratitude to those nine individuals who had the vision in 1972 to understand that external financial support would be critical for the long-term viability and success of Northwest. Northwest continues to thrive, in part, due to their vision.
The Northwest Foundation consists of 38 dedicated volunteers from 11 states – from California to New York and from Minnesota to Texas. These volunteers drive the mission of the Northwest Foundation while also giving generously of their time, talent and treasure. The diversity of members and their talents speaks to the unlimited boundaries for Northwest graduates. We share the same goal of ensuring current and future Bearcats have significant opportunities – just as the University provided to each of us.
The Northwest Foundation is grateful for the generosity of our alumni and friends. Earning the trust and confidence of our donors is our highest priority. We recognize and appreciate the passion donors have for Northwest, and we manage the gifts received with equal passion and care as well as professionalism.
Finally, a word of gratitude for our professional team in the Office of University Advancement. We could not do our work without their daily endeavors on behalf of the Foundation and Northwest. I hope you have the opportunity to connect with this dedicated group of individuals. They are incredibly talented and share the Foundation's commitment to strive for the betterment of Northwest.
Thank you for your support. Once a Bearcat, always a Bearcat!
Leisha A. Barry '84
President, Northwest Foundation, Inc.