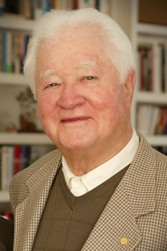 The Northwest Missouri State College Educational Foundation Inc. was formed in April 1971 as a nonprofit organization with a general purpose "for the promotion of the welfare, goals and programs of Northwest" and a mission "to enhance the educational offerings and facilities of Northwest".
The Northwest Foundation Inc., as it is known today, started with $5,352 in contributions from Northwest alumni, friends, faculty and staff, and was formed under the presidency of Dr. Robert P. Foster. Its first executive officers included J. Norvel Sayler, president; B.J. Alcott, vice president; Paul Fields, treasurer; and Everett Brown, secretary. Each of the nine original directors agreed to contribute $1,000 to the Foundation. By the end of 1972, the board expanded to include 10 new members and eight ex-officio members, and more than $17,500 in contributions were recorded. The first gifts were used to support the University's library and a $500 scholarship. By 1973, the Foundation made its first sizeable purchase for the University involving an 80-acre tract of land to create an outdoor laboratory facility "to eventually be fronted by a sizeable water reservoir known as the Mozingo Watershed."
Since these early years, the Northwest Foundation has seen many changes, but it holds true to its goal to assist the University, its students, faculty, staff and alumni.