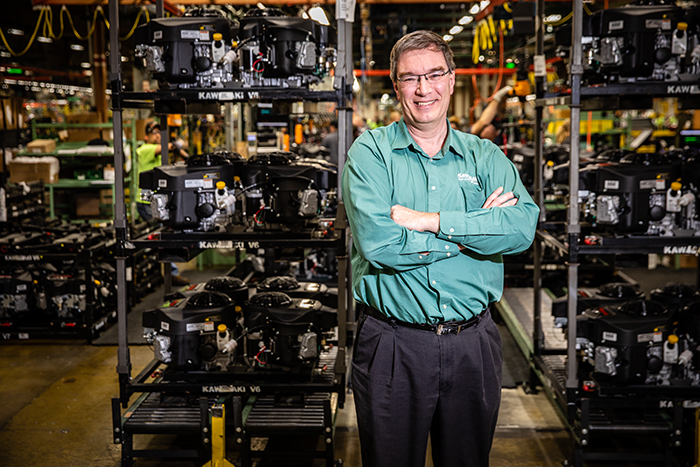 Kawasaki Motors Manufacturing Corporation has added its support to Northwest Missouri State University's efforts to boost workforce and economic development in the region.
The manufacturer has committed $100,000 to a renovation of Northwest's McKemy Center for Lifelong Learning, where the University is preparing to launch a systems management program for manufacturing and agribusiness in the School of Agricultural Sciences. Additionally, Northwest plans to implement a Systems Management Academy for high school students and teachers.
"Kawasaki is a tremendous partner for our University, community and state," Jill Brown, the director of corporate relations and a major gift officer at Northwest, said. "We are incredibly grateful for their years of support and especially excited to see how this new endeavor allows our collaboration to flourish and better address the employment needs of the area." 
Kawasaki, which is Nodaway County's largest employer and a driver of northwest Missouri's economy and workforce development initiatives for more than 30 years, also is a valued supporter of Northwest programs. This spring, Kawasaki donated $40,000 to the Northwest Foundation in support of two scholarship programs as well as the University's Visiting Writers Series.
Additionally, the corporation employs Northwest students, including members of the Bearcat football team, helping them develop skills they can employ throughout their lives and careers.
"Today we celebrate the McKemy building as a Northwest Missouri State University workforce project," Tim Melvin, manager of human resources at Kawasaki, said during remarks as University partners got a first look at the remodeled facility on June 20. "Tomorrow we anticipate to celebrate this partnership with highly trained individuals ready to conquer projects with their advanced technology skills."
Since 1989, Melvin noted, Kawasaki has been building engines sought by outdoor brands, turf professionals and homeowners all over the world. To stay competitive in the industry, Kawasaki must employ a workforce that is equipped with skills and technology knowledge that keeps the manufacturer ahead of others. 
"Kawasaki is extremely enthusiastic to see the fruition of this technology laboratory," Melvin said. "By preparing future employees to enhancing the skills and the technical knowledge of our current employees, we view this partnership between Northwest and Kawasaki as a bridge to the fulfillment of those requirements that we require. From FESTO certifications to mechatronics to precision measurements, Kawasaki anticipates great results from all the dedicated work and the effort that has been put into place to establish this workforce project."
With the support of partners such as Kawasaki, the McKemy Center is becoming home to revised and expanded programming with welding booths, laboratory space, and safety and infrastructure upgrades. The University is developing coursework in the areas of welding, precision measuring, electronics and electricity, mechatronics, personal protective equipment and safety, robotics and other industry-standard certifications.
The reimagined McKemy Center features Power Wave C300 portable multi-process wire feeder welders with high-end functionality capable of Stick, DC TIG, MIG, Pulsed MIG and Flux-Cored welding. It also features a VRTEX virtual reality welding training simulator that promotes the transfer of welding skills and body positioning while reducing waste associated with traditional welding training.
By offering comprehensive systems management training and skill development, as well as certifying those skills with industry-recognized stackable credentials, Northwest will help increase the labor force for manufacturing and agribusiness industry clusters.
In addition to funding provided by Kawasaki, the project received support from the CHS Foundation, the Missouri Department of Higher Education and Workforce Development, the Missouri Department of Economic Development, and Don and Jody Athen.
Northwest is planning a ribbon-cutting ceremony at the McKemy Center this fall to celebrate the completion of the renovation and the donors who supported the project.
To make a gift to support Northwest and its programs, contact the Northwest Foundation at 660.562.1248 or visit www.nwmissouri.edu/GiveOnline.