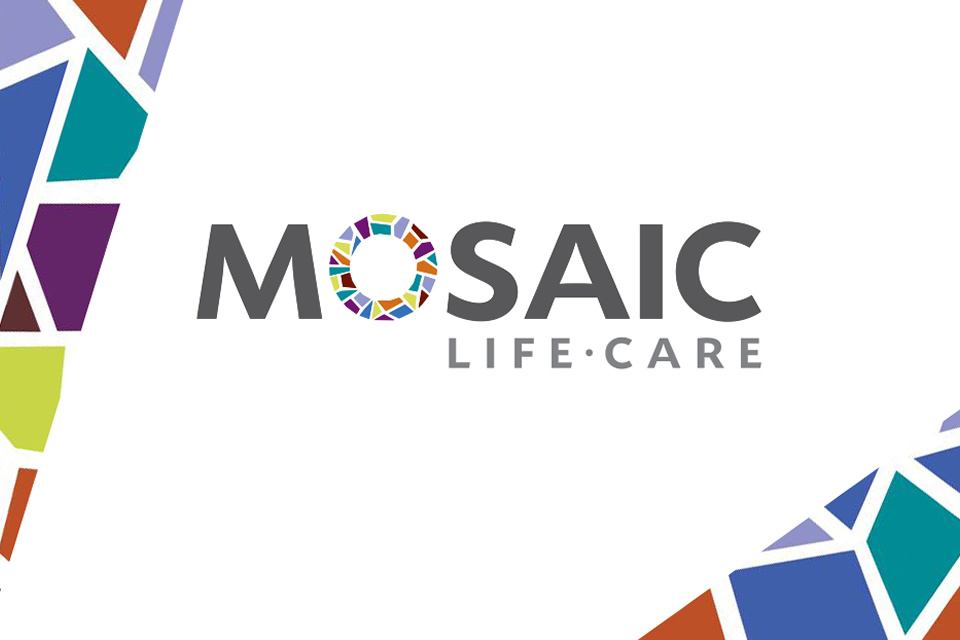 Mosaic Life Care, a physician-led health care organization based in St. Joseph, Missouri, has added its support to Northwest Missouri State University's renovation of one of the campus's oldest buildings with a $250,000 pledge to the Northwest Foundation.
Martindale Hall, which opened at Northwest in 1926 and houses the University's School of Health Science and Wellness, is undergoing changes after the Board of Regents approved a $1.3 million plan in March to renovate the third floor of the building – $1 million of which is being funded through the generosity of donors.
The project targets a 4,260-square-foot section that includes multipurpose space and storage areas. The upgrades also will provide academic laboratory spaces to support nursing, human services and school counseling programs as well as faculty and staff offices.
Representatives of Northwest and Mosaic Life Care will discuss their partnership and the renovation project during a news conference outside Martindale Hall at 11 a.m. Tuesday, Sept. 27.
Nate Blackford, who serves as president of Mosaic Medical Center-Maryville, said Mosaic supports the project in alignment with its interests in workforce development, specifically in health science areas such as counseling services, social work and nursing.
"We really feel the synergy and a shared desire to grow the workforce in northwest Missouri, and we'll benefit greatly from that partnership," said Blackford, who further understands the need to update the facility as a Maryville native and Northwest alumnus. "It's special, personally and professionally, to be part of a facelift to a part of the campus that needs it."
A significant partner of the University, Mosaic continues to support Northwest on numerous initiatives. Among them, Mosaic supplies athletic trainers to Bearcat athletics programs, medical expertise at the University's Wellness Center and a sexual assault nurse examiner in collaboration with the University Police Department. Mosaic staff also serve on the Northwest nursing program's advisory board, and several University faculty and staff members serve on various Mosaic boards. Further, Mosaic provided major support toward the construction of the Carl and Cheryl Hughes Fieldhouse, which was a site for vaccination clinics at the height of the COVID-19 pandemic.
"As two of the larger employers in the region, it's important that we're working together to make this a great place to work and live, and our partnership and our ability to work together – along with other organizations in the community – really helps to solidify that town and gown strategy that does make Maryville a very livable community," Blackford said.
Secondly, Blackford noted, Mosaic understands the benefits of partnering with Northwest to employ its graduates in skill-based professional roles. Northwest is a regional leader in career placement with 98 percent of bachelor's degree earners and nearly 100 percent of master's degree earners securing employment or continuing their education within six months of graduation, according to the most recent data. To help students gain profession-based skills they need, Mosaic has begun partnering with Northwest Career Services to offer paid internships to students studying non-medical fields.
"Working with Northwest as a pipeline creator for skilled individuals who can contribute to the mission and vision of Mosaic is really important to us," Blackford said. "Certainly what we're most known for is clinical functions, like nursing and social work and doctors. At the same time, we need finance people; we need marketing people. Northwest is a very important partner for us when it comes to workforce development, and it's important that we continue to work together to make Northwest and Mosaic as successful as possible."
The third-floor renovation of Martindale Hall is the first phase of long-term plans to update the entire building, which was last renovated during the mid-1970s and includes Martindale Gymnasium. The Missouri General Assembly approved $8.5 million for the $17 million project through a matching grant.
"Northwest is fortunate to have Mosaic Life Care as such an invested community partner," Jill Brown, director of corporate relations and a major gift officer at Northwest, said. "Whether through the employment and care of our students or partnerships in the classroom and on the field, the list is long and the great ideas for collaboration continue to flourish."
The Northwest Foundation, a 501(c)(3) not-for-profit corporation, develops and stewards philanthropic resources for the benefit of the Northwest Missouri State University and its students. It is governed by a volunteer board and staffed by members of Northwest's Office of University Advancement.
To make a gift to support Northwest, including Martindale Hall, contact the Office of University Advancement at 660.562.1248 or visit www.nwmissouri.edu/GiveOnline.