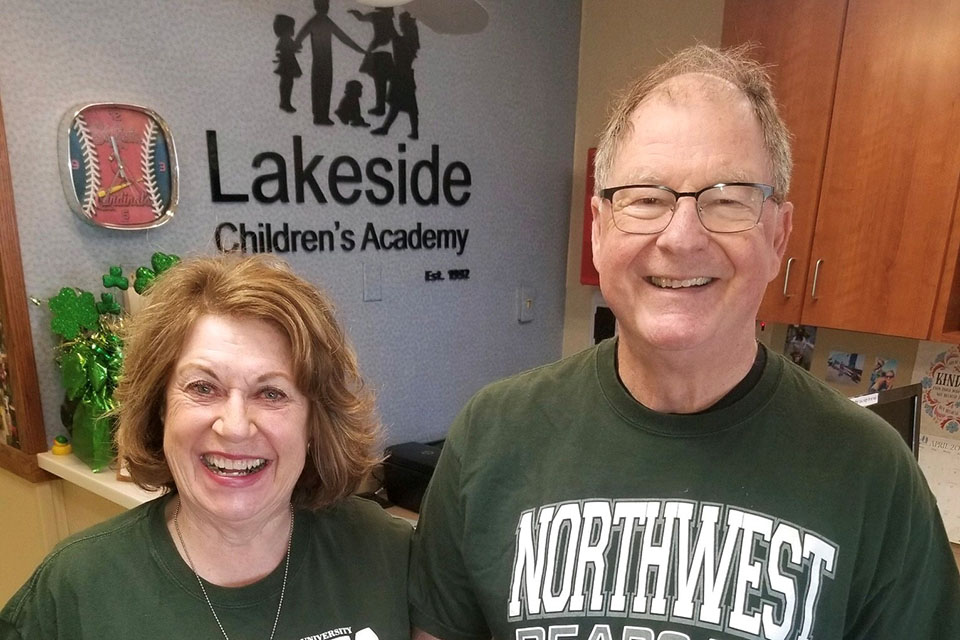 The upbringings of Dana and Sue Hockensmith on their family farms laid a foundation that has inspired them to support the Agricultural Learning Center at Northwest Missouri State University.
Through their gift, the Hockensmiths are joining the University's Homesteaders society, a group of nearly 50 public and private donors providing gifts of $25,000 or greater toward the project.
Although the Hockensmiths were not involved with the agriculture program as students at Northwest, their interest in the field stems from growing up and working on their family farms. When Dana and Sue learned of Northwest's plans for the Agricultural Learning Center, they understood the need.
"It is so important for us to nurture our land for our students, to be able to respect what they learn through agriculture," Sue said. "I think there are many farm values that are necessary in life. We learned through growing up on the farm, and we think that this will attract and retain students. I also believe that this is a way that we can enhance the stature of Northwest because this is going to give the University a competitive difference over so many universities around us." 
Having grown up on farms in northwest Missouri and southwest Iowa, Dana and Sue Hockensmith developed an appreciation for education and hard work. Sue was the oldest of five children on her family's dairy farm in Lewis, Iowa, and Dana grew up on a farm near Pickering, Missouri. Dana attended Northwest for two years before transferring to the University of Missouri-Columbia to finish his bachelor's degree and attend law school, while Sue graduated from Northwest in 1972 with a bachelor's degree in elementary education. 
"My parents expected that I would attend college, and I knew that I wanted to go to college," Sue said. "Being a teacher was my dream. Northwest was a quality school for education programs in addition to being close and economical."
As a student at Northwest, she was active on campus as a residential assistant and later head residential assistant at Perrin Hall. In 1970, she was selected as the Spirit of Christmas, an honor bestowed by her peers to reign over the annual Hanging of the Greens Christmas festivities in Roberta Hall, although the tradition was discontinued the next year.
Sue also sang in Northwest's Madrigal choir and the Tower Choir, and being a freshman orientation leader in 1969 gave her the opportunity to meet Dana. They married in March 1971.
"I really matured at Northwest," Sue said. "I was heavily involved at home, helping to care for my siblings. Northwest had good professors that taught students value, spent time with students and wanted students to succeed. They enjoyed watching us excel."
After completing her bachelor's degree at Northwest, Sue dedicated herself to being a mother to her children – Philip, Angela and Laura – and volunteering in the schools and communities where the Hockensmith family lived.
She also enjoyed serving children with intellectual developmental disabilities. In 1977, the Hockensmiths founded Pony Bird Inc., a nonprofit organization in Jefferson County, Missouri, that provides homes and care for non-ambulatory individuals with severe mental and physical disabilities. In 1989, Sue and Dana became more deeply involved in childcare because of Sue's interests in education, and they continue to own and operate Lakeside Children's Academy, which was built in 1992 in St. Louis County.
Despite residing in Manchester, Missouri, on the opposite side of the state from Maryville, Sue remains active in the Northwest community. She was instrumental in chartering the St. Louis Alumni and Friends Chapter in 2008, and she is serving her second term with the Northwest Alumni Association Board. Sue and Dana attend Bearcat athletics when possible, and Sue was honored with the Alumni Association's 2015 Turret Service Award. Wearing Bearcat attire in the community gives her great pride.
"I feel passionate about Northwest just like I feel about my education," Sue said. "I will be Forever Green because of the profound differences these four years made in my life. Northwest makes such a difference in the lives of our students and community. I am honored that Northwest Missouri State University is my alma mater. I am a Bearcat for life."