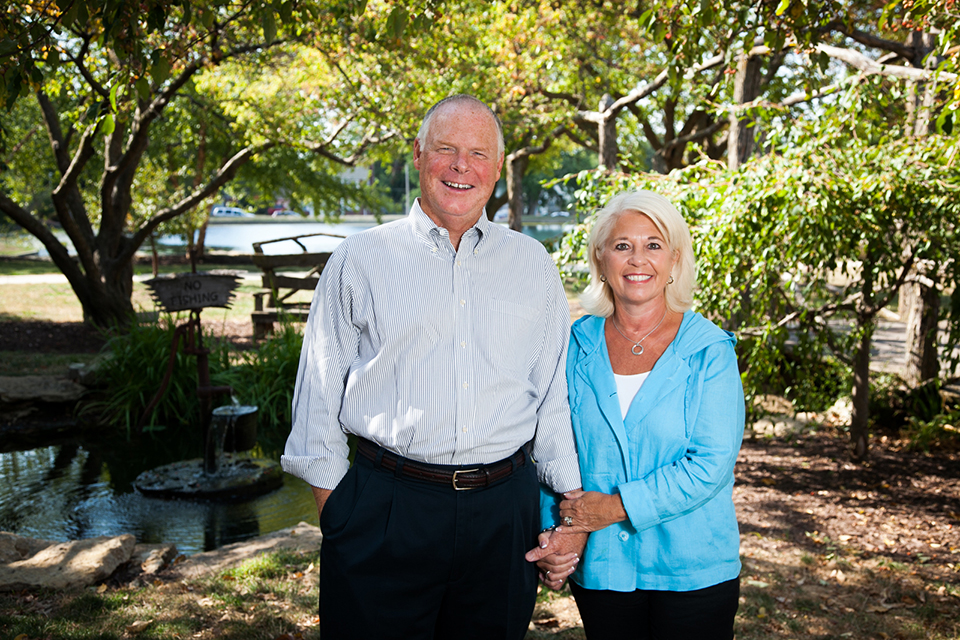 A business finance degree from Northwest Missouri State University helped Carl Hughes embark on a successful career in the energy industry, but his farming roots were a key influence, too. For that reason he and his wife, Cheryl, are adding their support to the University's Agricultural Learning Center.
The couple has provided $100,000 in support of the planned facility at the University's R.T. Wright Farm. The estimated $8.5 million, 29,000-square-foot multipurpose center will include classrooms and laboratory resources to supplement and enhance academic curriculum. It also is expected to allow for research and scholarly activities centered on crop, soil and livestock resources as well as space for processing agricultural products. It will include space for public and private functions such as producer and agricultural industry meetings, workshops, shows and career development events, as well as the promotion of agricultural literacy.
"The School of Agricultural Sciences is one of the shining stars of Northwest," Carl said. "Cheryl and I care a great deal about the success of this program and the quality and preparedness of the students it graduates into the workplace. Coming from rural America – raised in an agricultural background – Cheryl and I understand the critical role that agriculture plays in the region and our country."
Both Carl and Cheryl are members of multi-generational farming families in Clinton County. Carl's family has farmed in the area since before the Civil War, and their farm remains in the family today. Cheryl's family farmed in Belgium until the turn of the 20th century when they immigrated to the United States and continued farming in western Missouri. 
"Our family legacy is farming – diversified northwest farming, swine, cattle, corn, soybeans and small grains," Carl said. "In earlier years, sheep and poultry were in the mix."
They understand the need for the Agricultural Learning Center to support programming and opportunities that help Northwest students be career ready in ag-related jobs. Carl and Cheryl also are supportive of the project because of the high-quality, high-value education Northwest continues to deliver. They appreciate the meaningful role Northwest plays in educating and preparing students to be successful in society.
"Our current agricultural facilities need a serious upgrade to compete and deliver the highest quality of training and education," Carl said. "The Ag Learning Center is the centerpiece of this upgrade."
Carl, who is a member of the Northwest Foundation Board of Directors, graduated from Northwest in 1976 with a degree in business finance; he was active as a Northwest student, playing on the Bearcat football team and was a member of Sigma Tau Gamma fraternity. Cheryl earned her degree in speech in 1978 and was a Bearcat cheerleader and a member of Sigma Sigma Sigma sorority. Both were first-generation college students.
Now residing in Kansas City, Missouri, Carl and Cheryl raised four children. Carl retired in 2012 as senior vice president of Inergy LP, a publicly traded energy company he co-founded.
Carl and Cheryl, through the Hughes Family Foundation, played a significant role in raising funds and support for the Carl and Cheryl Hughes Fieldhouse. In 2012, the couple provided funding to support Northwest's Student Success Center.
"Carl and Cheryl have never forgotten their roots – whether it be in farming, this region of the state or at Northwest Missouri State University – and for that, we are so very thankful," Mitzi Marchant, Northwest's director of donor engagement, said. "The communities and organizations they support continue to benefit from their generosity, and will do so for many years to come, and we are grateful for their steadfast commitment."