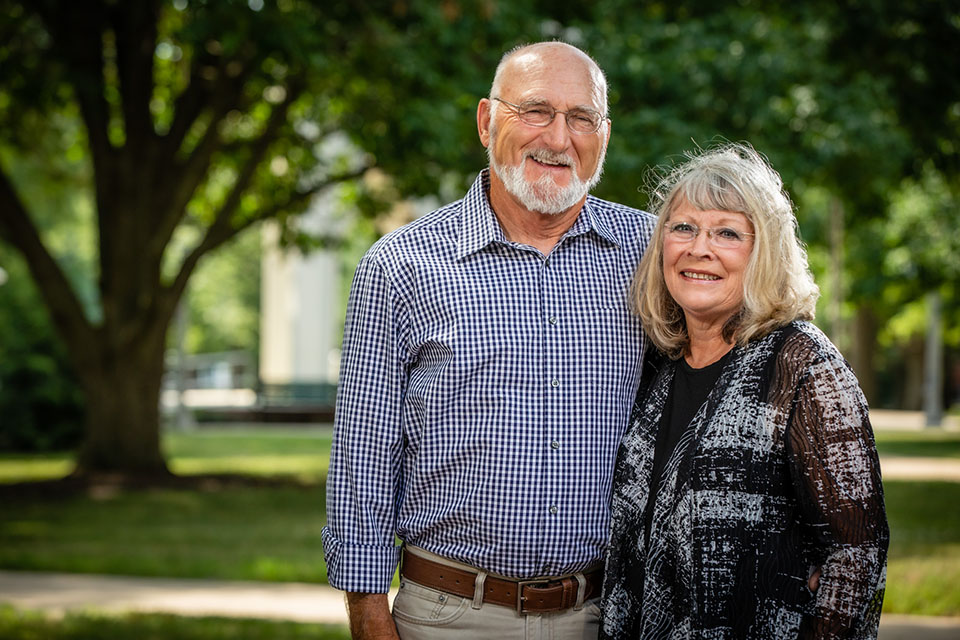 Northwest Missouri State University alumni Don and Dr. Joyce Piveral want to pay it forward to the students who will benefit others through education.
The Piverals pledged a gift to the Northwest Foundation totaling at least $33,000 to establish the Piveral Wake Mitchell Scholarship, which represents the legacy and impact Northwest has had on the family. It pays tribute to both sides of the family, including Joyce's mother Hazel Eileen Mitchell Wake.
"I've always focused on teacher development and how we can make sure students are getting a good education because I do feel that's the way out of the situation some students are in," Joyce said. "Using their talents, we need to give them that good basis to use their talents and education to benefit all of us."
Through their gift, a $1,000 scholarship will be available to students maintaining at least a 2.75 grade-point average and pursuing a degree in the School of Education. A selection committee will determine the number of scholarships awarded annually with academic achievement and financial need as leading criteria.
"I got a good start here, and other students need a good start," Joyce said. "If we help others get a good education and they don't have any extensive debt, it helps us all."
Don added, "Even if they go to some other job besides teaching, it opens doors. And Northwest is just plain great."
The family's legacy at Northwest began with Joyce's grandmother, Verta Ball Mitchell, who attended what was then known as the Fifth District Normal School in 1910 to become a teacher.
Don and Joyce reconnected after Don returned to Northwest from the Vietnam War and finished his teaching degree at the institution in 1978.
"I came in 1963 in pre-engineering and Uncle Sam needed me, so I left and had to come back," Don said.
Today, Don has a farming operation outside of Pickering, Missouri.
Joyce retired from Northwest in 2016 as dean of the College of Education and Human Services and previously served as director of teacher education at the University. Additionally, she was a professor and chair of the Department of Educational Leadership and assistant director of teacher education. Through her leadership, Northwest was one of two universities across the nation in 2006 to receive the Christa McAuliffe Award and be recognized as an outstanding teacher preparation institution.
"It was an opportunity to help the next generation get the best teachers out in the classroom," Joyce said.
A native Missourian, Joyce completed her undergraduate degree in vocational home economics at Northwest in 1970. She also holds master's and educational specialist's degrees in educational leadership from Northwest and an Ed.D. in educational leadership from the University of Missouri-Columbia.
She served as a teacher and administrator for more than 10 years in the Fillmore C-I School District and was an administrator at Central High School in the St. Joseph School District for 20 years.
Joyce has been educating future teachers for more than 50 years. She said the thought of making a difference for students, teachers and leaders motivated her dedication to the field.
"Seeing my students receive their diploma always felt like a success for me, too," she said. "The students were always inspirational and uplifting even when challenges were ahead."