Anonymous trust provides additional funds for Ag Learning Center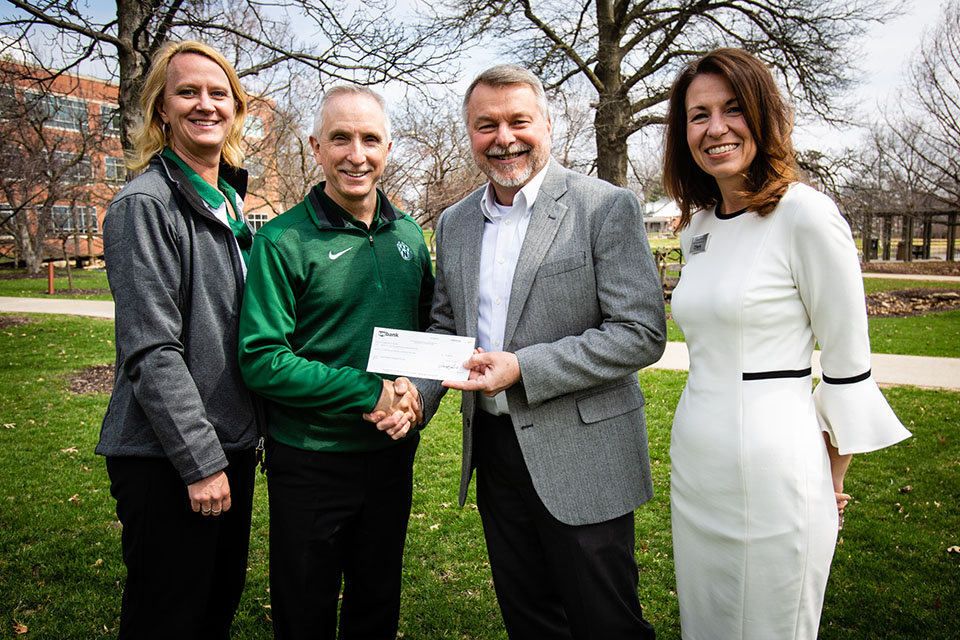 The Northwest Foundation received an additional $75,000 from an anonymous charitable trust to benefit Northwest Missouri State University and its planned Agricultural Learning Center.
Representatives of U.S. Bank, which operates two branches within the city of Maryville, presented the check to University President Dr. John Jasinski and Mitzi Marchant, the director of donor engagement for the Northwest Foundation and Office of University Advancement.
"We are extremely appreciative of the continued support provided by this anonymous trust as well as the support shown by U.S. Bank, which presented the Agricultural Learning Center concept to the trust," Marchant said. "A facility such as this – which will benefit students as well as the broader community – requires substantial buy-in from individuals, corporations and foundations, and this is a great example of the impact of strong partnerships."
The gift is an addition to $50,000 Northwest and the Northwest Foundation received from the same anonymous charitable trust last year in support of the agriculture project.
"This is the second year that the trust has been in a position to provide funding for our northwest Missouri communities, and we are excited that Northwest Missouri State is a second-year recipient of those funds," Shannon Moore, wealth management regional manager for U.S. Bank, said. "The donor is very committed to education and continuing education at Northwest Missouri State University."
The Agricultural Learning Center, for which the University and Northwest Foundation are raising funds, will be built at Northwest's 448-acre R.T. Wright Farm and serve as a multipurpose facility, providing classrooms and laboratory resources to supplement and enhance the academic curriculum.
The estimated $8.5 million, 29,000-square-foot center will allow for research and scholarly activities centered on crop, soil and livestock resources as well as space for processing agricultural products. It will include space for public and private functions such as producer and agricultural industry meetings, workshops, shows and career development events, and the promotion of agricultural literacy.