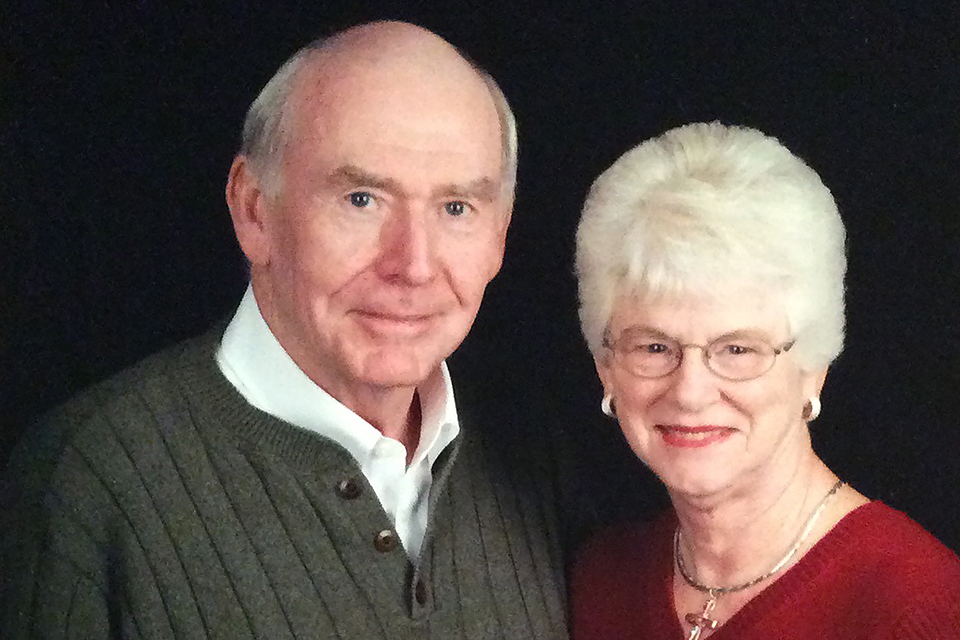 Beginning with the 2020-21 academic year, one Northwest Missouri State University accounting major will receive an annual scholarship acknowledging a couple's loyalty to the University and an alumnus' long accounting career.
Ken Griggs and Marilyn Hollensbe Griggs established the KPMG/Kenneth D. Griggs Scholarship with a required minimum distribution from Ken's individual retirement account and a matching gift program offered to retired partners of KPMG, an international accounting firm that employed Ken for 33 years. The endowed funds donated by the couple and matched by KPMG are expected to generate about $1,500 annually to assist Northwest accounting majors.
A selection committee of faculty members representing the Melvin D. and Valorie G. Booth School of Business will determine the recipient with academic achievement and financial need as the leading criteria.
"We thank Ken and Marilyn Griggs for establishing the KPMG/Kenneth D. Griggs Scholarship," Dr. Steve Ludwig, the director of the Booth School of Business, said. "The scholarship provides resources to help outstanding accounting students focus on academics that provide the foundation for a successful career. This scholarship can be a difference maker for students who are not able to complete their degree due to lack of financial resources, and I'm excited to see how future generations of students will be impacted by the generosity of our alumni."
The Griggs, who celebrated their 50th wedding anniversary in 2018, say they have spent more time reflecting on their past and reshaping their future in recent years as Ken deals with the effects of Alzheimer's. Their thoughts often take them back to their time at Northwest, and Ken asked Marilyn to establish a tribute to assist high-achieving students who need economic assistance to attend Northwest.
"As we reminisced, we recalled what a significant role Northwest played in shaping our lives," Marilyn said. "We were blessed to have received such a solid, affordable education. With the rising cost of tuition and student debt, we wanted to help others have a similar opportunity." 
Both of their mothers were raised in Maryville, while their dads came from the small northwest Missouri farming towns of Pickering and Guilford. They were well aware of Northwest, and its affordable tuition made the college a logical place for them to further their education.
Ken, a member of the Alpha Kappa Lambda fraternity, and Marilyn met in a marketing course in Colden Hall. They shared their first date at an AKL formal, and fraternity activities shaped many of their favorite college memories.
The Griggs attended Northwest at a time of unrest across the country as the Vietnam War raged. Martin Luther King Jr. was assassinated, and riots and protests affected college campuses.
Marilyn lived in Franken Hall during its opening year. She recalls that no men were allowed above the first floor, except for maintenance and cleaning staff. Two phones were stationed in the hallways on each floor and a pay phone was accessible in the lobby for long-distance calls. During her senior year, a "senior key" program allowed those students to request permission to stay out an extra hour beyond the residence hall curfew.
Computers were huge and housed in a special temperature-controlled room. To enroll in classes, students gathered at a central location and pulled cards for the classes they wanted or needed – giving way to organized chaos because an empty card stack meant the class they wanted was full for the semester. Also, girls could not wear slacks to class "unless it was colder than what a polar bear could stand, and then it was announced over the PA that slacks were permissible," Marilyn said.
Ken graduated from Northwest in 1969 with a bachelor's degree in accounting and launched his career at the accounting firm of Peat, Marwick, Mitchell and Co., which eventually became KPMG. He worked nine years in its Kansas City office, before transferring to its Wichita, Kansas, office, where he was admitted to the partnership. Ken retired from KPMG in 2002 as partner in charge of audit in the Wichita office.
"Our Northwest education not only prepared us for our careers, but it prepared us for life," Marilyn said. "The solid accounting background as well as the Midwest values influenced his career success."
Marilyn completed her bachelor's degree in secondary and business education at Northwest in 1968. She spent four years teaching business education in high schools in Fillmore and Kansas City, Missouri, before taking advantage of an opportunity to stay home and raise the Griggs' two children.
She also volunteered extensively and furthered her education in academic language therapy and attention deficit disorder – skills that have served her well since Ken was diagnosed with Alzheimer's. Marilyn says Ken immediately attacked the disease and the couple transitioned matters that Ken handled to her care, including Ken's wish to establish an accounting scholarship at Northwest.
The Griggs encourage others to consider making a gift to Northwest by taking advantage of the option to contribute from an IRA and checking to see if their employers have a matching gift program. The Griggs maximized their gift by using their IRA tax savings and by partnering with a generous matching gift from KPMG.
"Through our part-time jobs, help from supportive families, reasonable tuition rates and hard work, we were able to graduate without the student debt that can be such a burden to new graduates," Marilyn said. "We wanted to give future generations, who have the academic ability to succeed but need some financial assistance, the opportunity to benefit from an education at Northwest."