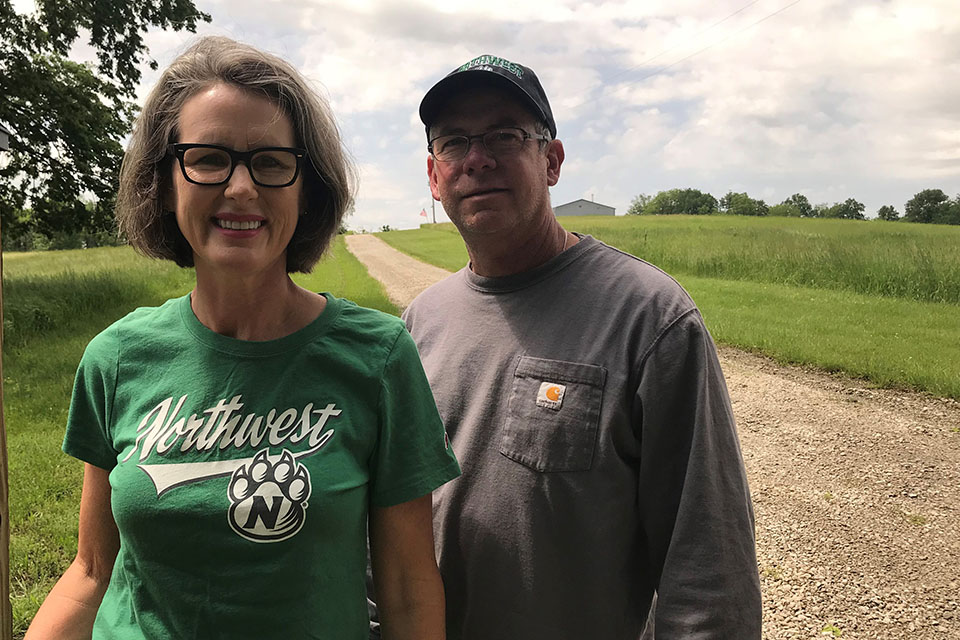 Northwest Missouri State University alumna Leisha Beckemeyer Barry was so inspired by the project-based learning occurring in the University's School of Agricultural Sciences that she and her husband added their support to the planned Agricultural Learning Center at the R.T. Wright Farm, pledging $25,000 toward the project.
"The farm provides a unique advantage at Northwest for agriculture students by engaging them on the farm immediately during their freshmen year," she said. "The farm has been an example of profession-based learning from the get-go, but to keep enhancing that concept with facilities as well as programs focused on agriculture is incredibly important to the future of Northwest."
The Agricultural Learning Center, for which the University and Northwest Foundation are raising funds, will be built at Northwest's 448-acre R.T. Wright Farm and serve as a multipurpose facility, providing classrooms and laboratory resources to supplement and enhance the academic curriculum.
The estimated $8.5 million, 29,000-square-foot center also will allow for research and scholarly activities centered on crop, soil and livestock resources as well as space for processing agricultural products. It will include space for public and private functions such as producer and agricultural industry meetings, workshops, shows and career development events, and the promotion of agricultural literacy.
"We are grateful to Leisha and Ken for their support of the Agricultural Learning Center," Laurie Long, a development officer in Northwest's Office of University Advancement, said. "Their endorsement of this project will help Northwest enrich the on-site experiences of our students as well as broaden their interactions with individuals and organizations throughout the agricultural community."
With their pledge, Leisha and her husband, Ken, also are adding their names to the Homesteader Plat Map, a group of donors providing gifts of $25,000 and greater in support of the Agricultural Learning Center. Nearly 30 donors have signed on to the plat map so far in the fundraising campaign.
"After taking a tour of the farm, I felt very strongly about giving back," Leisha said.  "Students often choose to come to Northwest because they know they will be on the farm very early in their careers at Northwest. Having this state-of-the-art classroom component near the real work makes this even more attractive for incoming faculty and students. Ag students come to Northwest to be hands-on with agriculture."
She earned her bachelor's degree in medical technology from Northwest in 1984 and completed a master's degree in business administration and management at Rockhurst University in 1990. As a Northwest student, she was a member of Alpha Sigma Alpha sorority and the biology club.
She retired as vice president in 2015 from Cerner Corporation, a leading healthcare technology company based in Kansas City, Missouri. Since retirement, she has served on many philanthropic boards, including the Northwest Foundation Board of Directors and as the interim director for the Liberty Public Schools Foundation. She currently is president of the Liberty Hospital Foundation.
Although not a Northwest alumnus, Ken has roots in Nodaway County as his parents grew up in the area. Leisha and Ken reside in Liberty, Missouri.
Leisha says she remains appreciative of the lifelong friendships she developed at Northwest and its continuing impact on student success.
"So many friendships that you make during your college years end up being those that stand the test of time," she said. "To come back to those friendships and how they were formed at Northwest is how I answer what makes me forever green."
She added, "The students that come here are the salt of the earth. Their work ethic is a key part of why I give back to Northwest."