Alumnus adds support to Agricultural Learning Center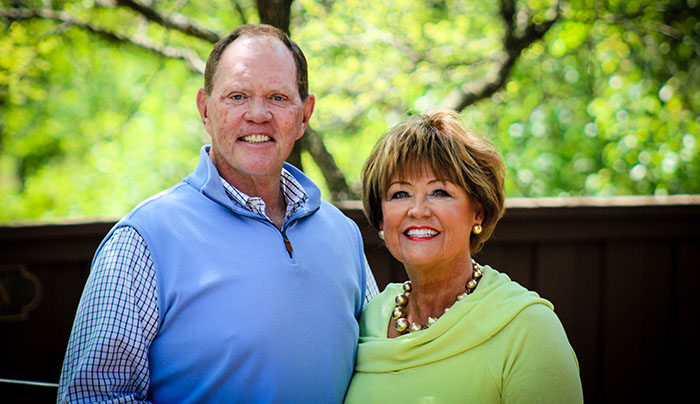 Bill and Jane Oellermann have added their support to Northwest Missouri State University's School of Agricultural Sciences and a planned Agricultural Learning Center at the University's R.T. Wright Farm, pledging $25,000 toward the project.
Oellermann earned his bachelor's degree in speech and physical education in 1972 at Northwest. Though he was not connected to the agriculture program as a student, he feels indebted to the University because of the life-changing experiences it gave him.
"The people I met and the educational experience I received is meaningful to me, and it has been impactful in my life," Oellermann said. "I feel an obligation to the University and future students to give them that same opportunity that I experienced."
The Agricultural Learning Center, for which the University and Northwest Foundation are raising funds, will be built at Northwest's 448-acre R.T. Wright Farm and serve as a multipurpose facility, providing classrooms and laboratory resources to supplement and enhance the academic curriculum.
The estimated $8.5 million, 29,000-square-foot center also will allow for research and scholarly activities centered on crop, soil and livestock resources as well as space for processing agricultural products. It will include space for public and private functions such as producer and agricultural industry meetings, workshops, shows and career development events, as well as the promotion of agricultural literacy.
The Oellermanns were proud supporters of the Carl and Cheryl Hughes Fieldhouse as members of its Founding 50, and they are excited to be involved with the Agricultural Learning Center. Bill Oellermann believes the center will have a major impact on the University, students and surrounding communities.
"It would be next to impossible to overstate the importance of agriculture in Missouri and at Northwest," he said. "Serving the areas of Missouri, Iowa, Kansas and Nebraska agriculture is so important. Everyone should realize where their food is coming from and the importance in the eyes of the family farm and corporations in farming. The industry has changed, and the best way to accommodate that change is through education and research. I think the Agriculture Learning Center will have a great significance in doing that."
While at Northwest, Oellermann was a member of the Sigma Tau Gamma fraternity and the Bearcat football team. He also worked as a broadcaster for KXCV and KDLX radio, and announced play-by-play for Bearcat games. He is active with the Northwest Alumni Association and serves on the Northwest Foundation Board.
Oellermann, who resides in Mansfield, Texas, retired as assistant vice president of marketing and communication at Texas A&M University-Commerce. His professional career included roles in news, public affairs, sports reporting and management in small, medium and major market radio stations. He served as director of news and public affairs at Southern Illinois University and for 18 seasons was the public address announcer for the Dallas Stars professional hockey team. He earned a master's degree in mass communications from Southern Illinois University-Edwardsville.
Jane Oellermann, a Mount Pleasant, Iowa, native, attended the University of Wisconsin. She was the first female State Farm insurance agent in Arlington, Texas, and has operated the Jane Koch-Oellermann State Farm agency there for 35 years.