U.S. Bank Foundation, trusts provide gifts to support Hughes Fieldhouse, Ag Learning Center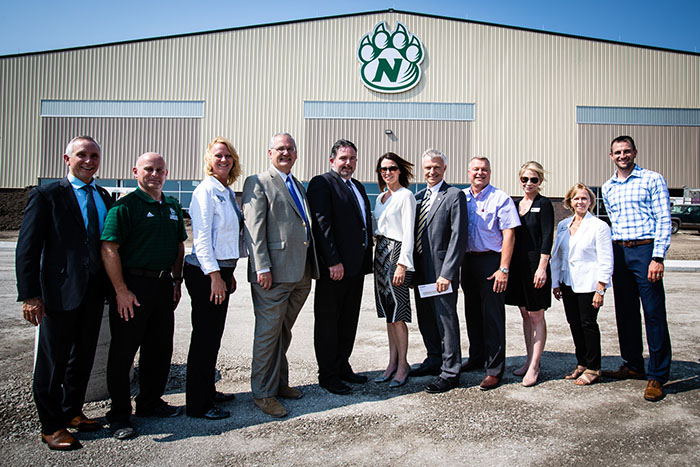 U.S. Bank, which operates two branches within the city of Maryville, on Aug. 2, 2018, presented Northwest Missouri State University and the Northwest Foundation Inc. with three gifts totaling $95,000 to support two major capital projects aimed at uplifting the University's students and the region.
Representatives of U.S. Bank presented to Northwest leadership a $25,000 gift on behalf of U.S. Bank Foundation to support the Carl and Cheryl Hughes Fieldhouse, which will open on the University campus this fall. Additionally, bank representatives presented a $50,000 check from an anonymous trust and a $20,000 check from The Gary G. Taylor Charitable Trust, U.S. Bank, N.A. Trustee, for Northwest's planned Agricultural Learning Center to be built at the R.T. Wright Farm.
"U.S. Bank and the University's mission and core values certainly align with one another and that's apparent in the work the University does in uplifting students," Shannon Moore, vice president and trust relationship manager for U.S. Bank, said. "U.S. Bank is about uplifting communities and the core piece of that is our youth. We're very excited to be a part of this and the continued growth in northwest Missouri."
Mitzi Marchant, director of donor engagement for the Northwest Foundation and Office of University Advancement, said support from the community is paramount for projects such as the Hughes Fieldhouse and the Agricultural Learning Center.
"Both of these facilities will benefit not only students at Northwest Missouri State University, but also the entire region," she said. "Support from area corporations and foundations as well as alumni and friends make a significant difference, and the economic impact of the Hughes Fieldhouse and the Ag Learning Center will be a great boost to our community."