AgriVision Equipment lends support to Ag Learning Center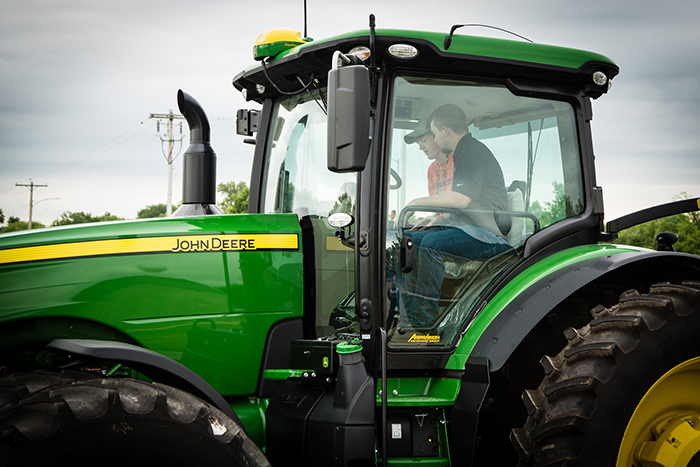 AgriVision Equipment Group, a locally owned and operated farming equipment company with 17 locations across southern Iowa, has added its support to Northwest Missouri State University's School of Agricultural Sciences and a planned Agricultural Learning Center at the University's R.T. Wright Farm, pledging $100,000 toward the project.
"We are so grateful and appreciative of the commitment that AgriVision Equipment is making toward the Agricultural Learning Center," Rod Barr, the director of Northwest's School of Agricultural Sciences, said. "Their financial contribution is a testament to AgriVision's dedication in making a difference not only in the School of Agricultural Sciences at Northwest but in the region and the agricultural industry as a whole. Thanks to the AgriVision Board of Directors and the entire AgriVision organization for investing in the future of the School of Agricultural Sciences at Northwest."
The Agricultural Learning Center, for which the University and Northwest Foundation are raising funds, will be built at Northwest's 448-acre R.T. Wright Farm and serve as a multipurpose facility, providing classrooms and laboratory resources to supplement and enhance the academic curriculum.
The estimated $8.5 million, 29,000-square-foot center also will allow for research and scholarly activities centered on crop, soil and livestock resources as well as space for processing agricultural products. It will include space for public and private functions such as producer and agricultural industry meetings, workshops, shows and career development events, and the promotion of agricultural literacy.
"We believe that the Ag Learning Center will open opportunities for the University to recruit the best and brightest students as well as attract industry expertise that will help build career-ready employees for many years to come," Jeremy Ostrander, the chief executive officer for AgriVision Equipment, said. "Northwest takes a unique approach in gaining input from industry leaders that helps develop the skills and experiences that are needed in the market place." 
AgriVision Equipment and Northwest formed a partnership in 2015 that benefits Northwest students through the use of the newest farming equipment as well as internship and career opportunities. In June, AgriVision Equipment and the University hosted their third annual AgriVision Equipment Group Precision Agriculture Summer Academy to introduce high school students and agricultural educators to the ever-changing landscape of precision agriculture technologies. Northwest ag faculty actively collaborate with AgriVision Equipment staff to help shape curriculum, and the equipment dealer views Northwest as an important source for future talent.  
"The strength of our partnership is the commitment of the individuals in the AgriVision organization to provide expanded opportunities for profession-based learning experiences for students," Barr said. "It is exciting for the School of Agricultural Sciences to partner with a leader in the industry such as AgriVision and we are looking forward to what the future holds."
Despite challenges facing the ag economy, Ostrander said AgriVision Equipment continues to grow and believes the mid- to long-range opportunities in agriculture are bright. While Northwest's School of Agricultural Sciences also is experiencing rapid growth, Ostrander said the University's "customer focus" prompted AgriVision Equipment to contribute to the Ag Learning Center project.
"We must continue to develop the coming generations if we want to feed the world," he said. "Sharing best practices and being involved with teaching and development is fundamental to our culture. We believe in investing for tomorrow, and the most important place to invest is in people. Getting involved in things such as the Precision Ag Summer Academy allows us to interact with current and future students while sharing the future opportunities in agriculture. We continue to look for opportunities to share the knowledge and insights of our great employees, and allow them to give back to the industry that has afforded them the opportunity to provide for their families and communities. We are blessed in the Midwest to have some of the most fertile crop and grassland in the world, but we are even more blessed to have people with a good work ethic and a desire to grow and learn."