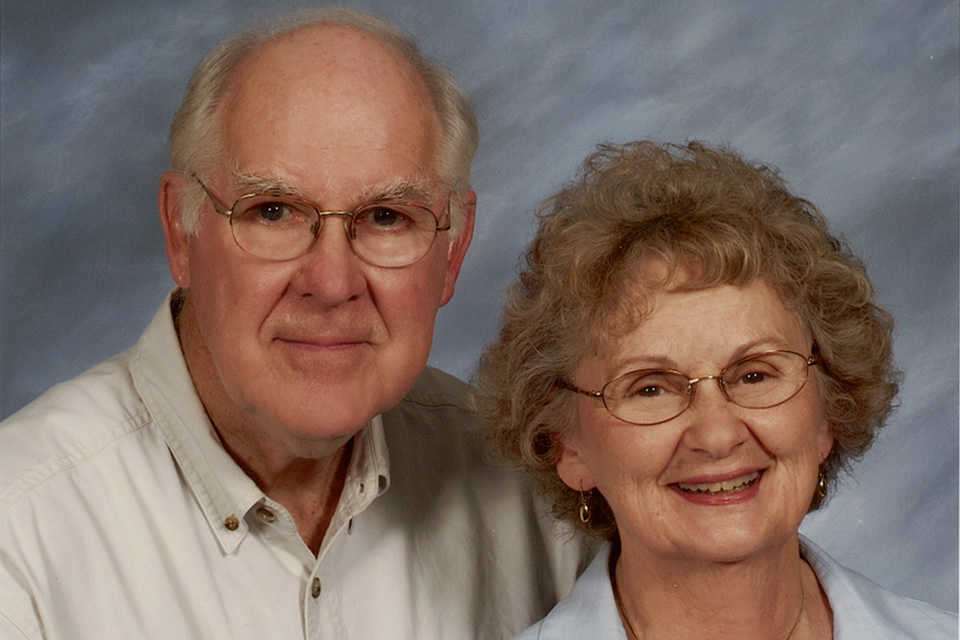 Cal Goeders says his experience at Northwest Missouri State University gave him a direction for his career and life, and now he's hoping to do the same for future students with the establishment of a scholarship to aid chemistry majors.
Goeders, a 1953 graduate of the University, and his wife, Marilyn, recently established the Calvin & Marilyn Goeders Chemistry Scholarship through a six-figure gift to the Northwest Foundation. The scholarship will be awarded annually with a committee of Northwest chemistry faculty selecting the recipients.
"I'd like to build a premier scholarship fund for chemistry majors that will be sufficient to attract promising high school seniors to Northwest," Goeders said.
After earning his Bachelor of Science degree with honors from Northwest, Goeders went on to develop a multi-million dollar business by creating infection control products. Additionally, he is successfully bridging the generational gap by volunteering to engage young students in science at a school where he resides in Midland, Michigan.
For years, Northwest chemistry students have benefited from his contributions to the J. Gordon Strong Scholarship, an award he supported to honor his mentor, Dr. J. Gordon Strong, who challenged him academically and encouraged him to pursue a chemistry career.
"He kind of straightened me out a couple of times," Goeders said, recalling a time when he was unprepared for an organic chemistry lesson. As his classmates correctly answered Strong's problems at the blackboard and were allowed to retake their seats, Goeders failed to complete multiple problems and was the last student standing. "He taught me a lesson I never forgot. I was pretty upset about it at the time. It was one of those lifelong lessons that you never forget. I never again was unprepared for a chemistry class."
Goeders enjoyed a successful, 18-year career at Dow Chemical Company, working as a chemist, research manager and marketing executive. In 1980, he founded Caltech Industries in Midland, Michigan, to invent and develop products for infection control at healthcare facilities such as hospitals, nursing homes, and physician and dentist offices.
Goeders served as Caltech's president until retiring in 1996. Although he continued to play a role at the company, which Clorox purchased in 2010, Goeders looked to lending his expertise to a much younger generation of scientists and helped make an impact at a local elementary school. 
In 1997, Goeders established a program where retired scientists and engineers volunteered their time at the elementary school in hopes of not only raising test scores, but encouraging students to develop an interest in science. A decade into the program, the number of students who scored as "advanced" or "proficient" in science on standardized tests soared.
"Because of my Northwest education and business experience, this was a situation tailor-made for me," Goeders, who now volunteers at a Midland, Michigan, STEM school, said for a 2009 Northwest Alumni Magazine story. "I'll admit, I had a lot of failure that first year when I was trying to get this program started, but, if you're adaptive, failure teaches you."
Goeders hopes, through his scholarship and gifts to Northwest, students will receive frequent and intensive mentoring to develop goal-setting strategies that help them be successful in their careers as well as life.
"Northwest was the academic location that gave me a direction," he said. "I was always a pretty good student, but I didn't have a real motivation to be the top student or to get straight A's before I came to Northwest. I learned to study, and Strong was an important factor in that."