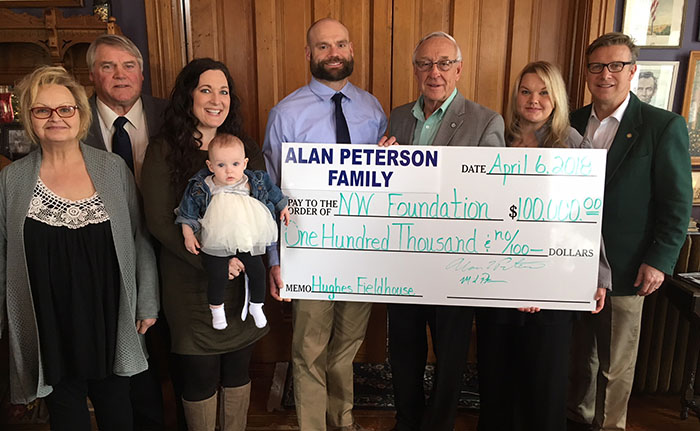 Mike and Alan Peterson could hardly contain their pride as they presented a check for $100,000 on April 6, 2019, to Northwest Missouri State University to support the construction of the Carl and Cheryl Hughes Fieldhouse.
"We're very happy that we are able to present this donation to Northwest Missouri State University," Alan Peterson, a 1970 alumnus of the University said as he was surrounded by his family in their hometown of Atlantic, Iowa. "I think it's great to honor the past and future of champions on the field and in the classroom. We had a lot of fun at Maryville and will continue having fun at the college – it's a great place."
Mike Johnson, Northwest's former vice president of university advancement, said the Petersons' gift toward the Hughes Fieldhouse is demonstrative of their love for family and Northwest.
"We call ourselves a Bearcat family, and when you play it out in a way the Petersons have, we benefit because of their love of family," Johnson said. "It's beyond the wins and losses of an athletic program. It's about the health, the wellness and the competitive advantages that we produce at our institution. The Petersons see that vision."
After graduating from Northwest with his bachelor's degree in agriculture science, Alan Peterson enjoyed a long career in farming and agriculture business. Now retired from farming, he works in real estate in Atlantic.
Alan's son, Mike Peterson, completed his bachelor's degree in corporate recreation and wellness at Northwest in 2006 and returned to the University to complete a master's degree in recreation in 2010. His success on the football field as a tight end for the Bearcat football team earned him an induction into Northwest's M-Club Hall of Fame in 2017.
He also had stints with the NFL's Green Bay Packers in 2008 and the UFL's Omaha Nighthawks in 2010 in addition to helping USA Football win the 2011 world championship at the International Federation of American Football World Cup in Austria with Tjeerdsma, his former head coach at Northwest.
Mike, thinking his football career was finished, was attending an Iowa community college and playing intramural football when he realized he still had the itch to compete in 2004. Through conversations with the Petersons, Tjeerdsma invited Mike to the Bearcats' spring camp and he walked on to the team.
Today, Mike works as a personal trainer at Crossfit in Slater, Iowa, and says he is grateful for the time he had to learn from Tjeerdsma and for the opportunities Northwest provided him – including meeting his wife, Erin Finch Peterson, a 2006 Northwest alumna.
"Coach T made everybody feel comfortable, and everybody there is like a family," Mike said. "Everybody cares for each other and you're at your best when you feel comfortable and you care about the people around you. It's some of the greatest memories of my life."
Reflecting on Mike Peterson's time in the Bearcat football program, Tjeerdsma said he admired his passion.
"All you had to do was see him walk in and things changed," Tjeerdsma said. "Then we had him run a 40 and things really changed. He'd give you more than 100 percent effort every time, and whatever he could do to get better, he was going to do. With the abilities that he had, he became a great player."