Richeys power dreams through scholarship contribution, gifts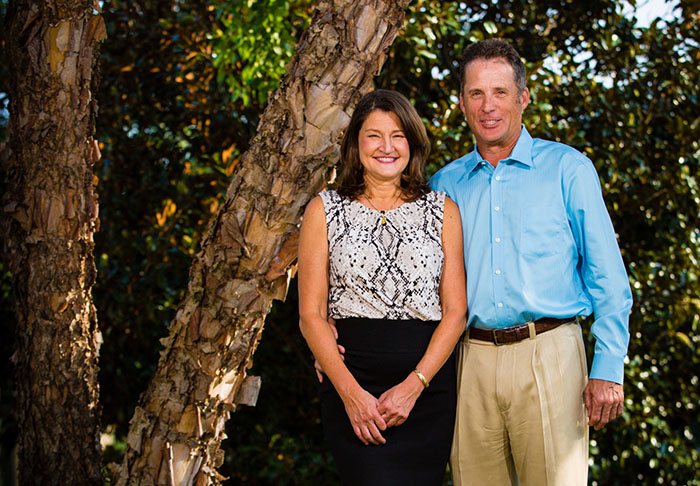 A passion for Northwest and helping students graduate debt-free motivated Scott Richey and his wife, Cindy, to contribute $350,000 in deferred gifts as well as $25,000 for the Scott and Cindy Richey Powering Dreams Scholarships.
"We were fortunate to have help paying for our education, but it's a big challenge for many families today," Scott Richey, a 1983 and 1986 graduate of Northwest said. "If a student can graduate without debt, it really puts the odds in their favor."
Scott grew up in Maryville, attended Horace Mann Laboratory School and earned his bachelor's degree in broadcasting and business administration as well as his Master of Business Administration degree at Northwest. He built his career in the consumer products business with companies such as Quaker Oats, Colgate-Palmolive and Associated Wholesale Grocers. The Richeys, of Parkville, Missouri, have two grown children.
"At this stage in our lives, it's time to pay it forward and help others find success," said Cindy, a certified financial planner and president of Prosperity Planning in Kansas City, Missouri.
Scott's decision to attend Northwest came easily. Both of his parents Burton, in 1951, and Roberta Walker, in 1951 and 1974, graduated from Northwest, as well as his sister, Julee Richey Sherman in 1979. Burton worked for the University as the chairman of the health and recreation division, and was one of the original members of the Northwest M-Club Hall of Fame.
"I knew about the Northwest culture before I was a student," Scott said. "I think my experience was great because I was immersed in what it means to be a Bearcat at a very young age. It's in the Richey blood."
He gained profession-based experiences at KNWT, the University's student-run television station, and radio station KZLX, and he was a member of the golf team and the Sigma Tau Gamma fraternity.
"My broadcasting major allowed me to be comfortable communicating," Scott said. "You earn your education, learn how to communicate effectively and have faculty contacts to help guide you after graduation."
His experiences and lasting relationships at Northwest paved the way for his successful career. Now he believes it is his responsibility to continue the tradition of Bearcats helping Bearcats.
"Northwest offers an excellent value, plus scholarships and employment opportunities," Scott said. "If they can do that, and we can help, it's a win-win."