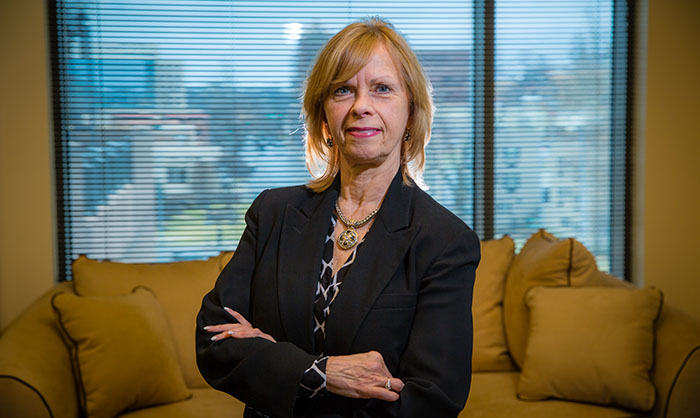 Thinking back to growing up about 30 miles east of the Northwest Missouri State University campus in Grant City, Missouri, Jennifer Dawson Nicholson can hardly think of a time when her family did not support the University.
Nicholson's grandfather, W.M.C. Dawson, owned a local bank and was a member of Northwest's Board of Regents. He served on the Board from 1951 to 1975 and was its president from 1959 to 1963 and again from 1973 to 1975; he was vice president from 1971 to 1973.
"Growing up, of course, we were big Northwest fans, and I knew that I would go there," Nicholson said. "My grandfather was very high on the people in the business area. There was never any question in my mind that I would go there, just because he was so associated with it. They were great friends of President (Bob) Foster and Mrs. Foster. I got to know them, so it was just logical that I would go there."
Nicholson, in fact, was the first female to earn a bachelor's degree in finance at Northwest in 1971 at a time when few women were making careers in that field. She arrived at Northwest thinking she might become a business teacher but quickly realized she didn't have the desire or necessary skills to teach.
"Finance wasn't really recognized as something that women went into," Nicholson said. "I decided to take corporate finance, and I went in and it was all guys. I sat in the front row, and a guy sat next to me and he said, 'Well what are you doing in here?' And I said, 'Well, I thought I'd check this out and see if I like this major.' He said, 'Oh, don't worry about it, there's never been any woman that ever had a degree in this. It's really not something most women would want to do.' I thought, 'Oh, okay, this sounds like the major for me.'"
For Nicholson, pursuing a career in finance was nearly as much a sure thing as her decision to pursue a degree at Northwest. Nicholson's great-grandfather founded the Citizens Bank of Grant City in 1881. Her grandfather joined the family business during the early 1900s and eventually took ownership of it. He was self-taught and did not have an opportunity to attend college.
Nicholson began her finance training at age 16 by working alongside her grandfather. She also worked with him for a year after completing her degree at Northwest. Launching her career in Kansas City, Missouri, proved to be another challenge, but she faced it head-on again.
"There was a fair amount of walking the streets when I got down there, going bank-to-bank to try to find a management training program," she said. "I was very blessed that, when I got to the last place I went on the list, I literally walked in the day their board decided to hire the first woman management trainee. I don't know that I would've had the confidence to do that coming from a small town if I hadn't been exposed to what I was exposed to at Northwest."
Nicholson was hired by the former First National Bank in Kansas City as a management trainee and eventually was assigned to the trust department. She became enthralled with the old bank building in downtown Kansas City, its huge columns and marble interior.
"It was an unbelievable experience for somebody that was basically right off the farm to walk into that environment and to be there for 10 years. It was a fabulous experience," she said.
After a decade at First National Bank, Nicholson spent a few years leading the trust department at a suburban bank and then returned to downtown Kansas City to work at Centerre Trust, which then was the largest trust company in the state.
In 1988, she and a partner left Centerre and founded an investment management business. In 1998, she became sole owner and president of the firm, now known as Nicholson Capital Management. She employs five other women.
"Making that transition from thinking I was going to be a business teacher to getting into something that was a little uncommon for a woman really set the stage for me when I went to Kansas City to think bigger," Nicholson said. "There's a good chance I would not have done what I ended up doing, which is owning an investment firm, if I had not taken that leap. When I went to Kansas City I was just really determined to be a management trainee in a bank."
Now Nicholson is giving back to the University that has meant so much to her family and set the path for her successful career in financial management.
The eldest of four daughters, Nicholson is a first generation college graduate. Her twin sisters Deanna Dawson DeBruce and Deborah Dawson Roberts, a 1978 alumna, attended Northwest. Her father, Max Dawson, also took agriculture courses at the University and is a farmer.
In 2011, Nicholson joined the Northwest Foundation Board of Directors and currently is its vice president. Her Board membership has provided her an opportunity to reconnect with the University, and in 2015 she received the Northwest Alumni Association's Distinguished Alumni Award.
"It's been one of the best experiences that I've ever had," she said of joining the Foundation Board. "You go back up there and meet these fabulous people that are so involved in trying to raise money to help the University, and you see that they started in small towns just like I did, and they've done so well. We all look back and understand now. I think sometimes it takes time for you to really put into perspective how the University contributed to what you actually did with the rest of your life."
Nicholson added, "The University is a jewel in northwest Missouri. It's really supportive of the small rural communities where kids like I used to be need an opportunity to get an education. There are so many dedicated people, and it gets better every single year. The expertise and the dedication of the Foundation Board and the Alumni (Association) Board, along with all of the other supporters, is really amazing. It's just mind boggling to see the degree to which so many successful people have come out of that small University."
Since 2014, Nicholson has made annual gifts of appreciated stock toward the W.M.C. Dawson Scholarship endowment honoring her grandfather. The scholarship is awarded based on academic achievement with preference given to students earning a grade-point average of 3.25 or higher.
"When I joined the Foundation Board and was looking for something I was really passionate about, I thought, 'You know, this could be a great opportunity to just enlarge that fund, enlarge the mission of it and do something that would have a long lasting effect for the University,'" she said.
Gifting stock allows Nicholson to contribute to the scholarship fund while capturing a fund's value and realizing a tax deduction.
"I encourage everyone really to consider looking at their portfolios and seeing if it couldn't work for them to be able to make periodic, systematic contributions to however they want to help the University," Nicholson said.