Goppert Foundation provides gift to support Ag Learning Center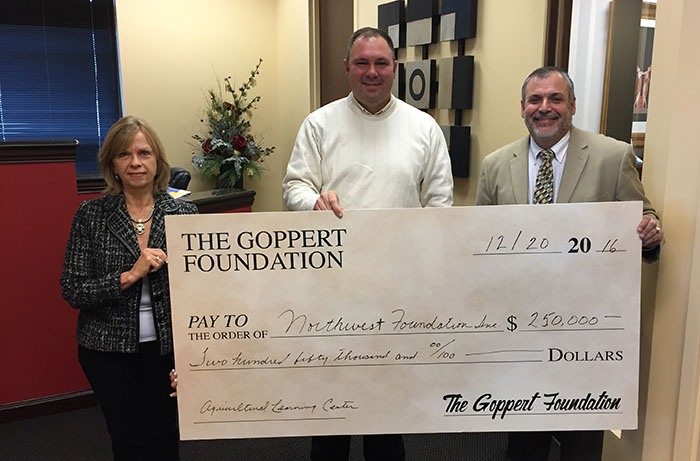 The Goppert Foundation of Kansas City has added its support to Northwest Missouri State University's School of Agricultural Sciences and a planned Agricultural Learning Center at the University's R.T. Wright Farm.
The Goppert Foundation in 2017 gave $250,000 to the Northwest Foundation in support of the Agricultural Learning Center. The Goppert Foundation's gift is an addition to $50,000 it gave to the initiative in 2016.
"The support our School of Agricultural Sciences has received from the Goppert Foundation is greatly appreciated," Rod Barr, the director of the School of Agricultural Sciences, said. "It shows the commitment the Goppert Foundation has for promoting student success at Northwest Missouri State University and making a positive impact in the northwest Missouri region."
Plans for the Agricultural Learning Center are unfolding as Northwest's School of Agricultural Sciences is experiencing rapid growth.
"We are motivated to support the Agricultural Learning Center because of the growing needs of the School of Agricultural Sciences," Corey Strider, senior executive vice president and director for the Goppert Financial Bank and a 1996 Northwest alumnus, said. "The respect for Northwest and the quality of education has and will continue to increase the growth in this School and the University, and preparations need to be made for this perpetual growth. It is very important to make sure Northwest has the facilities to provide a premier education and experience to students."
The Goppert Foundation, a charitable foundation, was established in 1959 by C.H. Goppert of Kansas City, Missouri. It supports health care facilities, colleges throughout western Missouri and eastern Kansas through scholarship endowments and community building projects. It also assists many area 501(c)(3) organizations that serve underprivileged individuals and families.
Goppert Financial Bank, with the original banking charter dating back to 1879, has continuously served the Missouri communities of Lathrop, Holt, Lawson, and Norborne.
"The Goppert Foundation continues to support the ideals of Mr. Goppert which included philanthropic acts in communities where he established banking facilities," Strider said.
The Goppert Foundation has been a strong supporter of Northwest in recent years and its mission of student success. It also supports Northwest students through the University's American Dream Grant program, which assists Northwest students who meet the University's moderately selective admissions criteria and come from the neediest families based on their application for federal aid.
The Goppert Foundation provided a $100,000 gift to Northwest in 2011 to aid low-income students who choose to attend Northwest to realize their dreams of attaining a college degree. Goppert gave an additional $50,000 to the program in 2014.