Alumna's trust yields large gift for scholarship support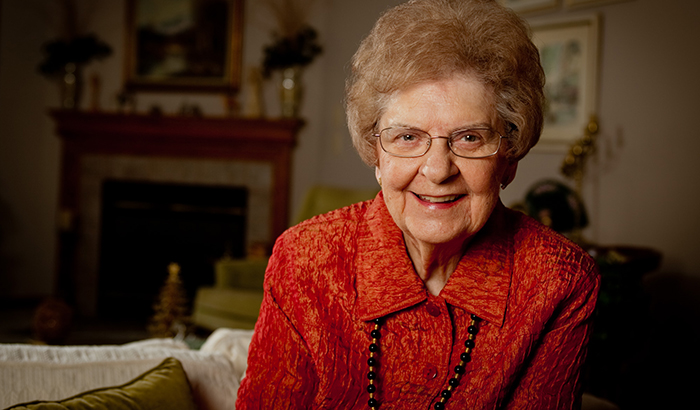 Before dying in the spring of 2014 at the age of 93, Dr. Beulah Wilkinson Summers established an endowed scholarship bequest in her living trust for the purpose of assisting Northwest Missouri State University students for generations after her.
Summers was a 1942 graduate of Northwest, and her bequest resulted in a gift from her trust to the University totaling more than $100,000 in support of her scholarship fund.
The scholarship in her name is awarded to a full-time student with preference given to graduates of Worth County High School in Grant City, Missouri. Academic achievement and financial need are leading criteria.
"It was my pleasure to meet Dr. Summers and to hear of her appreciation for the education she acquired, as well as the joy it brought, throughout her lifetime," said Laurie Drummond Long, a development officer for Northwest's Office of University Advancement. "Scholarship support for our students is a top priority at Northwest, and we are grateful that Bea chose to assist her alma mater when finalizing her estate plans. It will be an honor to see Bea's legacy continue as recipients of her scholarship pursue their dreams."
Summers grew up in Allendale in northwest Missouri, where her father drove a cattle and livestock truck to the St. Joseph stockyards. She completed her bachelor's degree at Northwest with double majors in home economics and business economics. She later completed a master's at Emporia State and a Ph.D. at Kansas State University.
It was at the Northwest campus that she met her late husband, James Summers Jr., who was studying industrial arts. While James launched and maintained his own furniture business, she enjoyed teaching home economics at Topeka High School during the school year and typing classes during the summer for 35 years. After she retired from teaching, she enjoyed traveling abroad and was an avid ballroom dancer.
The couple also raised two children, Dr. James Stephen Summers, a retired periodontist, and Shirley Sue Summers Chamberlain, who had a career in teaching. Shirley preceded her mother in death in 2010 after a battle with cancer.
Summers wanted to ensure future students had the same opportunities she did because of the education Northwest offers.
"By establishing a scholarship through my trust, I have the satisfaction of knowing that young people from my high school in Grant City will one day find it a bit easier to attend college," she said after establishing the scholarship in 2010. "I am grateful for the wonderful education that Northwest provided."