George Garcia honors parents, heritage with establishment of scholarship for minority students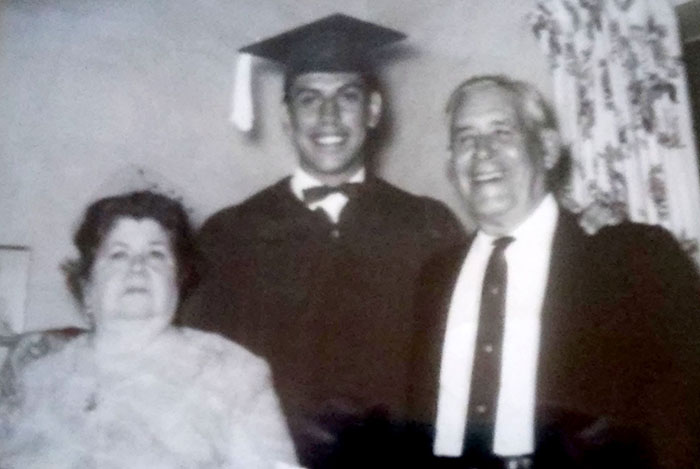 Northwest Missouri State University alumnus Dr. George F. Garcia established the Esteban and Matilde Garcia Scholarship to honor his parents and help provide opportunities for minority students in need of financial assistance while they are preparing to teach.
"My whole career was working with students and promoting their education," George said. "After I retired, I thought it would be good to honor my parents as well as to help people who want to be educators. I wanted this scholarship to provide financial assistance to students like myself who wanted to pursue a career in education."
George's father, Esteban, was born in poverty in northern Mexico, a short distance from the United States border. At age 10, Esteban's father was killed in a mining accident, and Esteban stopped his formal education and went to work to help support his mother and three sisters. In 1914, he crossed the Rio Grande and found employment as a laborer with the Texas and New Orleans Railroad in Whiteland, Texas.
George's mother, Matilde, was born in Monterrey, Mexico, and in 1913 migrated to Texas with her mother and stepfather, who fled the Mexican Revolution. Her family made their way to Whiteland, where her stepfather befriended the young Esteban and introduced him to Matilde. 
The couple was married in 1916 when she was 16 and he was 26. They had nine children, including a son who died from pneumonia a couple weeks after birth. All of the surviving eight graduated from high school.
George, the youngest by 24 years, was the first to attend and graduate from college. He not only earned his bachelor's degree at Northwest in 1965 but later completed master's and doctorate degrees.
"My parents really prized education," George said. "One of my earliest memories is seeing my siblings' framed high school diplomas proudly displayed in my parents' small living room. I knew I would let my family down if I did not attain a diploma of my own."
Esteban and Matilde were married for 50 years and moved throughout Texas before settling in George's birthplace of Laredo. Esteban retired as a Pullman Porter for the Mexican railroad company, Ferroccarriles Mexicanos.
Even though Esteban worked in Mexico the last 30 years of his career, George said, "they stayed in the United States because like many immigrants to this country, they believed in the American Dream. That with hard work and an education their children and grandchildren would prosper in this country – and they have."
Ninety percent of Esteban and Matilde's descendants have college and advanced degrees.
"This is why I established the scholarship in their memory," George said. "For the scholarship to be a beacon for future generations of Northwest students who want to pursue their dream as educators."
George spent 41 years as an educator – as a high school teacher, principal and central office administrator. He served as a superintendent of schools in Kansas City, Missouri; Tucson Public Schools in Arizona and the Boulder Valley School District in Colorado.
In 1990, Northwest presented George with its Distinguished Alumni Award. He retired in 2007 and resides in Tucson, Arizona, with his wife Mary.