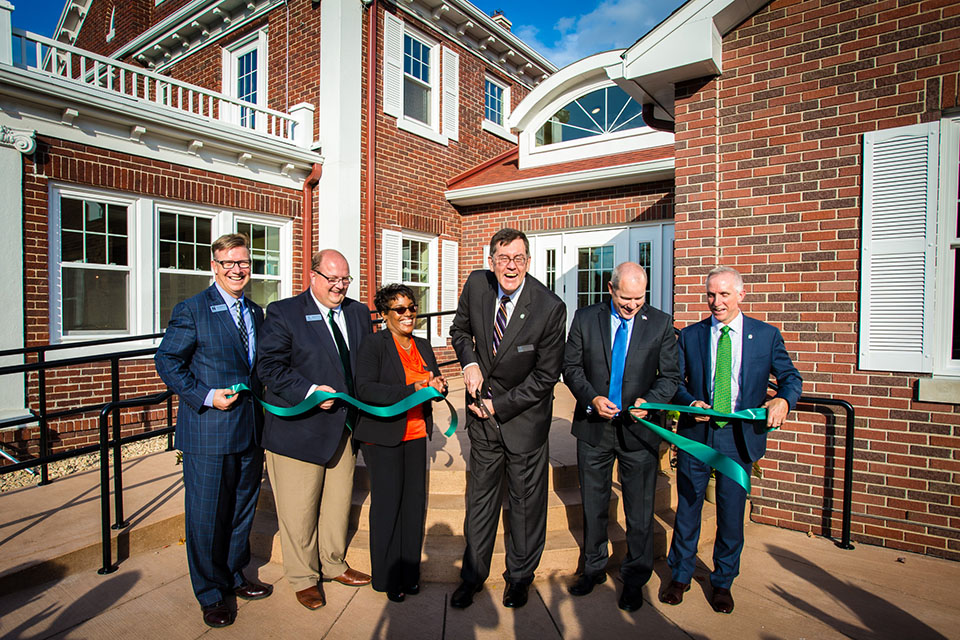 The Suzanne and Walter Scott Foundation of Omaha made a $1 million gift commitment to the Northwest Foundation in 2016.
It honored Michael L. Faust, a director of the Scott Foundation, for his support of the Scotts' civic and philanthropic activities, his 36 years of service to Peter Kiewit Sons' Inc., where Walter Scott was chairman and chief executive officer, and his loyalty to Northwest.
The gift was designated for renovations, an addition and future maintenance needs at the Northwest Alumni House. The structure was renamed the Michael L. Faust Center for Alumni and Friends.
"Honoring Mike Faust with a namesake center for alumni and friends is so very appropriate as he stands for Bearcat connections through and through," Northwest President Dr. John Jasinski said. "We are grateful to the Suzanne and Walter Scott Foundation and their celebration of Mike's passion for making all things Bearcat better for generations to come."
A 1974 graduate of Northwest, Faust is a passionate supporter of the University and one of the Northwest Foundation Board's longest-serving director. He has witnessed nearly one third of the Foundation's history since joining in 2002, serving as a committee chair during his first year and continuing in leadership roles ever since. He served as president of the Board from 2008 to 2010.
Faust has given generously to Northwest. Multiple Northwest students benefit each academic year from his Michael L. Faust Scholarship, and Northwest dedicated the Michael L. Faust Media Lab in Wells Hall, which serves students in the University's School of Communication and Mass Media and was upgraded with the assistance of a gift from Faust. Additionally, he made a significant contribution toward the construction of the Robert and Virginia Foster Fitness Center and has established an irrevocable estate gift for Northwest through a remainder trust.
Faust retired in early 2015 as the assistant to the chairman of Kiewit, an employee-owned company based in Omaha, Nebraska, with $9 billion in revenues. A Fortune 500 company, Kiewit is one of the largest general contractors in the U.S. and has significant operations in Canada and Australia.
"This gift was a surprise, both for me and for the Northwest Foundation, which hadn't solicited the grant," Faust said. "But when Dr. Jasinski and three of our school directors attended my retirement party, it made Walter aware of the level of my involvement with Northwest and likely planted the seed for this gift to happen."
Faust managed civic programs for Kiewit and administered charitable giving through the Kiewit Companies Foundation. He served as a speechwriter for Walter Scott and other executives, and he was contributing editor for the company's quarterly magazine. He also served as an instructor at Kiewit University. Faust joined Kiewit in 1979 and also held assignments in human resources and training.
A volunteer for numerous non-profit organizations in the Omaha area, Faust has served as director of the Omaha Community Foundation, United Way of the Midlands and Greater Omaha Chamber of Commerce. He also served on the steering committee for Warren Buffett's annual golf tournament to benefit children's charities and was a longtime volunteer leader for the Henry Doorly Zoo's membership campaign.
"Mike worked closely with Walter for more than three decades at Kiewit and has continued to assist him since retirement on a volunteer basis with his philanthropy and community activities," Calvin Sisson, executive director of the Suzanne and Walter Scott Foundation, said. "Mr. Scott wanted to express his gratitude to a university that produced such a capable employee and an asset to the Omaha community."
Upon his retirement from Kiewit, Faust accepted an appointment as visiting dean of Northwest's Melvin D. and Valorie G. Booth College of Business and Professional Studies. During his 15-month term, Faust collaborated with academic leadership to develop strategies for the Booth College's future growth and its transition to a professional school.
The Alumni House, located on College Avenue across from the University campus and its historic Thomas Gaunt House, is the center of activity for the Office of University Advancement and the Northwest Foundation. Known to local residents as the Townsend home, a group of Northwest alumni purchased the property in 1980 with the vision of making it a permanent home for alumni activities and services.
Beautifully restored within its original architectural structure, the Alumni House annually hosts homecoming activities, holiday celebrations and other gatherings throughout the academic year. To this day, the property is owned and maintained by the Northwest Foundation, while its purchase, renovations and repairs have all been made possible solely through private contributions.