Petersons give back to Northwest in support of future students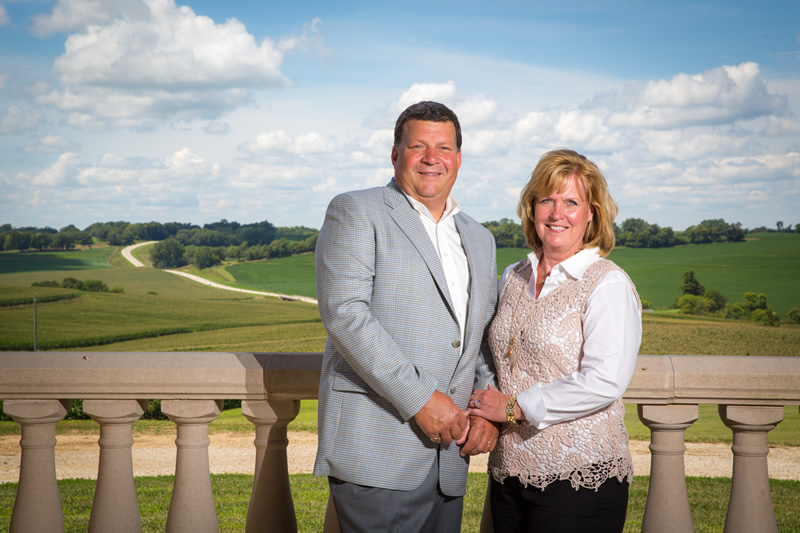 Giving back to organizations and causes that have deeply impacted their lives has long been a mission of Dan and Martha Peterson. Understanding the powerful effect of a college education, the Petersons recently made a $50,000 testamentary gift to Northwest Missouri State University as part of their estate plans.
"We really believe that helping students get their education is a gift that lasts a lifetime," Dan, who completed his bachelor's degree at Northwest in agricultural business in 1988. "If we can help them with a scholarship, it can make an impact."
Having grown up in Underwood, Iowa, Dan was active on his family's cattle and row crop farm and understood then the importance of furthering his education. He chose to attend Northwest because of its proximity to the farm and the recommendation of Joe Pickard, a 1981 Northwest alumnus, his FFA teacher and mentor.
"At the time I went to get my degree, my family had been in the farming business for several generations, but the farming economy was very difficult," Dan said. "We didn't know if it was going to be a viable way to make a living and I knew I needed a degree."
He added, "Getting a college degree helps make you a productive citizen. In those years you really grow."
Dan says his fondest memories of Northwest are the times he spent with friends he made on the campus and the faculty who helped him develop the skills he needed to be successful in his career.
"Northwest has always been really special to me because it was the first time I was away from home," Dan said. "It's where I gained my independence and an education."
Martha grew up in southern Indiana and earned a bachelor's degree from Miami University and a master's degree from the University of Louisville. Today, the Petersons, with Dan's parents, operate Peterson Angus Farms Inc. and their DuPont Pioneer Seed Corn agency. They also are active in southwest Iowa communities and maintain the strong family values their parents instilled in them.
While the Petersons continue to explore other ways they may contribute to the Northwest, Dan and Martha are the parents of four children: Alex, Anna, Aiden and Andrew. Anna, is pursuing her bachelor's degree at Northwest.
The Petersons have demonstrated their support for education through service on boards, committees and projects of Iowa Western Community College for more than a decade. Additionally, they have held affiliations and leadership roles with organizations such as the Council Bluffs Guild of the Omaha Symphony, Bluffs Arts Council, Children's Square, Heartland Family Service, Mercy Hospital Charitable Council, the Girls Scouts of the USA and their local church.
In 2014, Alegent Creighton Health Mercy Hospital honored the family as one of its Heritage Award recipients for their contributions in arts and humanities. In 2013, Heartland Family Service recognized the Peterson family for their strong family life and community service as part of the Omaha-based organization's annual Salute to Families Celebration.