Charitable trust gives additional $20,000 for ag center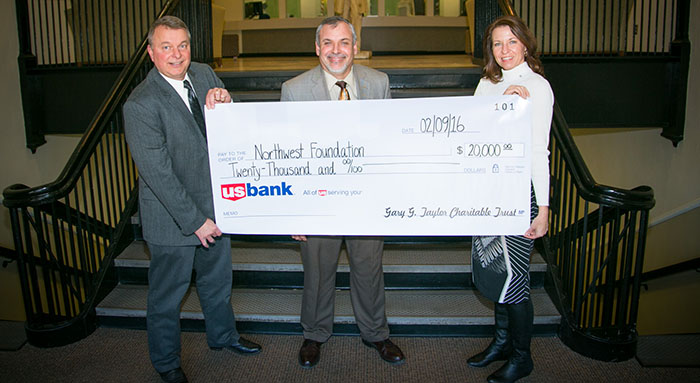 Northwest Missouri State University and the Northwest Foundation in 2016 received another $20,000 gift from the Gary G. Taylor Charitable Trust in support of an Agricultural Learning Center planned for construction at the University's R.T. Wright Farm.
Shannon Moore, vice president and trust relationship manager for U.S. Bank, and Rex Brod, market president for U.S. Bank, presented a check to Rod Barr, director of Northwest's School of Agricultural Sciences. The Taylor Charitable Trust also awarded Northwest $20,000 in support of the Agricultural Learning Center in 2014.
"We appreciate the support we're receiving from all of our partners, especially the commitment of the Taylor Trust, to make this facility become a reality for the success of our students," Barr said.
The gift aligns with Gary Taylor's passion for agriculture in northwest Missouri, Brod said. Taylor, who passed away in 2012, grew up on a farm near Skidmore that the family still owns. 
"Gary was a very progressive farmer," Brod said. "He believed in improving the farmland and taking care of it, retaining the soil, building it for the future. That's why we felt as a committee that it was so important that Northwest receive this, from an education aspect and taking care of agriculture in this part of the country."