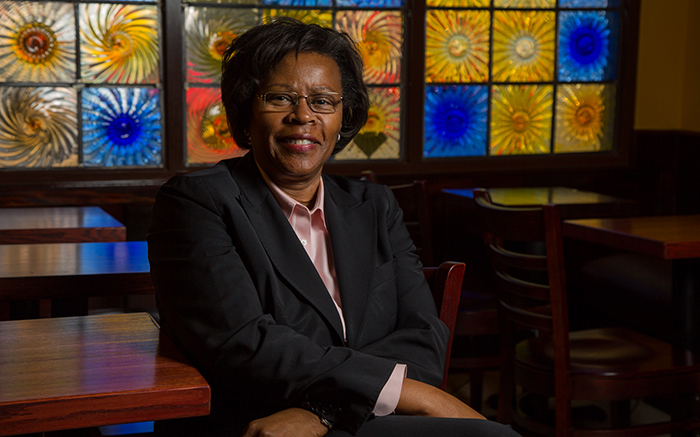 No faculty member at Northwest Missouri State University had a larger impact on Karen Daniel's career than the late Johnie Imes. Almost from the time Daniel stepped on campus in the fall of 1976, Imes was educating and mentoring the student.  
The accounting instructor was assigned to register freshman students whose last names started with A-E, and that was Daniel's first encounter with her.
"After a series of questions, Mrs. Imes noted my determination to graduate and a proficiency in math, which resulted in her becoming my advisor," Daniel said.   
Imes placed Daniel in her accounting class and after Daniel aced the first exam, Imes pulled her aside and encouraged her to be an accounting major. 
Daniel earned her accounting degree from Northwest in 1980, and retired in 2018 from Black & Veatch, a global engineering and construction company based in Overland Park, Kansas. Daniel served as chief financial officer, president of the Global Finance and Technology Solutions Division, and president of infraManagement Group, a Black & Veatch asset management company.
"As my advisor, Mrs. Imes was instrumental in navigating college life and ultimately, decisions regarding my career path," Daniel said.
Growing up, Daniel observed her grandmother's impact as a teacher on the family and the students who returned as adults to thank her for her emphasis on education. That made her aspire to be a teacher, and Imes suggested Daniel earn a graduate degree that would allow her to teach at the college level rather than an elementary school like her grandmother.
Daniel followed through on Imes' suggestion to pursue a master's degree.
"Mrs. Imes was right that teaching wasn't for me, at least not at that time in my life," Daniel said. "At the end of graduate school I chose public accounting, which positioned me for a rewarding business career and the opportunity to give back."   
Imes and Daniel, meanwhile, developed a close friendship that continued until Imes' passing in 2011.
It is because of Imes and other educators who guided Daniel throughout her academic career she recently made an initial gift of $100,000 in support of the University's Learning and Teaching Center, an initiative to help Northwest faculty become learning specialists and enhance how they teach and interact with students.
"At early ages we receive the gift of teachers, and the good ones give throughout our lives as we use their advice and counsel to pursue lifelong goals," Daniel said.
Northwest's establishment of the Center, a $3 million initiative, will create a culture of learning to ensure student success. Services will support faculty in specific learning contexts, develop instructional technology interventions to enhance learning and teaching and provide faculty with multiple professional development opportunities. 
"Education is a game changer," Daniel said. "I haven't had a time in my life where a teacher or mentor didn't have a role in a critical decision. I think it's great to make an investment in our professors as well as the students. If we can achieve what's laid out for the Center, we can really differentiate ourselves in yet another way at Northwest."
Reflecting on the education she received at Northwest, Daniel says the University's size enabled her – as so many other students have experienced – to build important connections with faculty and staff. Daniel appreciated the ability students have to talk with instructors about personal goals as well as challenges.
"If you needed to talk to the professors they were available," Daniel said. "I would say the small town environment also facilitates focusing on academics. There was an expectation to excel and enjoy the college experience. Northwest's ability to enhance learning experiences will impact future educators, graduates and leaders in our communities."
The education Daniel received at Northwest also has inspired her to stay connected to the University. She received the Northwest Alumni Association's Distinguished Alumni Award in 1998 and served on the University's Board of Regents from 2003 to 2004. She served on the Northwest Foundation Board of Directors in the 1990s and re-joined the Board in 2014.