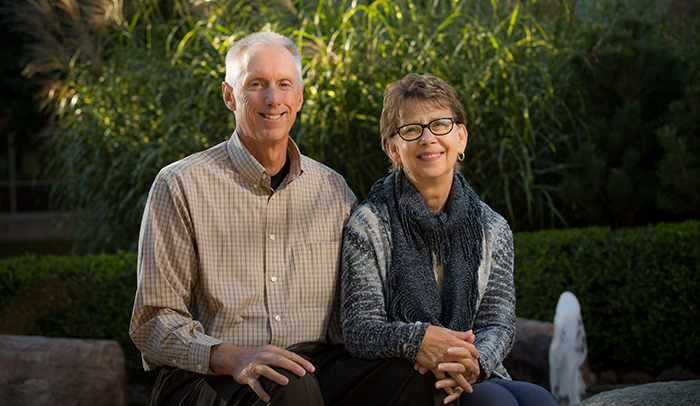 Dan and Carole King Edmonds have devoted a combined 50 years to serving Northwest Missouri State University, and their three sons have combined to earn a total of six degrees from the University. Now they are assisting future students and honoring their parents with the establishment of the Edmonds-King Scholarship.
The scholarship honors Dan's mother, Norma Edmonds, as well as Carole's parents, Jim and the late Jane King. It also honors the couple's brothers, the late Bill Edmonds and the late Rusty King.
"Our parents worked very hard and were determined that we and our brothers would go to college," Dan said. "We are indebted to them for our education and careers, which were made possible because of their strong character, conviction and the sacrifices they made for us." 
Dan and Carole, along with their parents, established the Edmonds-King Scholarship with an initial gift of $30,000. Eligible students must have completed 30 credit hours at Northwest with a minimum grade-point average of 3.00. Applicants must also have graduated from a high school in either Nodaway or Bates counties in Missouri, and must demonstrate involvement in co-curricular activities.
"We wanted to repay Northwest in some way for providing us a significant portion of our careers, and for providing an education and life experiences for our sons, Paul, Jeff and John," Carole said.
Both Dan and Carole grew up in Butler, Mo., and graduated from high school there in 1970. They married in 1972 and completed their undergraduate degrees in 1974 at the University of Central Missouri.
In 1981, Dan was hired as Northwest's assistant controller, prompting the couple's move to Maryville. Dan later advanced to controller and retired from Northwest in 2011.
Carole began working at Northwest in 1982 as a secretary in what is now the Department of Fine and Performing Arts. In 1983, she began teaching in the South Nodaway School District and became principal of the elementary school in 1986. In 1996, Carole was named director of Northwest's Horace Mann Laboratory School and served in that capacity until 2003. Since then, she has worked as an associate professor in the Department of Professional Education.
All of the Edmonds' sons attended Horace Mann, Maryville High School and Northwest.
Paul received his undergraduate degree at Northwest in 1998 and is employed as a customer success operations manager for RiskIQ. He lives in Kansas City, Kan., with his wife Jennifer (Brandt) Edmonds, a 1998 Northwest graduate, and their children Peyton and Brodie.
Jeff earned his undergraduate degree in 2001 and a master's degree in 2007 as well as his doctorate degree in 2014 through Northwest's collaborative program with the University of Missouri-Columbia. As a Northwest student, Jeff was involved with Northwest Celebration and Tower Choir. He lives in Chicago, where he teaches middle school math and coaches basketball.
John received his undergraduate degree in 2003 and his master's degree in 2004. He is a sales representative with Stryker Corporation and lives in Prairie Village, Kan., with his wife Ashley and their daughter Brooke. John played football at Northwest and was inducted into the Northwest M-Club Hall of Fame in 2013. 
Dan and Carole estimate their immediate family has spent a combined total of nearly 100 years at Northwest and Horace Mann through their employment and education.
"We are grateful for the opportunities Northwest has provided our family, and we are pleased that we can help future students benefit from this scholarship," Dan said.