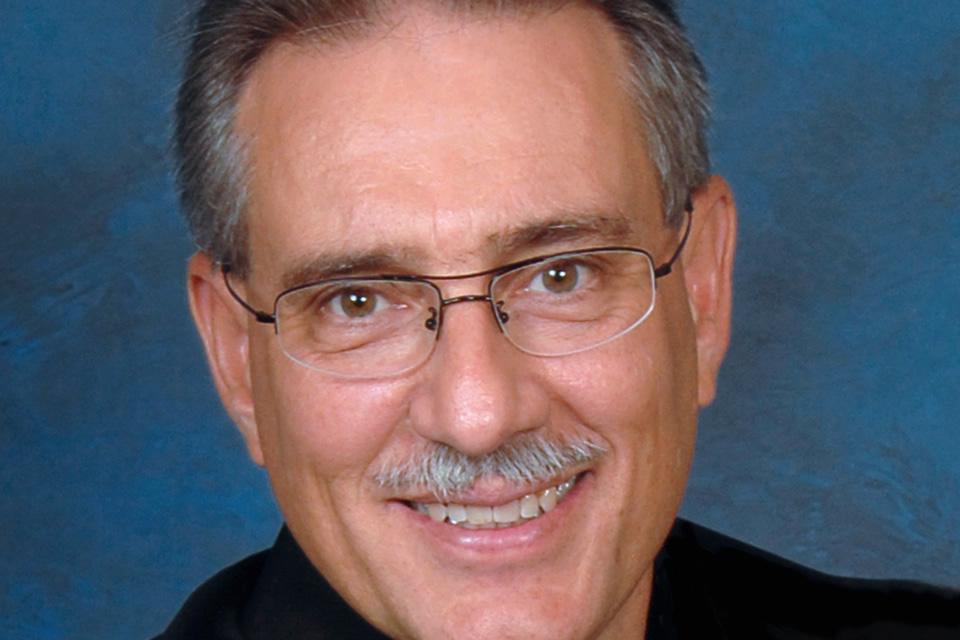 Even as he traveled the world to help producers develop more efficient dairy operations and built a successful career at three large universities, John Smith was always proud of his Northwest Missouri State University roots.
Now Northwest students have an opportunity to follow Smith's passion and benefit from his legacy.
Smith died March 29, 2013, at age 51 after a battle with cancer. In his memory, Smith's family created the John F. Smith Memorial Scholarship to assist continuing Northwest students who have declared a major in animal science.
The first scholarship of $1,000 was awarded to Kayla Hoelting, a senior animal science major from Moscow Mills, Mo., for the 2014-2015 academic year. The fund was established with numerous memorial gifts from Smith's family, friends and colleagues.
Smith's widow, Debbie Schieber Smith, a 1985 Northwest alumna, said the fund honors her late husband's Northwest heritage, which he credited for providing a solid foundation for his future in the dairy industry. The couple's daughters, Jordan and Hope, had the idea for the scholarship, knowing the importance Northwest had in their father's life, Debbie said.
"John always had a special place in his heart for Northwest," Debbie said. "He cherished the life-long friendships he made there, and he felt that Northwest provided a solid foundation for his career in the dairy industry. John was always proud to say he was a Northwest graduate, and we are happy we can celebrate his legacy with this scholarship."
Smith developed his passion for farming while growing up in Jefferson, Iowa, and working on a local farm during summers and weekends. He thought he would build a career out of farming in Iowa, but Northwest and his advisor, Dr. Dennis Padgitt, pointed him to a different path.
Padgitt recognized Smith's potential for success in the ag education field early in his academic career.
"He had the charisma and the leadership," Padgitt said. "He was the type of person who wanted to pay it back, and dairymen spoke very highly of John."
He completed his Bachelor of Science degree in animal science in 1984 and was active in Northwest's agriculture clubs. Then, he took Padgitt's advice to continue his education and completed his Master of Science degree in 1986 at Northwest under the tutelage of Dr. Harold Brown. Smith, later, went on to earn a doctorate in dairy science at the University of Missouri.
His 24-year career as an educator began in 1989 at New Mexico State University in Las Cruces, where he was an extension dairy specialist and associate professor. In 1995, he joined the Kansas State University faculty, achieving the rank of professor, before moving in 2011 to work in research and extension at the University of Arizona.
He earned multiple honors along the way, including the Salt of the Earth Award in 1993 and 1994 from the Dairy Producers of New Mexico, the Midwest Outstanding Young Extension Specialist Award in 2000 and the DeLaval Dairy Extension Award in 2002. He was selected as Western Dairy Business Magazine's Outstanding Dairy Educator/Researcher in 2008, and he was honored with the Jefferson Bell Tower of Fame Award in 2010 for his efforts in dairy education and research.
Smith's professional interests and research centered on cow comfort, heat stress, milking parlor performance and management of expanding dairies. He also was co-founder of the Western Dairy Management Conference, which has grown to one of the world's largest gatherings of dairy producers.
Dr. Jamison Allen, a former assistant professor of animal science at Northwest, worked with Smith as a post-doctoral research assistant at the University of Arizona and assisted Smith with his research even after his passing. Their results of their research about the effects of heat stress on cows to improve animal welfare while reducing production costs in dairy operations in hot environments were presented at a meeting of the American Dairy Science Association in March 2013, just weeks before John's death. 
Allen remembers Smith as a tough mentor with high expectations, but also a great friend.
"John loved Northwest," Allen said. "He loved the agricultural sciences department. He loved the opportunities that Northwest provides students. This scholarship is one way his legacy contributes to those opportunities for the Bearcat family. For him, being remembered would be nice, but helping others succeed would be more rewarding."