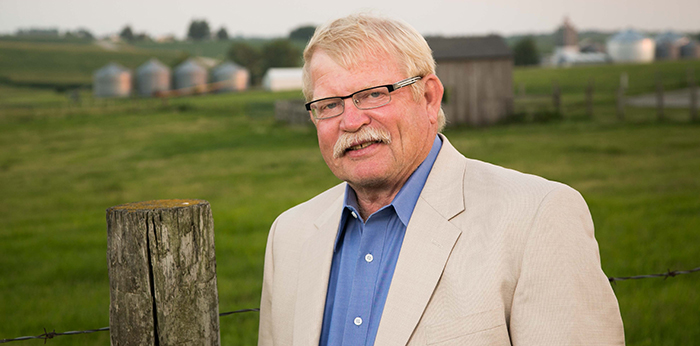 Don Foley has long had an affinity for agriculture and Northwest Missouri State University. Now he's giving back through a $100,000 testamentary gift to support agricultural sciences students and programming at the University.
Foley earned a master's degree in agriculture business in 1978 from Northwest to supplement his bachelor's degree from Iowa State University and has been employed by Iowa Banker's Association mortgage corporation in Ames, Iowa, since then. By having a master's degree from Northwest, Foley says he realized more opportunities that may not have been afforded him otherwise.
"What the master's did was give me the opportunity to look at some jobs for which I might not have qualified," Foley said, adding that earning his master's degree also was a personal goal. "When I got done working on my master's, an opportunity for employment came up in Ames, Iowa, in agricultural lending and I took that opportunity. It certainly gave me an opportunity to do well in that profession."
After earning his master's degree, Foley went to work as a lender for Mutual Benefit Life Insurance Company's agricultural division in Ames. In 1990, he joined the Iowa Bankers Association and the Iowa Bankers Mortgage Corporation in Ames as director of agriculture, and he remains there today.
Foley assists Iowa bank branches with their agriculture portfolios and securing real estate mortgages for farm customers. He also works on agriculture marketing and legislative issues as well as directing and teaching the Iowa Bankers Association's Agricultural Credit School at Iowa State.
"I've always felt that I've been honored over my career to work with two groups of people who I've always really respected – farmers and bankers – and it's been a good situation for me," Foley said.
Foley developed his admiration and respect of farmers while growing up on a crop and livestock farm near Creston, Iowa. During his youth, he became aware of Northwest's strong academic reputation and its knowledgeable faculty who continually prepare students to be successful in their careers. 
After completing his bachelor's degree, Foley began his career at Monsanto as the regional director of its livestock program in northwest Missouri and southwest Iowa. He then seized the opportunity to take graduate courses at Northwest and completed his master's degree within two years.
"I could go to school at night or in the summertime at 7 o'clock in the morning, so it worked beautifully for someone trying to get a master's but still holding down a job," he said.
Through the years, Foley has not forgotten the support he received as he worked toward his master's degree, especially Northwest faculty members like Dr. Dennis Padgitt and Dr. Harold Brown, with whom he maintains friendships.
"The professors I had at Northwest seemed extremely concerned about helping you get to where you could get a job," Foley said. "They wanted you to be employed when you graduated, and I always appreciated that."
Now, Foley believes the time is right for him to give back to Northwest. In addition to joining the Northwest Foundation Board, Foley hopes his gift to Northwest's School of Agricultural Sciences will support future students through financial assistance, programming and equipment.
"You get to a point in time where you do start to think about those things that have been important in your life and maybe influenced your life or your career, and Northwest is certainly one of those," Foley said. "I wanted to give something back to a place that I feel gave me a wonderful start in life and helped shape my personality and work habits."