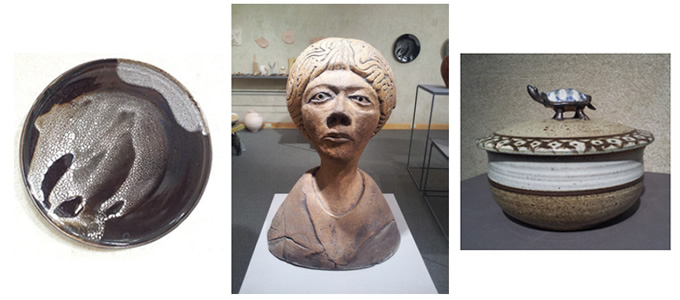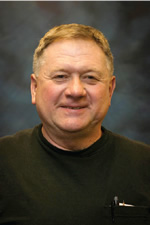 Russell graduated from Kearney State College in Nebraska. He started his career teaching art in York, Nebraska before earning his Master's Degree from Fort Hays State in Kansas. Russ taught at Peru State College in Nebraska before moving with his wife to Maryville, Missouri in 1969 where he taught art at Northwest Missouri State University for 35 years. During his career, he fostered more than just creativity within his students. Russ's mentorship developed into numerous cherished, lifelong friendships. Pottery was his passion. His work was exhibited in numerous shows and galleries throughout the Midwest. His pottery is in private collections worldwide. Russ's woodworking talents and fine craftsmanship extended beyond his art studio as reflected in his home. He was a devoted husband, father, and grandfather.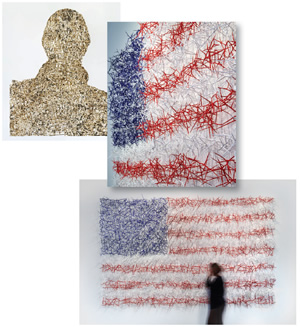 Susan White works primarily with pyrographs / burn drawings and thorn works, three dimensional structures made from the thorns of the honey locust tree. In her recent pyrographs, a series of portrait silhouettes, White is interested in the interior architecture that we each rely on, suggesting camouflage, mapping, interior states of being. The myriad marks that comprise the works may be thought of as breaths or silent mantras. The constancy of the marks creates an energy that forms a kind of meditative hum, expressive of the unique aspect of each individual. While the pyrographs relate to an interior, personal meditative state, in contrast, the thornworks have evolved in response to the external environment, suggestive of the sometimes challenging nature of public life and public convention.
Susan White received a BFA from the Kansas City Art Institute and pursued graduate studies at Rhode Island School of Design. In 2010, White had a residency at Youkobo Art Space in Tokyo. Her work has been supported by grants from the Lighton International Artist Exchange Program, the Salina Art Center, The Avenue of the Arts Foundation, and the Creative Capital Foundation Professional Development program. Her work is found in the collections of the Nerman Museum, Sprint Nextel, Hallmark Cards, among others and in the Viewing Program of the Drawing Center in New York.